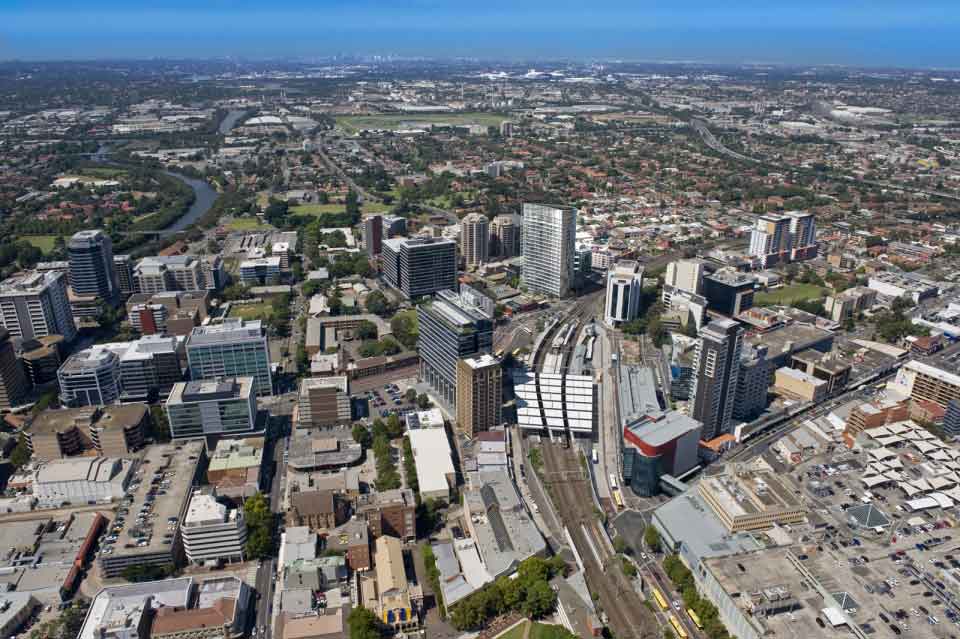 Parramatta is the commercial, business and residential capital of Greater Western Sydney, seeing a lot of interest in the property market. A range of properties are available throughout Parramatta, including numerous houses and highrise apartment buildings, and there is a lot of potential for further growth in the area.
A number of urban renewal projects starting as early as 2000 have allowed Parramatta to solidify its place as a residential and governmental centre of Sydney. Parramatta's ever increasing popularity and esteem is due in part to the expansion of local infrastructure like public transport and other community services as well as the relocation of the New South Wales Police Force's head office away from the CBD and into the suburb.
The Parramatta railway station and bus terminal are major interchanges for Sydney's public transport and rail networks, connecting the North Shore, Northern, and Western lines and making it as easy to travel to the Blue Mountains as it is to get to the CBD. Comprehensive and reliable public transport, which includes light rail and ferry systems, is only an arm of Parramatta's renowned infrastructure and one reason why the suburb has grown in popularity.
Parramatta has steadily grown into the major hub of Western Sydney, with a number of urban developments giving the suburb a breath of new life over the last few years. With this, housing prices have soared, with the median selling price for houses reaching more than $1,167,500, and units currently selling for $571,000.
A high level of buyer interest has led to a change in the types of residents Parramatta attracts over the last few years, most of which are begining to lean towards apartments and rental properties.
Parramatta currently has more than 11,471 rental properties, with almost 62 percent of the area's growing population deciding to rent rather than buy. This shift towards rentals in the area has resulted in a decrease in the number of house sales; 64 properties were sold in 2014, down to just 21 so far in 2016.
Units are becoming the dominant property type in the market; 246 have been sold in 2016 alone, with this figure sure to grow over the coming years with the development of Parramatta Square. The three hectare precinct will include corporate facilities, the new Council headquarters, residential apartments, and a new public space that will be home to a number of retail and dining stores, all of which will continue Parramatta's trend of urban development projects allowing for growth and a shift in the housing market.
So why the growing interest in Parramatta over the last few years?
While more apartment buildings may be going up, the area has managed to remain green: there are more than 18 parks throughout the six square kilometre suburb, covering more than 23 percent of the total area. This has seen Parramatta growing increasingly popular among couples with children and professionals. Older millennials, 25-34 year olds, also happen to be the predominant age group, making up more than 40 percent of the population.
There is a vibrant cultural and arts scene in Parramatta, with the Riverside Theatre, Parramatta Stadium and Parramatta Park offering venues for locals and visitors to enjoy the numerous events held each year including the Sydney Festival, Winterlight and Parramasala, a celebration of the suburb's multiculturalism.
Parramatta also has an envious commercial district, with Church St home to a number of popular as well as diverse retail stores, restaurants and small businesses that both local residents as well as visitors regularly enjoy. It features a range of international Asian-inspired foodie destinations, a number of car dealerships along the M4 motorway, nicknamed 'Auto Alley', and a modest nightlife scene featuring the Albion Hotel and other venues like P.J Gallagher's Irish Pub.
Due to its interesting nature and storied past as one of Australia's first suburbs, it is unsurprising that Parramatta is now the unrivalled capital of Western Sydney, with the sixth largest central business district in Australia.
For more information on Australian property prices, or how to to find the best local agent, visit our blog.