The biggest asset you will usually own is your home. Deciding when the right time to put your home on the market is a big deal and it's likely you'll feel quite anxious about the process. However, with some foresight and strategising, you can get excellent results no matter where you live or what the market housing prices are in your area.
You need to treat the selling of your home like it's a project.
Set a goal for the results you're seeking
Create a list of tasks
Get your team together
Create a timeline so things get done on time
If you renovated your home before selling it, you'll remember how much work went into it. You'll want to find an agent that understands that and how they can market the home so it sells. You want that agent to work alongside you to attain the best results, giving you advice every step of the way.
It's important to research the area where you live – and look at comparative home sales – to price your property. Avoid putting an emotional value on the home, as potential buyers won't share your sentiment about the home. They'll be concerned with the actual market assessment of the home, and its potential as their future home.
5 ways to get your home ready for the real estate market
When you're ready to put your home on the market, there are five things you need to do to get it ready for the selling process.
1. Decluttering
It's imperative you declutter your home as much as possible. This can mean moving extra items into an off-site storage facility. You don't want cupboards to look full; you want them to look used and organised. Most people tend to move because they lack sufficient space for their stuff.
It may sound odd, but people do open cupboards to see what kind of space they will have. You want the storage to look as accommodating for their stuff as you can and if your cupboards are overflowing it's going to send the message that there's not enough storage space.
Straighten up all your book shelves with some space left over for additional, decorative items. Take down any personal items such as family pictures and knick-knacks. The idea is for the buyer to imagine themselves in the home with their stuff, so pictures of another family in 'their' home will be off putting.
Remove any unnecessary furniture. If any furniture is too big and bulky (and not a couch or bed), consider getting rid of it out of the home. You want to create a the illusion that each room has a purpose with space still left to move around in.
2. Create some new designs for the home
A way to generate more interest in your home can be to have plans drawn up on how the space can be better utilised or added to. For example, you could create a portfolio for the home that includes plans for a pool or extension, and these can be viewed while potential buyers inspect your home.
You can also write a list of what you love about your home and the neighbourhood. It's the perfect opportunity to invoke some emotion in your potential buyer sothey can really see themselves living there and making a life in your house. Add that to the home's design, and it can spark some very positive reactions.
Read more: 20 renovation ideas from The Block
3. Prepare yourself ahead of time for inspections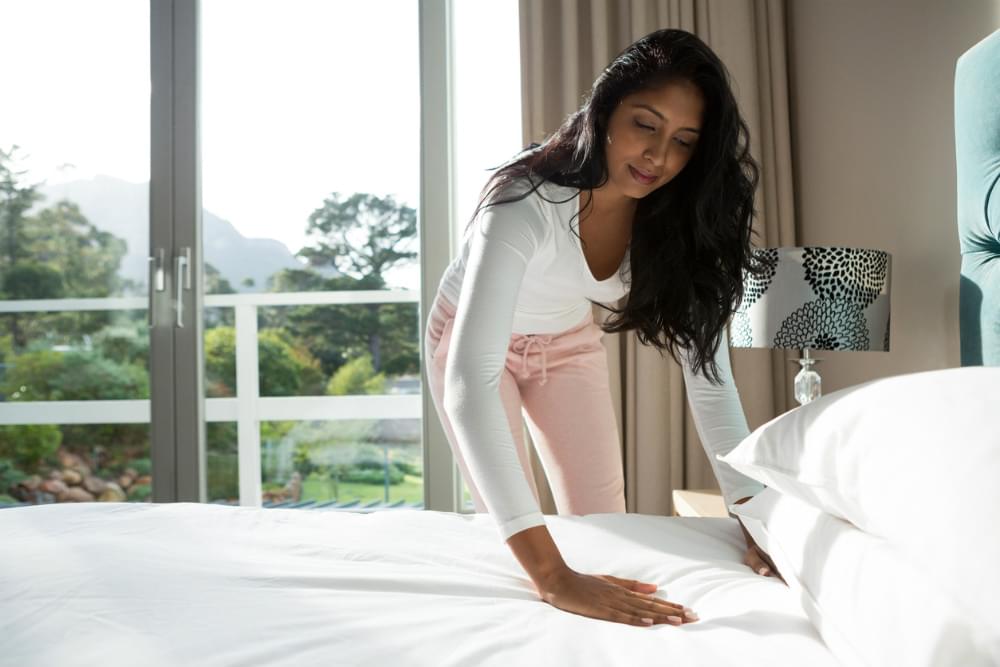 When it comes to readying your home for the buyer inspection, you'll want to save yourself money and time. For example, have an additional set of bed linen on hand to use when your agent informs you that a potential buyer is coming to the home. Remove the daily bed linen, storing it neatly and inconspicuously out of the way, and use the inspection set.
The same rule applies to bath towels and tablecloths. When you do this, you save yourself a ton of time by not having to constantly wash and dry linens (or pay for someone else to do it!) every time you have an inspection.
You'll also want to give off a good vibe for potential buyers while they walk through your home. Consider investing in floral arrangements that don't need to be purchased every couple of days. For example, you can purchase greenery and palm leaves, and place them in a solid-colored vase so you don't have to replace the water as often. Give them a quick dust every few days and you're good to go.
4. Add perceived value
Renovations can change how a home looks and feels, but buyers walking through the home won't get a full understanding of these changes. A good way to show this is to set up a series of before and after photos or a video to demonstrate what the home was like before the renovation. Everyone loves a before and after shot and it will add an enormous amount of value as the buyer sees how much potential the house has.
Another way to add charm to your home is to use natural lighting. Open the window blinds to allow natural light into the room. If the inspection takes place in the early morning, open the windows slightly to allow the breeze in. Make your home as bright, airy and welcoming as you can. Turn on all lights as well.
5. Maintain consistency
Think of your home as a work of art that must be maintained every time a potential buyer comes to inspect it. Keep it tidy, use your inspections bed linens, empty (or hide) all the bins and put away the family photos. Be sure to tell the same story and present the home in the same way, to maintain consistency.
Selling your home shouldn't be as stressful as it often is. Use this step-by-step guide as a checklist for your sale. With the right attitude and the right team, you can sell your renovated home at an excellent price.
Content supplied by Undercover Architect, your secret ally when it comes to unlocking what's possible in your home. Learn more detail on the Undercover Architect blog.