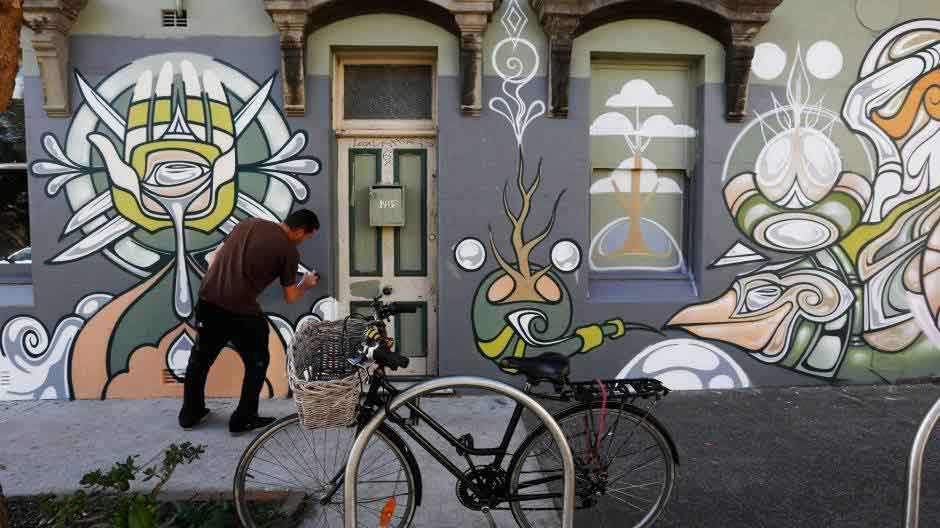 When you think of a hipster, an image of an independent, counter-culture, creative millennial is most likely conjured, though the millennial hipster is really a revival of the 70s way of thinking. Hipsterism is a state of mind and a way of living, and so many suburban inner and outer city areas are thriving with hipster culture and attitude.
When selling a home it is essential to know your buyer, and particular areas may attract a hipster vibe. This 'vibe' is something you may not even be aware of and it is something that's not just about people who wear over-sized glasses.
In fact, a range of factors including restaurant density, nightlife, art and fashion, can help determine whether a place is 'cool' or not. If you live in one of the following areas, good news - you're living in a hipster haven, and would do well to try to appeal to the type in your marketing.
Newtown, NSW
This suburb is perhaps the king of all hipster suburbs across Australia, with a strip of quirky restaurants, cafés, and vintage record, clothing, and book stores all within walking distance. According to Microburbs, Newtown ranks a 10 out of 10 for its hipster vibe. The suburb has a higher student population density than most suburbs, with 14 percent of all residents currently completing a university, college or TAFE certificate, compared to Sydney's five percent average. Out of those students 21 percent are also studying an art degree, making Newtown an artistically vibrant community.
"According to Microburbs, Newtown ranks a 10 out of 10 for its hipster vibe."
In terms of food, Newtown is big on variety, from pub food to vegetarian and vegan meals, Thai, and dog friendly cafes. The culture is not only reflected in the food and the lifestyle but on the streets, too. Newtown is known as Australia's street art mecca, conveying the forward thinking political ideologies of its hipster residents. Some of the suburb's most famous murals over the years include 'I Have a Dream' Aboriginal flag and civil rights drawings, 'Ban the Burqa' and 'Free Speech *conditions apply'.
Unlike inner city areas, Newtown has not yet experienced the government's lock out laws, which has in recent years propped up the suburbs nightlife and music culture.
With the median unit price set a $660,000, hipsters can afford to either buy or rent and cluster in Newtown.
Byron Bay, NSW
While being a tourist destination and summer season hangout, in its off-peak season Byron Bay caters for its large hipster population. Ranking an eight out of 10 on Microburbs for its hipster-friendly services, Byron Bay is just one example of a regional area that sparks the interest of hipsters. Compared to other regional towns, Microburbs reveals that Byron Bay nearly doubles in every hipster category like student density, population of single men and women, cultural diversity, and creativity.
Many of its restaurants sell organic, raw and natural foods including chia seeds, kale and quinoa that have become a part of a hipster's everyday vocabulary. Restaurants like Naked Treaties Raw food bar epitomise the hipster's attitude towards food, who eat with their eyes and socially share in their dining experiences.
With the median unit sale price of $570,000, Byron Bay is an attractive area for young and thriving hipsters.
Brunswick, VIC
Only six kilometers from the heart of Melbourne's CBD is Brunswick, a hub of hipster millennials. The suburb is known for its live music venues, attracting some of the best international and local talent. According to Microburbs, Brunswick ranks an eight out of 10 on the hipster radar. It has a high 12 percent population of bike riders, and 18 percent population of creative intellectuals. Similar to Newtown, Brunswick scores highly on lifestyle, with a diverse range of cultural activities and health and art resources, from tattoo parlours to alternative therapies and popular cafes that spill out onto the streets.
"Similar to Newtown, Brunswick scores highly on lifestyle, with a diverse range of cultural activities and health and art resources..."
Median unit sales prices are quite affordable for hipsters, sitting at $470,000, which is perfect for a first home buyer or renter.