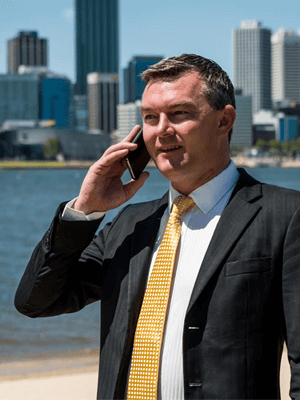 Once you make the choice to sell your property, the decisions you will have to make don't stop there - which agent should you go with, when is the best time to sell, what and how should you value your property, and perhaps one of the more difficult questions to answer, should you put your property through to auction or fix a price?
Some are easier to answer than others - OpenAgent makes finding the perfect agent for you as easy as possible, for example, but deciding whether to go to auction or fix a price can be tough.
As Perth-based real estate agent Brent Compton puts it, "Auction is perfect for every property in the country, but auction is not perfect for every seller in the country." For Compton, it is up to the agent to help sellers make the choice.
"Auction is the perfect method of sale, full stop, hands down, no question, but not everybody should auction. If someone's got a heart condition or someone wants it to be a little bit more private, I wouldn't recommend auction for those two types of people. Personality type requires someone to be a little bit open minded, someone to have motivation to sale...those sorts of things are great for people like that for auctioning," he explained.
If an agent has identified sellers as the perfect fit for an auction, Compton believes they should then look to make sure clients know it is on the table and something to consider.
Compton is particularly good at helping sellers make this choice. Having sold almost 500 properties throughout a prolific career, he is also a fully licensed auctioneer and has a 97 percent selling success rate for the more than 220 auctions he has handled as an agent.
"I think an agent that goes to a person's home and only talks about private treaty is like a carpenter that turns up to your house with a saw but not a hammer," Compton said.
"Auction is a tool that can be used, and agents that don't discuss auction are limiting the owner's realms of achieving a great price."
Still, auction can be scary, and Compton admitted that among many sellers - and even agents - there is a lack of understanding and a lack of confidence in the process. There is always the chance that the winning bidder will then decide they don't want to actually buy the property, of course, though Compton said that's rare.
"I haven't seen it very often in my career, because most people know what they're doing. People know an auction is unconditional, and that is part of the reason why the sellers like the auction process as well; it's clear and cut and succinct, which is good for both buyers and sellers."
Buyers turn up to an auction and register to bid in good faith, understanding the terms and conditions of auction, with the benefit of being able to see who they are competing against on a level playing field.
"Auction is a very fair and open and transparent negotiation process, while in private treaty you don't see what your competition's doing; you don't know if you paid $10,000 or $100,000 more than the next bloke," Compton said.
Sellers can't change their mind either once the deal is done, Compton explained, which gives clarity and conclusion to everybody on the day rather than having to wait weeks or even months for financing, building inspections, and a myriad of other things to happen before signatures can be put on the dotted line.
"It a very black and white way of selling property, which is a big benefit to a lot of people," Compton said.
Though the choice is ultimately up to the seller, a good agent will help make the decision clearer. You can find the right one for you on OpenAgent.