Selling via auction in Australia has become a common practice, especially in the country's two largest markets of Sydney and Melbourne. It's almost customary to hear stories of friends, family and neighbours selling their properties for thirty or fifty thousand dollars above their expectations. And the media will often peddle stories about properties selling for hundreds of thousands above reserve, too.
Based on all this, it's really not hard to see why auctions are such a popular method of selling.
In 'hot' markets, auctions tend to be the norm. In 2020, the year started off strong, with auctions dominating our strongest markets along the Eastern seaboard. That was until Covid-19 hit… so if you're planning on selling a property pretty soon, what method of sale should you use? Find out below.
2020 property auction performance
Before we can understand what the current auction market looks like, we need to look at how auction performance has changed throughout the evolution of Covid-19's impact on the market.
Auction performance in 2020 started off strong, and by the beginning of March we were posting clearance rates of around 75% in NSW and VIC, the two states with the strongest markets.
By the time Covid-19 hit, along with its associated restrictions, we can see that auction clearance rates started to plummet. Given that restrictions meant that public auctions were banned, many vendors were opting to sell via private treaty instead.
By June, all capital cities had experienced an ease in real estate restrictions, and we can see this reflected in auction clearance rate data.
According to CoreLogic, from the week ending the 29th of March to the week ending the 3rd of May, the portion of scheduled auctions withdrawn averaged around 45.8% across the combined capital cities market. This is around eight times higher than the 5-year average rate of withdrawn auctions prior to Covid-19, which was 5.7%, indicating that vendors and agents were not comfortable with selling their properties via auction in that market.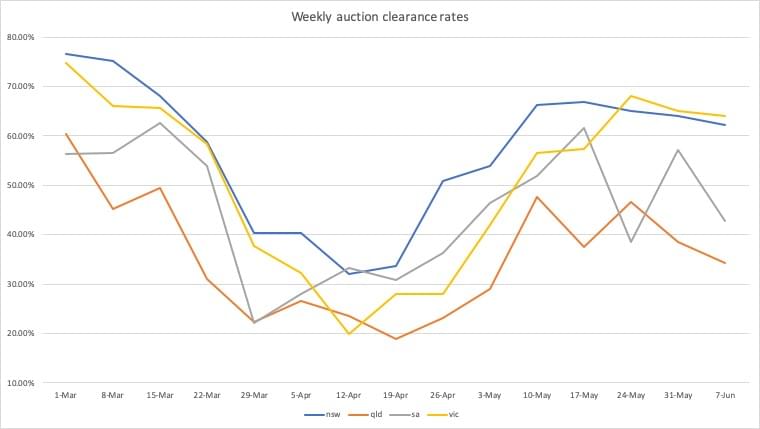 With public auctions banned, vendors who chose to sell via this method were faced with the prospect of selling online, and while many were able to sell successfully, the reality is that the competitive vibe driven by the fear of missing out is somewhat lost when an auction doesn't take place in public. This aspect, coupled with lower sentiment resulted in a pronounced dip in clearance rates around the end of March and into mid-April.
But are things looking up? It would seem that way. On the 27th of April, the Western Australian government eased real estate industry restrictions slightly, and by the 9th of May, bans on auctions were lifted in New South Wales, with Victoria following suit on May the 13th.
"Since the gradual easing of restrictions, we are seeing a constant growth in consumer confidence."
By June, all capital cities had experienced an ease in real estate restrictions, and we can see this reflected in auction clearance rate data above, where clearance rates rise dramatically from the second week of May. Sydney alone jumped from a 53.9% clearance rate in the week ending the 3rd of May up to 66.3% at the end of the following week.
According to Mr Paul Organtzidis from P&G Real Estate in Narre Warren, "since the gradual easing of restrictions, we are seeing a constant growth in consumer confidence.
"The general vibe we are experiencing in the market today is that things are slowly but surely going back to what we know as 'normal,'" he said.
It's important to note that while clearance rates are rising, the volume of properties actually going to auction are lower year on year. However, as restrictions continue to ease, we can expect that number to rise.
In the current market, is it a good idea to go to auction?
There's no doubt that we are experiencing a bleaker market than usual, but that's not to say that properties aren't selling, because vendors are still getting great results. But in slower markets, sometimes auctions tend to fall out of favour with vendors.
Whether you choose to put your property to auction is usually based on demand. If vendors and agents believe there's enough buyer interest, then this is usually a good enough reason to sell via this method. On the other hand, if there aren't many buyers circling the market for the kind of property you're selling, then auctions are generally a no-go.
"If an auction is the recommended method to help sellers achieve their goals, the increased market activity is definitely strong encouragement for owners to do so.
Whether you choose to put your property to auction is usually based on demand.
"There's little doubt that as each week passes, we will see sales by auction treaty become more common in the Melbourne marketplace," said Mr Organtzidis.
According to Mr Organtzidis, there are still plenty of discretionary vendors on the market who are going to sell, regardless of Covid-19's impact. He says there are also buyers who want to purchase property as soon as possible, which is creating a competitive auction environment.
While national stock on the market is comparatively lower to last year, and even to pre-Covid-19 conditions, as a seller, this lower availability of stock could work in your favour.
According to real estate agent Mr Ramez Riad from Hunter's Agency, the vibe at auctions in his local market of Parramatta, Sydney, is still quite electric.
"Competition amongst buyers for properties in my local area is still fierce, especially with the low stock.
"Since restrictions have been lifted, we're seeing a lot of interested buyers coming to open homes. Actually, we're seeing double the amount that we saw prior to Covid-19, so there are definitely buyers out there," he said.
One of the properties that Mr Riad currently has on the market is 7 Burra Street, Pendle Hill, which he says is garnering quite a lot of interest from local buyers. It goes to auction on the 27th of June.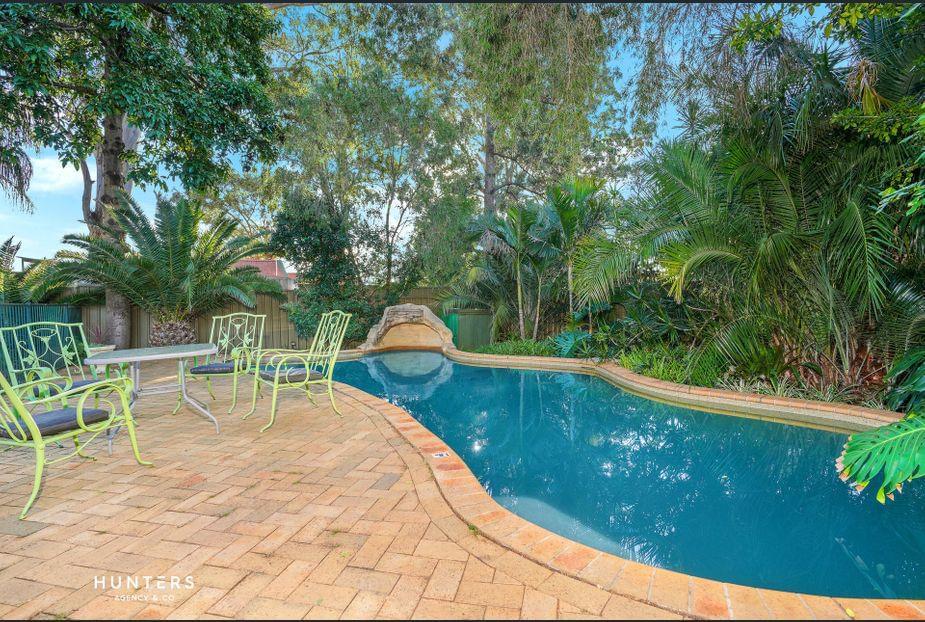 'While we aren't achieving crazy, crazy prices, we aren't selling for bargain prices either. It's a very balanced market, with properties going within a fair market value.
"In my opinion, auctions are still the way to go," he said.
The market data and trends all sellers should watch
A simple guide to tracking market trends and data so you know when you should sell
Get your free guide
Whether you choose to sell by private treaty or auction is going to depend on your local market, because markets can vary from suburb to suburb. For this reason, it's really important to watch your market carefully, and speak to local agents about whether your home is the right fit for an auction, as well as what they're seeing on the ground.
"Before recommending a method of sale, there are a few things to take into consideration, like, the style of home, unique characteristics of the property, the expected price range, selling timeframe, privacy preferences and even how the vendor might deal with the stress that can come with auction day.
"When the above is taken into account, and conditions for an auction are ideal, there is the potential of achieving a price far above what is thought possible," said Mr Organtzidis.