Update: Private inspections now permitted in Melbourne from 11:59pm Sunday 27th September
While regional Victorian sellers and buyers have been able to transact during the state's second wave, Melbourne has been subjected to stage 4 lockdowns since the 2nd of August. This unfortunate turn of events has resulted in Melbourne's real estate market being essentially brought to a standstill.
But, with case numbers continuing to decline, real estate restrictions have been eased further in regional Victoria. While Melbourne is yet to meet the <5 cases per day average, agents say that buyers and sellers are just waiting in the wings for real estate activity to resume safely and responsibly.
While the state is facing the very real challenges of a second wave, many homeowners in both regional and metro Victoria have still managed to sell their homes, some sight-unseen… and for great prices too!
To get the lowdown, we spoke to some of the top agents responsible for these incredible sales to understand what's driving their local market, what buyers are looking for, and what approach they're taking to sell a house successfully in the current climate.
Unique three bedroom home in blue-chip neighbourhood sells beyond vendor's price expectations
Tim Heavyside, Auctioneer and Director of Fletcher's Canterbury sold a beautiful three-bedroom property in Melbourne's East for $3,050,000 during the lockdown.
According to Mr Heavyside, the property was a 2012 family home that had been vacant for some time as the vendors had decided to move to a farm in country Victoria.
When he had appraised the property, prior to stage 4 lockdowns coming into place, Mr Heavyside said that to achieve a top price, he'd told the vendor that a bit of work would need to be done.
With Covid cases rising by the day, and with the vendors reluctant to travel to Melbourne to oversee the work, Mr Heavyside happily guided them through the process remotely. Over a three-week period he organised painting, gardening, cleaning, decluttering and styling on behalf of the vendors to get the property ready to be listed.
"I got it on the market ready for Friday; once I got it loaded on the net, we had a whole heap of buyers lined-up for the next day, which was Saturday, to take them through," he said.
What followed was four days of inspections, before the real estate industry was affected by the stage 4 lockdown.
"So I had inspections for four days, and then I'm waiting on a contract, between heaven and hell, just thinking, 'do I just wait until the end of the lockdown to do the auction or do we sell it now?'"
With vendors who were very keen to sell the property quickly, Mr Heavyside worked with the existing interest he had received from buyers, and even though the vendor was keen to sell, he wanted to ensure he could get the best price.
"Through negotiations, I was able to get the buyer up to the eventual sale price of $3,050,000," he said.
This was a great price for the suburb, because according to Tim, there was a comparable sale around the same time that sold around the $2.9 million mark.
"The vendor was very happy with the outcome; their dream price was $3 million. And even though the vendor was happy with $3 million, I pushed further to secure that extra $50,000," he said.
When asked how he secured that extra $50k, he says, "I can tell you, that doesn't just fall from the sky, it takes skill and experience."
According to Mr Heavyside, the vendor would have been happy to sell without repairs and had questioned the work that needed to be done prior to listing.
"He'd say, 'is that really necessary, Tim?' and I'd say, 'absolutely it is!'"
"You just have to do these things, because someone that's going to be forking out $3 million in Canterbury is going to appreciate these small details, so presentation was going to be really important," he said.
"In this circumstance, a 2012 custom-built home, it had to be presented immaculately."
Clever marketing was also an integral part of the sale, and given the price-point of the property and its uniqueness, it was important to show small details that you couldn't see in photographs, a 3D-virtual tour or on a floor plan.
For some buyers, Mr Heavyside had personally taken a 20 minute additional video on his iPhone to showcase these details, like how the fridge and freezer were fully integrated into the kitchen, and how access to the property worked, given it has dual-street frontage.
He knew there was only so much you could show through traditional marketing techniques, so opted to go that step further.
"We had a great social media campaign, boosting it out there and that kind of thing.
"The property was on all listings portals, our own website, and we just made sure we had a good digital footprint in terms of marketing," he said.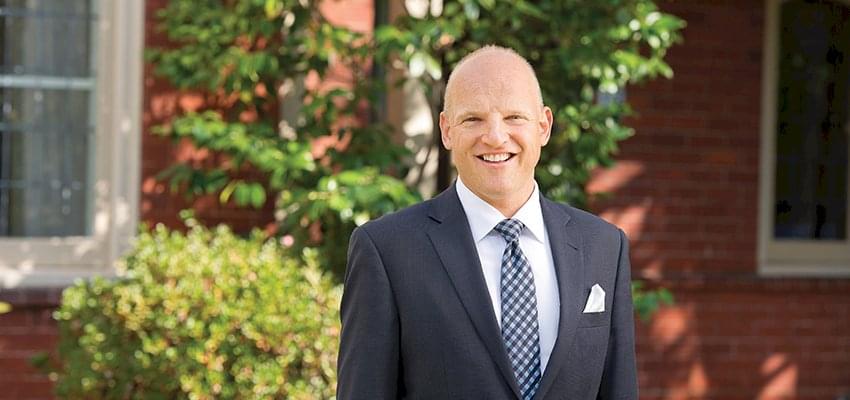 For Mr Heavyside, getting great results means pushing ahead and going the extra mile.
"Write the word triumph down - if you break that word down, you've got 'tri' and you've got 'umph.' And what you need to triumph, is oomph," he said.
Other memorable sales include a two-bedroom apartment in Box Hill that sold to an investor, sight-unseen during the lockdown, and 8 Bright Street, Camberwell, which was listed prior to lockdown and then sold via an online auction.
"I did the auction from my house, from my iPad. I had the vendors with my assistant on the phone, I had the buyer through there, and three people bidding.
"The auction itself took over an hour to call, because we had that many bids.
"We got a great price. It was on the market for $1,550,000 and we sold it for $1,638,000.
Buyer demand soars for Geelong properties
Top agent Ricky Forte from McGrath Geelong says that in his market, stock is turning over quickly and their days on market have never been lower.
"The amount of sellers has dropped off, and so there's a drop in volume, but that is far outweighed by the number of buyers on the market, so that means anything we get is selling well," he said.
In Geelong, Mr Forte says that purchases from local owner-occupiers are on the up, with quite a bit of demand for properties around or below the $600-650k mark.
"I think that's been the most buoyant market by a mile, and that just seems to be the affordability price point for a lot of first home buyers," he said.
Mr Forte says this is likely being driven by all the new government grants on offer, which also drove a noticeable rise in enquiries for blocks of land.
He says that investors and first-time developers have shown interest in properties, too.
One example is 14 Anthony Street, Newcomb, which was the perfect candidate for a subdivision. With an initial listing price of between $450,000 and $470,000, the entry-level property had garnered plenty of interest from first-time developers and mum-and-dad investors.
Mr Forte says that 41 groups were taken through the property on its first day of private inspections.
"It was a private sale, but I had two buyers who had stayed out the front of the home, at opposite ends of the property, literally bidding against one another with offers," he said.
"We reached over full price before I even got in my car to get to the next open inspection for the day," securing a price of $505,000.
"I think results like that were even good to see for the buyers that missed out, as it gave people confidence that good stock is still sought after, despite seeing headlines in the news that house prices could drop by ridiculous amounts of 30-40%," he said.
Tales like this almost sound commonplace in Geelong's current market, with Mr Forte reporting huge buyer interest for a number of properties that he has recently sold.
A great example being 9/199 Noble Street in Newtown which had 52 groups through it in one week, and sold for $402,000, when it was originally advertised for between $370,000 and $400,000.
Another is 12 Glengarwyn Road in Leopold, which had 40 private inspections within 8 days and sold for $11,000 more than the original asking price.
"It'll be very interesting to see what happens in the next six months, give or take, once Melbourne buyers are allowed to come down, and if there's going to be a big influx," he said.
What are agents expecting once restrictions are eased?
In Mr Heavyside's area of East Melbourne, there's very little properties on the market at the moment.
"The main suburb I service is Surrey Hills. Surrey Hills would normally have between 30-60 houses on the market at any one time; at the moment there's only seven, and that is a tale of all suburbs, particularly in Melbourne, and particularly in the suburbs that I service.
"But, there's still demand," he says.
"With these low interest rates, what are you going to do with your money? Property is still a very sound bet.
"From a real estate perspective, prices are stable. There's strong demand, lack of supply and low interest rates. They're the three key ingredients keeping it steady.
'What could imbalance that could be a massive influx of listings and mass unemployment, but at the moment it is very stable," he said.
To sellers in East Melbourne, Mr Heavyside says not to be afraid of listing your property due to Covid, because there's still that strong demand from buyers.
"I'm still listing properties, and while we're in a tunnel at the moment, there will be light."
"Based on information from the Real Estate Institute of Victoria (REIV), with the number of Covid cases dramatically decreasing in Melbourne, we're going to see increased pressure on the government to relax regulations on private inspections, so I'm thinking we'll be back to private inspections within three to six weeks," he said.
The REIV have been publicly campaigning and lobbying the state government to reconsider the current restrictions on real estate, which they say are pushing families to the brink, financially and emotionally.
REIV CEO Mr Gil King says the industry body has made multiple attempts to help government agencies understand how the property market works.
"We are not asking for live auctions or open house inspections. We know those pose a risk. We have never asked for any relaxation in measures that could potentially impact the health and safety measures," he said.
He added that the real estate industry has been prepared and equipped to conduct one-on-one inspections safely, and that they are asking for real estate transactions to resume in a safe and measured way.
"There have not been any reported instances of infection transmission through real estate practices," said Mr King.
Agents across the state are raring to go once restrictions in Melbourne are lifted, with many agents in regional Victoria expecting increased interest from Melbourne buyers.
While there's always been a healthy appetite amongst Melburnians for Geelong properties, Mr Forte from McGrath Geelong says there's been enquiries from people trying to pre-book appointments to view properties - despite it being difficult to know when and if Melburnians can leave the city to travel into regional areas.
Mr Forte expects there will be an influx of interest in regional property now that more people can work from home.
"Working environments have changed, and personally I think that's permanent, and a lot of people won't need to have to go to an office, their roles are being changed forever.
"So people are thinking, why not? It's putting areas like Geelong, Ballarat and Bendigo in people's minds, and people are just going to chase value for money.
"If you don't have to commute an hour for work, it's just a lot less important where you live," he says.