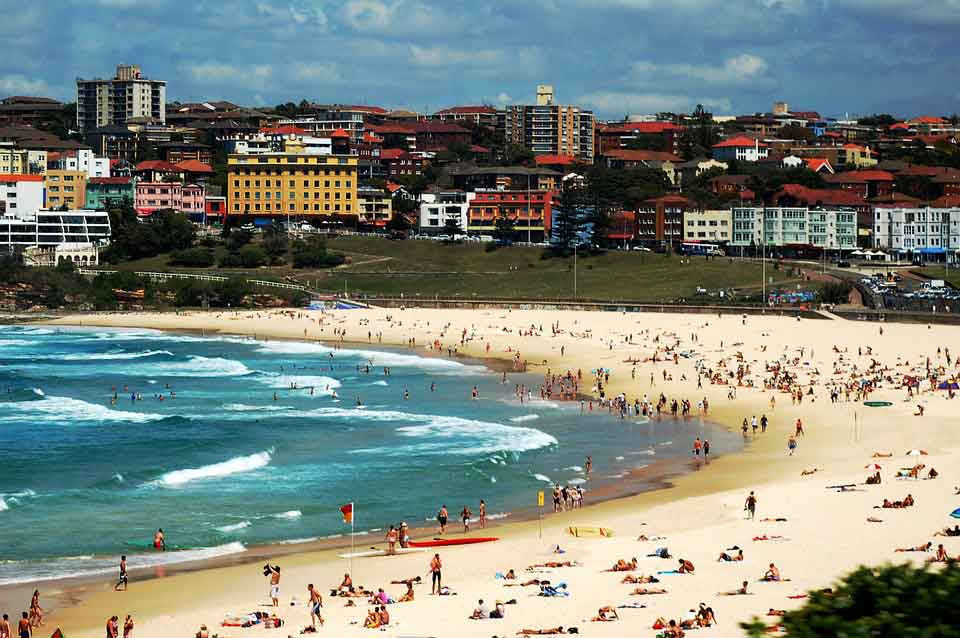 The Bondi area seems to have it all, including one of the most frequented tourist attractions in Australia.
Bondi offers a thriving local economy, reliable local infrastructure, strong community and properties that sell for upwards of $2 million.
There are currently just over 70,000 living in the Bondi with the majority young independents aged 20-39, which makes up for more than 27,000 of the total population.
The Bondi area has a constantly increasing population and a property market with an annual growth rate of 37 percent that shows no sign of slowing down. While this could make the market difficult to enter it does not restrict the main demographic of young independents from being able to afford renting and buying units with a median selling price of $900,000.
The population density in Bondi is currently 9063, a massive difference between that of the rest of Sydney, currently 991 residents per square kilometre. This shows the level of interest in Bondi Beach and the surrounding area and how many residents are eager to live there.
When asked to think of the typical Bondi resident, the first image to come to mind for most of us would probably be a young surfer, but it is home to a range of homeowners and renters, with the second largest demographic of 17,700 being 40-59 year old established independents, and 39 percent of residents being professionals.
The number of older independent homeowners may seem contradictory to the area's reputation and culture, however it makes sense in regard to the types of homeowners that can afford a median selling price of a house in Bondi, and keep up with a growth rate of 36.89 percent in the last three years.
Nonetheless Bondi Beach is a prime destination for young independents and this demographic makes up for a majority of the population. Units in the Bondi area have a lower median selling price of $900,000 compared to that of houses and larger properties, $2 million.
In Bondi the number of successful sales of houses for the last year is 21, while the number of sales for units is at the larger count of 194. An average property in Bondi will spend 35 days on the housing market before selling, while units spend an average 28 days on the market.
The number of units sold in 2016 compared to the amount of houses suggests a shift in the housing market towards a higher demand for affordable and rental property. This is could be due to the houses in Bondi being valued at more than $2 million and therefore unaffordable to a majority of Bondi's prospective homebuyers.
This change in focus from houses to units in Bondi can be demonstrated by the tenant rate reaching more than 60 percent of the total population, compared to 32 percent for the rest of Sydney.
Despite this change the property market of Bondi has been consistently strong over the last five years, with the value of land more than doubling, increasing by $1 million since 2010.
The percentage of residents in Bondi that regularly commute using public transport is 38 percent, higher than 23 percent for the rest of Sydney. Bondi has extensive public transport system and strong local infrastructure that make it easy to travel throughout the area and enjoy everything it has to offer.
Bondi Junction is a vital part of the Bondi's local economy, with shopping centres, a transport station, high-rise apartments it as an area as important to the success of the suburb as the famous Bondi Beach.
Retail stores and professional businesses make up for more than 27 percent of the local economy in Bondi, with Westfield shopping centre as one of the main attractions, located in Bondi Junction just 10 to 15 minutes from the beach. Bondi Junction is home to numerous businesses and franchises like Event cinemas, Woolworths and other typical shopping centre stores as well as professional and retail businesses.
Bondi Beach also boasts a strong economy achieved through the numerous and renowned small businesses with a customer base made up of the local community and the large amount of tourists that frequent the area. Businesses like Bondi Ink, Hurricane's Grill and Bar, the Speakeasy Bar and the countless coffee and retail shops and the success they experience make Bondi Beach's local economy one of the best in Sydney.
Whereas Bondi Junction can operate as an urban shopping complex, the beach is its own entity, with a culture of small businesses, local investment and a relaxed attitude towards the housing market.
For more information on finding the perfect agent or to find out what your property is worth take a look at our blogs.