Whether we're under lockdown or not, many of us are staying much closer to home than usual. Gone are the overseas holidays, and weekend trips to local shopping centres. This means for many homeowners, there's extra cash in the bank that could be used to increase the value of your home before putting it on the market. Not to mention, we've all got a little bit more time on our hands.
With the traditional spring selling season only weeks away, here are the key value-adding home improvements that you can take on. They're likely to make sure your home is enticing to buyers, and can help you secure a better price.
Freshen up the kitchen
It's no secret that great kitchens add a lot of value to a home. If your kitchen is in good nick, then skip ahead. But for those of you whose kitchens are needing an extra bit of love, getting your kitchen up to scratch doesn't have to cost as much as you might think.
According to a survey conducted by the Housing Industry Association, the average kitchen renovation in Australia costs somewhere in the vicinity of $26,280. But a cosmetic renovation can cost significantly less than that. According to renovation and house-flipping queen Cherie Barber, you can make a huge difference with about $2,000.
"You can make a huge difference with about $2,000"
Some of the updates you can make on a budget include:
Giving cabinetry an updated look by priming and painting with a laminate paint.

Using tile paint to give kitchen wall tiles an updated look.

Painting walls and ceilings in a nice neutral cream or white.

Updating fixtures and rangehoods.

Updating benchtops with budget-friendly laminate to mimic 'luxury' materials

Polish floorboards or install new vinyl flooring
When you're selling, sometimes there's no need for a big and often complicated renovation. It's more about presenting your home in the best light possible without breaking the bank. We all know that tile paint isn't intended to be a long-term solution, but it does show a purchaser the possibility of what a home could look like with a full-blown renovation.
Put yourself in the buyer's shoes. Would you rather buy the home with the pink 1960s kitchen? Or the home with the light and airy kitchen? While tile paint isn't perfect, it's a hell of a lot better than pink and black tiles from yesteryear.
Budget bathroom updates
Any prospective buyer is also going to look at the condition of a bathroom when they inspect a property. Just like kitchens, bathrooms are also one of the most expensive rooms in a property and have a fairly high bearing on your home's overall value. Therefore it's important to make these areas of the home look as good as they can, and within your budget.
Now, what to do for a bathroom renovation? For budget-conscious renovators, a cosmetic renovation should do the trick.
If your tiles are in structurally good condition, you can cosmetically refresh with tile paint. Everything you need is available from good hardware stores. You don't need fancy tools and products; basic paint brushes and paint trays are perfect for this job.
Just like kitchens, bathrooms are also one of the most expensive rooms in a property and have a fairly high bearing on your home's overall value.
Just make sure that you clean your tiles with the right products and prime (this is your bonding agent) before you paint. White Knight has a great line of tile-painting products for this kind of job. In addition, if your grout is a little dirty, use a grout pen to freshen it up.
Shop for new fixtures if the ones you have are a little tired. Make sure to shop around to find a bargain. You can even consider looking at sites like GraysOnline to see if you can snag a steal.
If you're considering a full bathroom renovation, there are ways to keep your costs down as well. The biggest tip is to keep the same layout (so long as it's practical). As soon as you start moving things around, your plumbing costs will add up.
Curb appeal
Sorry to say, but first impressions count, so it's important to make sure the front of your property looks great. Not only will your property look more enticing in a sea of listings, it'll also look great when would-be buyers decide to do a drive-by to suss it out.
To get those buyers through the door, you can:
Paint fencing, railings or your front door

Replace letter boxes or hardware

Utilise garden lighting around paths, against fencing or tall trees and shrubs

Install container or window boxes and fill with colourful perennials

Clean, paint or replace guttering

Pressure clean paths, pavers and any front decks
Give your home a fresh coat of paint
One of the easiest things you can do to add value to a property is repaint your interior in pleasing neutral colours. Think white, creams and soft light greys. Potential buyers are looking for a home that they can imagine living in, so leave any loud or garish colours and feature walls at the door.
Interior painting is also well within most people's DIY repertoire, but if you would prefer to hire someone, a handyman could do the job, and it will still be relatively affordable compared to other larger renovations.
The non-negotiables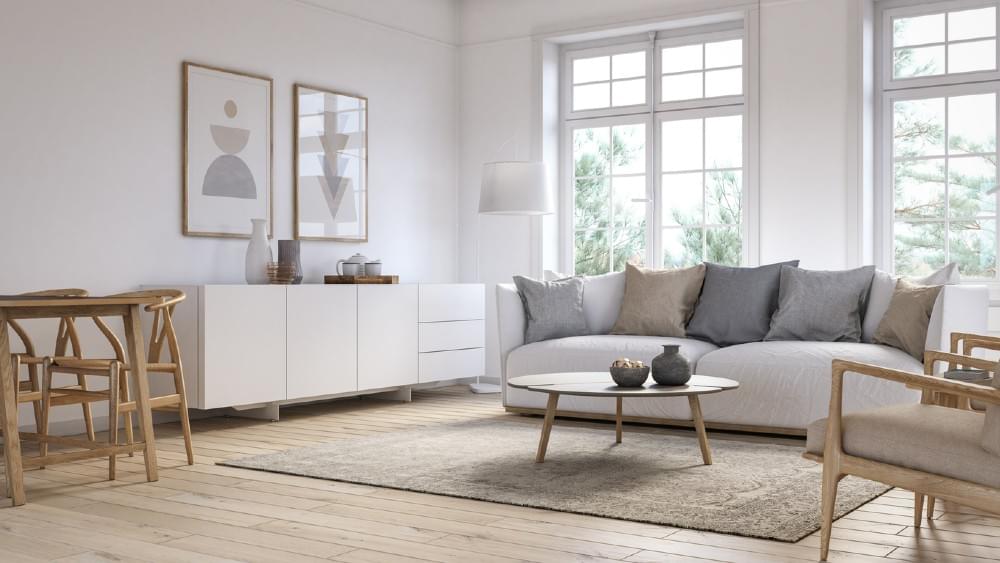 Declutter and de-personalise: the last thing a buyer wants to see in a real estate listing or at an open home is a cluttered home full of personal photographs and mementos. What's important is selling buyers the dream - give them an opportunity to imagine themselves living there.
Give your home a deep clean: that means inside and out. Buyers will attend open homes and really pay attention to the details. Steam clean carpets, polish surfaces, and get rid of cobwebs inside and out.
Make any necessary repairs: replace ripped flyscreens, fix cracks in walls, tighten and replace hinges on doors, and attend to those leaky taps.
These small things can make a difference to your overall sale price, because if you were a buyer looking at two identical properties, would you prefer the one with the leaky tap and stained flooring, or the one up the road that looks like it's been maintained and cared for over the years? Homes in poor condition will give the impression that there are more problems lurking under the surface.
What if you're a potential seller in Melbourne?
Don't fret - you can still prepare. While Melbourne is currently bound by Stage 4 lockdown restrictions, you can still order what you need from hardware providers like Bunnings to either click and collect, or have delivered.
Let us do the research for you
Find and compare the top real estate agents in your area
Compare agents now
As well as that, with disruptions and bans on general real estate business operations like open homes, on-site auctions and physical appraisals, agents also have a bit more downtime. According to top Melbourne Real Estate Agent David Moxon, this presents sellers with a unique opportunity.
While the majority of home sellers are erring towards listing once the lockdown is over, this is a good opportunity to get expert advice from an agent.
His advice is to contact local agents and start asking for video-call walk-through appraisals and advice. Many Melbourne agents are currently doing this - and while the majority of home sellers are erring towards listing once the lockdown is over, this is a good opportunity to get expert advice from an agent who will be able to tell you what your home might go for in its current state, and what you could do over the next month or so to prepare it for the market. Then once you're ready, a physical appraisal with a better-presented property might yield a higher expected sale price.