Meet Keith, he's just joined our Product team and we are thrilled to have him. Prior to OpenAgent Keith worked at a small research and analytics consultancy for the last 5 years; meaning he wore lots of hats and ran 5-10 projects at once for different companies and industries.
Rather than me tell you about Keith, we asked him a few questions about his experience and why he joined OpenAgent.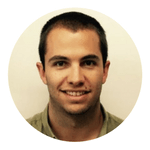 Where were you working previously, and what did you do there.
I have been working at a small research and analytics consultancy for the past 4+ years. During my time there I led the charge on transitioning our business from a more traditional market research company into a digitally driven innovation hub. The directors of our company could see that the traditional market research industry was dying, so we decided to pivot and ended finding a really nice little niche in the market.
It was such a small company that I had to wear quite a few hats, which included Senior Product Manager, Senior Project Manager, Delivery Manager, Office Manager, Team Leaders, and so on. So I have a bit of experience with a lot of roles and within quite a few different industries. What made you want to join Open Agent I've been involved in the start-up community in Sydney for a couple of years and knew that when I decided to look for my next job, it would be at a place like OpenAgent. I want to make an impact on a company and on the industry.
I wanted to join OpenAgent because I believe the real estate industry is ripe for a massive disruption. I worked at a real estate office in San Diego for a few years before moving to Sydney and although it's a very different market, I saw a lot of opportunities for agents to work better and for buyers and sellers to be treated better. Seeing what Uber has done to the transportation industry makes me believe that the real estate industry could be the next one to see significant transformation and it's exciting to be a part of that. Is there anything else about you that you want to share
I'm obsessed with all sports… but mainly the American ones. NFL season is about to begin which means I'll be waking up at 3am to start watching the games on Monday mornings. It makes for a long day at work for a couple of months out of the year but it's totally worth it.
Keith, it's great to have you join the team and apply your breadth of experience to OpenAgent.
Keith is part of Open Agent's Product Management team. If you are interested in joining our team email careers@openagent.com.au if you think you have what it takes to work at a start-up.