Want to know which suburbs are set to boom and cool in Victoria in the months ahead?
Most pundits think we should prepare for a slowdown or cooling in the housing market, even though the projections forecast Victoria, and Melbourne in particular, to be more resilient than other capital cities. Why? Interstate and overseas migrants continue to flock to the state, and the local economy continues to flourish with strong jobs growth. These, and other factors, helped Melbourne's market record double digit growth in 2017.
Despite this the question on many investors lips is if there is a crash on the horizon...?
Boom or bust for property in 2018?
Thankfully most analysts and pundits think not. Why? Because the fundamentals of the Australian economy are largely sound and the recent surge in Australian property prices is part of a shorter term property cycle uptick, and is not a true 'boom'.
True property booms are actually quite rare and occur when property values rise sharply, typically over a few years - such as in the 1990's when stimulus from the First Home Owners Grant drove massive demand. Booms can lead to a housing bubble, where speculation drives the value of properties to artificially inflated and unsustainable levels. The bubble or crash occurs when demand ceases suddenly and supply increases.
A boom has a distinct cycle from a value phase (cheap property), growth phase (prices rising), market peak (prices peak) culminating in a correction or cooling phase. Many property analysts believe we are now entering the correction or cooling phase - where dwelling prices stagnate or at least moderate.
What makes a market cool?
Cooling is a term used to describe a market where dwelling prices stagnate, moderate or even fall. This can be caused by a number of factors, such as:
Housing affordability becomes an issue, especially for first home buyers who cannot enter the market, which is evident in Sydney

Tighter lending criteria and credit policy from regulators and banks limits the number of loans

A rise in interest rates, which makes borrowing more expensive for investors

A drop in wages, which impacts how much people have to invest in property

Major changes in legislation, specifically to tax regimes and/or the end of government grants or stimuli packages

Negative population growth, which means fewer buyers in the market
Where is Melbourne's market headed in 2018?
Melbourne's housing market has been far more resilient to negative growth, especially if you compare it to Sydney. This is largely thanks to continued migration to the city, cheaper property and a vibrant local economy. The recent stamp duty concessions announced for first-home buyers is also likely to add some impetus to the city's apartment market in 2018.
Despite this dwelling values fell for the first time since February 2016, slipping 0.2 per cent lower in December 2017, though they were up 13.2 per cent for 2017 – the highest price growth since 2010. The median house price in Melbourne's outer suburbs also increased 2.4 per cent over the final quarter of 2017.
And if you look at the days on market metric, which indicates how quickly properties sell, homes took 33 days to sell in December 2017, up from 29 days a year ago. If this metric continues to climb it is a very good indicator of a cooling market. Auction clearance rates dropped below 70 per cent late last year, but are up above figure this again in February as the selling season resumes.
What Victorian suburbs are cooling in 2018?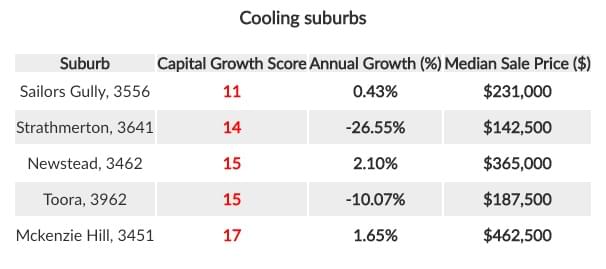 If you are looking for postcodes that are cooling, with less prospect of positive annual growth, CoreLogic data identifies a range of localities, including regional Sailors Gully, Strathmerton, as well as Toora as areas with little to no annual growth and low Capital Growth Scores*. Suburbs with median dwelling prices in excess of $1 million may also cool as first home buyers are likely to be looking at properties with a median price well below this.
In terms of apartments like other cities, most notably Brisbane and Sydney, Melbourne will also see a record number of apartment completions in 2018. This has the potential to impact unit prices especially in suburbs such as Southbank and Docklands, though tax breaks for first home buyers could well negate this and drive the market for apartments into 2018.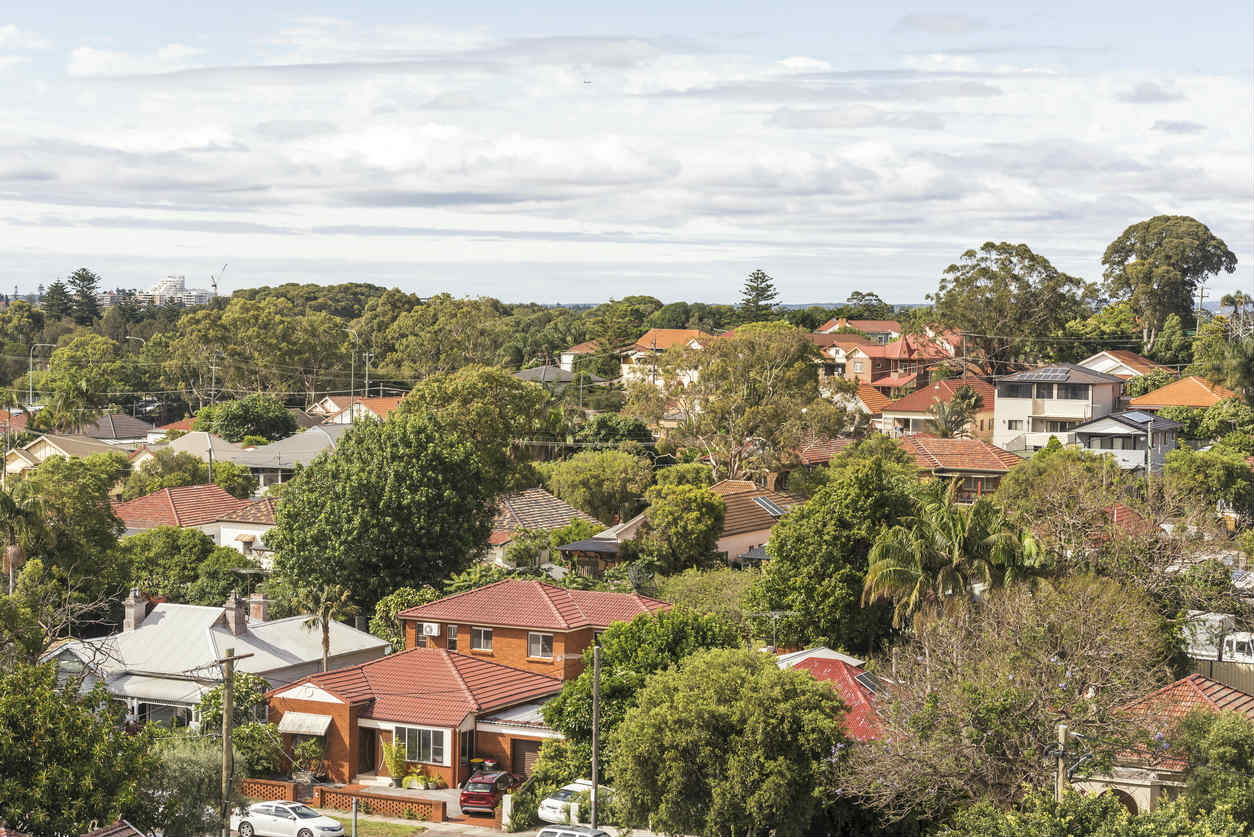 What Victorian suburbs are booming in 2018?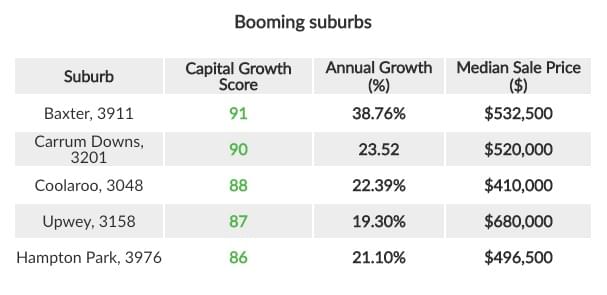 Suburbs with the highest capital growth potential are detailed in the graphic above, ranked by Capital Growth Score*.
Here we can see that regional locations, like the Mornington Peninsula's Baxter - 38.7 per cent median price growth over the last year - and nearby Carrum Downs (+23.5 per cent), are easily outperforming the metro Melbourne market. SQM Research's Louis Christopher tips southwest Melbourne's suburbs as another hotspot, after performing well in 2017.
Here Hoppers Crossing and Altona house prices were up 40 per cent over the year. Established suburbs like Toorak (+43.3 per cent), South Yarra (+26.7 per cent) and Mentone (+19.70 per cent) all recorded significant gains in the final quarter of 2017 - but all have median prices in excess of $1 million.
And if you are set on a unit, the Real Estate Institute of Victoria (REIV) lists Bundoora (27.7 per cent) Northcote (26.3 per cent) and Moonee Ponds (26.2 per cent) as suburbs with the highest growth in median prices in 2017.
Using data to research property
The days of using a tip or relying on your gut instinct to inform your property investment strategy are long gone. Today we have a wealth of property data to inform our decision making, with the ability to analyse multiple metrics, such as:
Property values, where rising house prices could indicate a positive long term trend

Clearance rates, where high percentages indicate a 'hot' market

Days on market (DOM) tells you how quickly properties are selling, or not

Rental yields, which details how much income/rent a property could fetch over a timeframe, as a proportion of its value.

Vacancy rates, with high rates a sign there is reduced tenant demand or a glut of rental properties on the market
There are other market conditions and metrics that you also need to take into consideration, including interest rates, housing approvals, and employment data which could also influence property values. These can all help you work out which suburbs are likely to boom, and what locations are likely to cool.
Access the latest property data in minutes
Get a property value estimation, recent sales of similar properties, insight into suburb trends and average days on market
Get your free property report
*Capital Growth Score - The Suburb Capital Growth Score is the average of all the individual Capital Growth Scores for each property in that suburb. Capital Growth Scores for individual properties are generated according to three factors: change in median price (1 year), average days on the market and average vendor discounting. A higher Suburb Capital Growth Score indicates the suburb has recently experienced significant capital growth and the short term outlook for further growth is likely to be strong given strong market health indicators.