Empathy and data personalisation in real estate
Real estate is by and large a people business. While agents are expected to master a wide range of skills, it's often empathy that makes its way to the top of the list of skills needed to excel. 
In a world where so much is being automated, it's becoming increasingly important to make sure that empathy and understanding your customer extends beyond interpersonal interactions. 
According to Belinda Parmar from the Harvard Business Review, from the board room, to the floor, "empathy should be embedded into the entire organisation."
In fact, consumers now expect some level of personalisation, with 90 per cent finding marketing personalisation very or somewhat appealing and 72 per cent saying they only engage with personalised messaging.
It's a fundamental shift that companies of all sizes are now embracing. They understand that personalisation is important for earning consumer loyalty in today's competitive market. 
Empathy in action
Tristan Tomasino, Director and Senior Auctioneer from Biggin & Scott has always believed that empathy is a critical component of building trust and rapport with clientele. And over the past year, with the stressors of a pandemic, he recognises that real estate is a human business now more than ever. 
Reflecting on 2020, Mr Tomasino says, "I've had the most amazing conversations with clients in my entire career. I realise how tough people are doing it."
"I realise agents are pretty low on the pecking order in terms of jobs and how much trust people give us, but I think people realise that [during a time of crisis], regardless of what industry you're in, generally everyone is doing it tough.
"I really try to level with people. Rather than just talking about selling a house, it's more important first and foremost right now to just have a human conversation with people," he said.
During the lockdowns in Melbourne, Tristan, like most Melburnians, was working from home.
"I said to them, 'I've got a child, it's hard for myself and my wife, we've both had to work from home, and I'm also selling my house, so I know the challenges and hurdles you're facing,'" he said.
Tristan's approach acknowledges and shows that we're more alike than we are different, and this encourages people to let their guard down.
"I've found that to be really gratifying because people have opened up," he said. 
How empathy can be embedded into business processes
From calls, to emails, to SMS - it's important to interact with your customers in a way that's meaningful to them. 
For Tristan and his team, this has been a recent focus, because it means he can communicate more intentionally and adapt really quickly in an uncertain environment. 
Tristan talks about how some agencies aspire to have huge databases of 7,000+ people, but during Covid-19, Tristan has aspired for something else: a database of highly engaged people, even if that database is a lot smaller.
"I believe the longer you're in real estate, [the more] you learn that you want to deal with people who want to deal with you; there's only so much rejection you can take," he said.
At the height of the pandemic, the last thing he wanted to do was call people who weren't interested in hearing from him. Instead, he and his team embarked on more of a 'soft-touch' approach to find out who wanted to keep getting updates. 
"We've been bulk emailing, bulk SMSing, and asking straight out, 'do you want to hear from us anymore?' and if people don't want to, we've taken them off our list. 
"Moving into the end of the year and into 2021, we want to engage and deal with people who want to deal with us."
"Moving into the end of the year and into 2021, we want to engage and deal with people who want to deal with us.
"We've removed about 400 people from our database so far, and you know, these people have bought, moved on, are not in the area anymore or they just don't have any interest in real estate," he said. 
According to Tristan, you've got to really pick your mark, because in times of crisis, "people will really remember how you were as a real estate agent."
And he's not wrong. The data shows that bad experiences drive customers away faster than you think. According to a report by PriceWaterhouseCoopers, 59 per cent of consumers will walk away after several bad experiences, while 17 per cent will after one bad experience.
The definition of what is considered a bad experience is different for everyone, but for some, it could be as simple as receiving irrelevant emails, and for others it could be receiving a call about potentially listing a home when they've already sold.
You need to know your customer
Businesses are becoming more and more sophisticated in the way that they optimise their customer experiences, because they know when they personalise their interaction, it's a great way to foster customer loyalty. 
Despite this, there are still plenty of businesses who don't harness data, which can actually be more time-consuming, and result in customers viewing your business' communication as a little left-of-field. 
But what does personalisation look like? The ideal scenario is that customers feel like you really know them - and at the end of the day, we're all receptive to communication that someone has taken the time to personalise. 
The easiest way to describe it, is when you walk into a cafe, and the barista knows your name and order; it's that familiarity and convenience that makes a customer feel special and at ease.
In real estate, it might be the difference between seeing customers as simply buyers and sellers, and more as upsizers, downsizers, apartment owners, investors, or even Susan who is looking for a three-bedroom terrace home in Inner East Melbourne. While this information might already live in our minds, it's way more powerful when it can live in a database.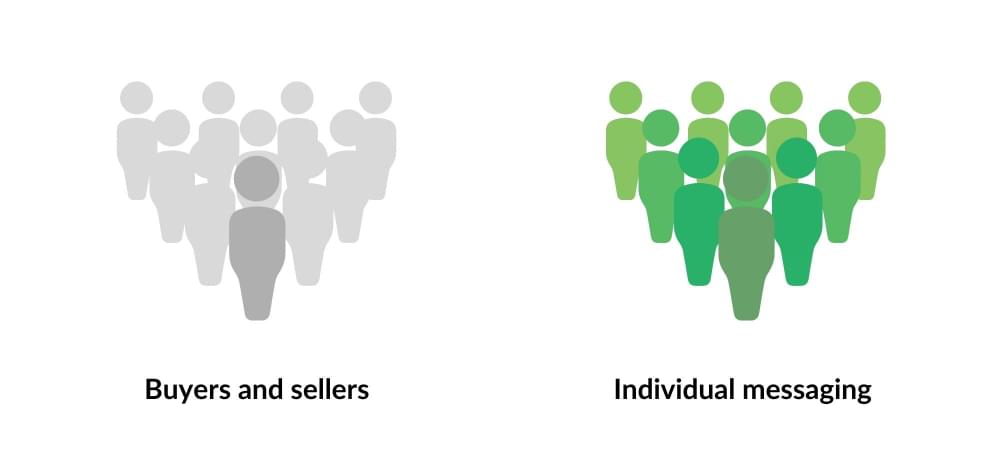 Tristan and his team started doing just that. Once they had identified those who wanted to hear from them, they began amassing information about their customers and their properties so they could tailor their approach and service for each client. 
"We're getting really familiar with what each client's requirements are, what type of home they have, if they live in our area, if they're a prospective vendor, that kind of thing," he said. 
According to Tristan, moving forward it's important that his agents are able to quickly hop-on to the database, search a defined radius and be able to, for example, call the person who has the double-fronted three bedroom brick house with ease. 
"A lot of businesses don't go in-depth in terms of categorising people in their database in that regard," he said. 
Tristan understands that personalisation, and moving towards a world where he can do that at scale is key. According to a 2019 McKinsey report, personalisation will be the prime driver of marketing success within five years.
Wondering where you should begin?
While many agencies may have existing CRMs that allow them to streamline processes and client communication, there are also many agencies facing significant barriers around which technology to choose; making sure software is integrated so data isn't siloed; and enabling tech adoption across teams. 
It can be a hefty challenge, and it's one we'll explore in a follow-up article in the coming month.