How much does a home stager cost in 2023?
Not sure if home staging or styling is right for you? Staging a house for sale has been rising in popularity over the past 10 years with some experts estimating that it can add an extra 5 to 10 per cent to a property's sale price. So how realistic is this, and what can a home stager do for you? And how much does it cost to stage a house? 
Let's start by looking at data from surveys conducted here and overseas, for quantitative and qualitative proof that staging is generally beneficial, and positively impacts sales values.
Home staging: what does the data say?
In terms of local data, Brisbane-based agency Cape Cod Residential and the Interior Design Association conducted a six-year study. It was exclusively focused on that location and covered 144 properties which all received the same staging package. It found:
49% of staged homes sold in the first week, with 66% of homes sold within the first 2 weeks, with 87% selling within 4 weeks. 

The average price premium increase across the properties in the study was $69,017, with a range of 3% - 10%. 30% of homes achieved a price premium of $100,000+.
Moving overseas, in the US a National Association of Realtors (NAR) survey found that staged homes: 
Spend an average of 73% less time on the market.

Helped 82% of surveyed buyers visualise living in the home.
The study also highlighted which rooms agents and homeowners prioritised for staging, with the living room the clear winner, followed by the kitchen, master bedroom, dining room and bathroom. 
A Home Staging Association UK & Ireland study in 2020, which surveyed 330 property professionals, found:
86% of respondents agreed that staged homes sell up to three times faster.

71% of respondents found that staging a home increased viewings
Let's now look at what is actually involved in dressing a house for sale. 
What is home staging or styling?
House styling for sale is all about presenting your home in the best possible light, so prospective buyers fall in love with it. It can involve anything from tidying up, decluttering certain rooms and adding a few cosmetic touches (partial home staging), to a full service where a dedicated home staging service brings in their own furniture and accessories. The latter is often used in an empty home or investment property, or if a home is in need of a makeover to make it presentable for sale. 
Home stagers or property stylists often have a background in interior decoration or interior design, with an eye for what will appeal to a broad range of people. So what does a staged room look like? Think clean, clutter-free with an emphasis on maximising space, and enhancing the features of the room. 
If you want a full-service home staging service they will use furniture and accessories that are practical and on-trend, to help your property stand out from the crowd. It is all about showcasing and targeting your property for sale to a certain demographic. Staging also makes your home more photogenic when it comes time to marketing it for sale, online and in print. It could be the difference that makes a buyer choose your property over another listing. 
A full-service home stager will use furniture and accessories that are practical and on-trend, to help your property stand out from the crowd. 
You will be paying for an initial consultation, styling advice, and furniture and accessories hire for the entire duration of the sales campaign (generally five to six weeks). They will also make sure your home is in tip-top shape and squeaky clean before the photographers do their job and the property is listed for sale.
Advantages of property styling or home staging
But there's more to home staging than hiring furniture to fill an empty room or adding extra pizzazz to a luxury mansion. Any property can benefit.
Staging can help a property stand out
When it comes to Real Estate styling, it's all about making a property as appealing as possible to potential buyers. By doing so, your home should spend less time on the market and sell for the best price. It's also about making that property stand out from the crowd and removing the things that can put buyers off or distr
act them for the wrong reasons.
Styling can help transform a home
A well-styled home can help potential buyers visualise what they can do with different spaces in a home. It can accentuate space, make the property look less run down or outdated, and warm up empty or cold-looking spaces. Just using different colours, textures, lighting, ornaments and artwork can make a huge difference to how a space looks.
Staging makes that all important first impression
Most importantly, first impressions are vital and the photos and advertising materials of a home that is styled are likely to look so much better (and encourage more people through the door) than a home that is not styled. Property styling can help potential buyers visualise what they can do with different spaces in a home.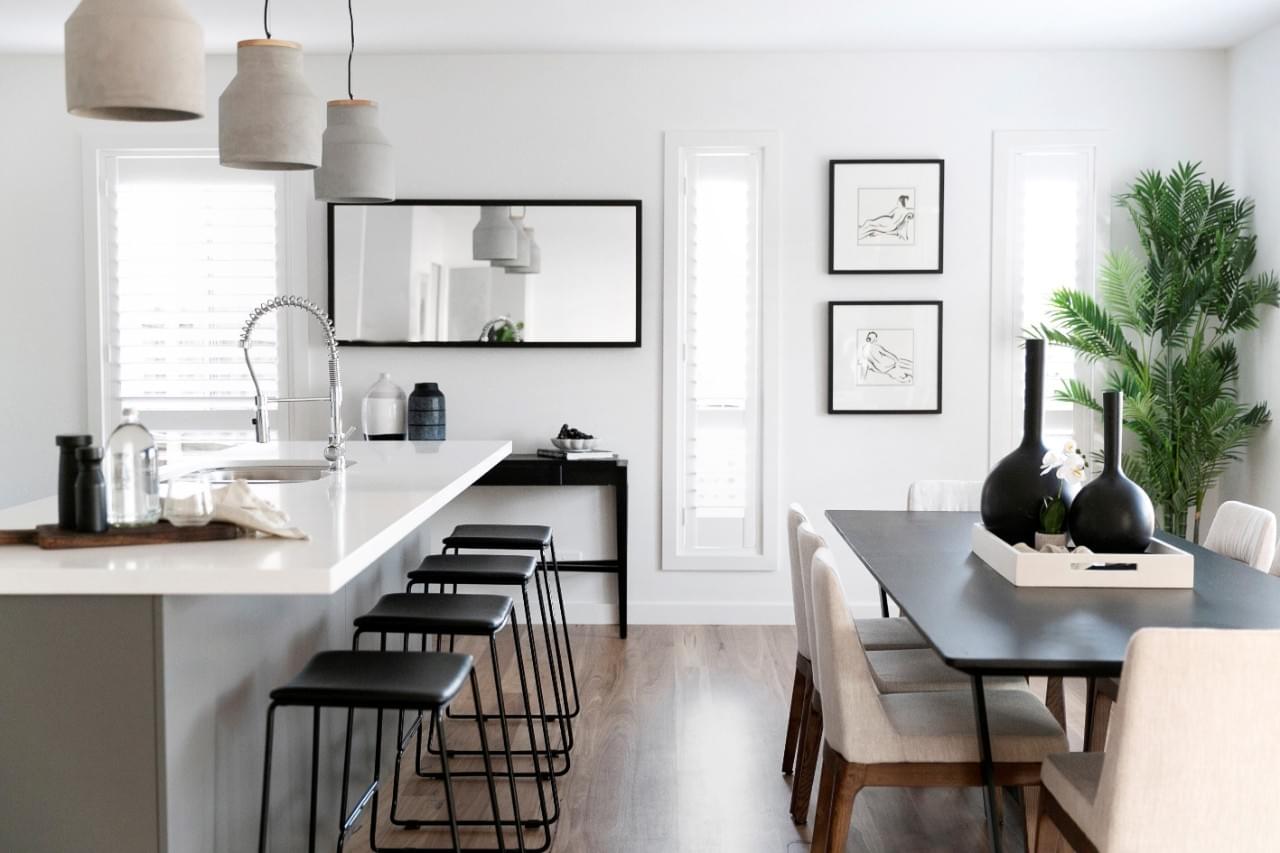 Is home staging the same as interior decorating?
That said, not every home needs to be styled. For example, if you believe most buyers are likely to knock your home down and build a new one, why bother? Also note that styling a home isn't the same thing as interior decorating. Real Estate styling is about marketing your home for sale, so you can move on. It's about selling a lifestyle that's not necessarily your own to appeal to a wider range of tastes.
Interior decorating, on the other hand, is about creating a home that you can live in and which you love, that improves your lifestyle. Interior decorating is about showcasing your own personal tastes.
Can I just hire furniture to self-stage a home myself?
You are most welcome to hire furniture and self-stage your property yourself, just be aware of a few points. 
A professional stager is very likely to do a better job, given their experience and eye for the job.  They will also have a full range of furniture and accessories to make your home look its best, based on the demographics of your area and what buyers are likely to respond to. If you are set on a DIY approach you should start by researching the cost of hiring furniture and storage - as you may find the overall cost is not that different to partial staging. You also need to factor in the time to do all this and work out how much work is involved for your home.
Are there any downsides to styling your home for sale?
The most obvious downside to home staging is the cost. You are not only paying for the expertise of a home stager, but depending on what level of service you want, the hire or rental of the furniture and/or accessories for a set period of time. 
Much of the total home staging cost depends on how much furniture you need to hire and how many rooms you want to stage. Prices often include a hire period of six weeks (extendable on a weekly discounted rate), delivery or pick up costs, professional styling and insurance. Some stylists will do their best to use as much of your own furniture as they can - for example, your bed frames. However, they may then also provide additional items such as bedding, big pillars and side lamps to spruce the room up. Other stylists may insist you only use their furniture.
A basic service starts at around $1,500 - which is not small change - so you do have to weigh this up and work out if you are likely to recoup the investment you make in styling your home for sale. It's probably best not to think of home staging as a cost, but rather as an investment. Your home is likely to be the most valuable asset you ever sell, so it pays to try to get the best price for it. 
How much does it cost to stage a house?
The cost of home staging depends on a range of factors, including the level of service you choose, and how long your property is staged for. 
You can expect to pay in the region of:
$150 to $500 for an initial consultation, depending on the experience of the stylist

$1,500 for a basic staging service
To give you an idea of how much a full home staging package could cost you for six weeks, expect to pay in the region of:
$1,995 for a studio/one bedroom apartment

$2,500 for a two bedroom apartment

$4,500 for a three bedroom house

$6,500 for a four bedroom family home

$10,000 or more for larger homes with five or more bedrooms
The cost of home staging depends on a range of factors, including the level of service you choose, and how long your property is staged for.
How much does a home stager cost in every state in Australia?
| City, State | Cost of a home stager |
| --- | --- |
| Sydney, NSW | Home stagers in Sydney can cost anywhere between $2,000 to $6,000 depending on factors such as location, size of home, design. |
| Melbourne, VIC | Home staging in Melbourne can cost $2000 to $3000 to hire furniture for a 3 bedroom property for a six week period.six-weekand  |
| Brisbane, QLD | Home staging in Brisbane can cost around $1700 for 2 bedrooms and $4000 for larger homes |
| Adelaide, South, AU | Home staging in Adelaide is typically under $2500 for quality property styling. $1800 for a 2 bedroom home. |
| Perth, Western AU | Home staging in Perth can cost around $2000 to $5000. |
| Hobart, TAS | Home staging in Hobart can cost around $1700 for 2 bedrooms and $4000 for larger homes |
These amounts are cost estimates only and are based on quotes from various home stagers online.
With all the costs associated with selling your home, it's a good idea to calculate all the relevant costs of selling
House staging: factors to consider
Your home and its requirements
Every home is unique and requires different amounts of styling and additional furniture or ornaments. Some homes may have outdated or grubby looking furniture and require a substantial facelift. Others may have modern, classy furniture and just need a few items moved around or a few small furniture tweaks.
The stylist
Home stagers with more experience and who come highly recommended may be able to charge more than others that are less known or new to the game.
Duration
Some stylists will sign you up for a five-week program. This allows for one week of photography and a four-week sales campaign. Others will sign you up for longer and thus cost more. Try to negotiate the price of extending the furniture hire down if your home doesn't sell.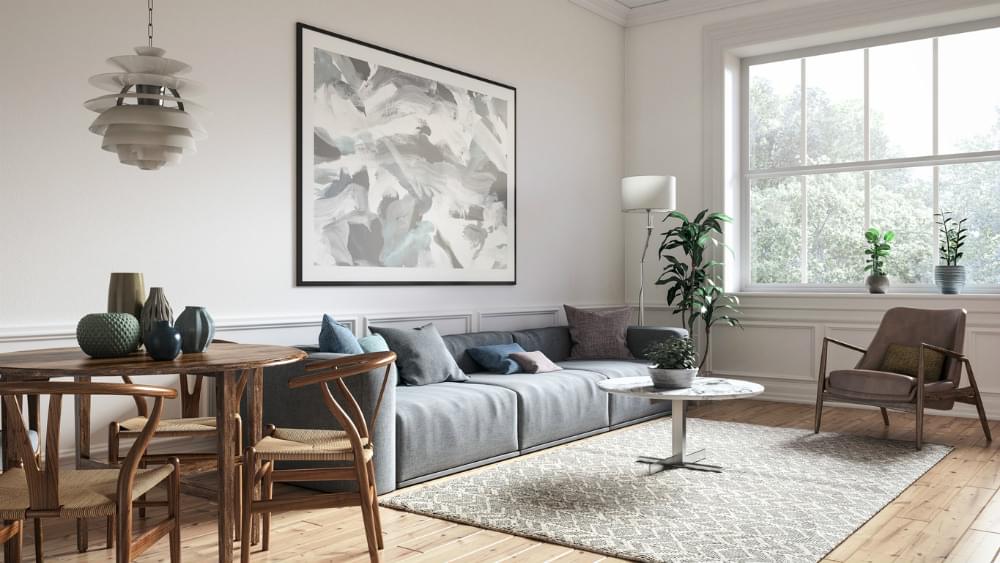 Types of home staging services
Not sure which home staging service is for you? Besides the full package, these are the other services on offer:
Partial home staging
As its name suggests, particle staging of your home is a pared-down service where the interior stylist or staging company works with what you have and typically does not use their full range of replacement furniture or accessories. They will declutter key areas, rearrange furniture and remove any items in the home which could limit the potential of your property when viewed. Partial home staging is an option if you either don't want to outlay for a full staging service or if your home looks good as is and just needs some tweaks. 
Virtual staging
These days, photographers can digitally declutter or electronically remove items from photos of a busy room at prices starting from $15 an image. They can also virtually stage an empty room with digital furniture at an estimated cost of $45 per image. But remember that while this may make your online advert or brochure look more appealing than an empty or messy room, potential buyers may feel disappointed or misled once they arrive to inspect your home.
DIY styling
You may believe you have the skills to do the styling yourself. In that case, you might only invest in a book that provides useful home staging tips or you may spend time looking for inspiration online.
This may lead you to perhaps borrow items from friends and family or to buy a few things yourself. For example, new towels for your bathroom, luxury bed linen, modern handles for your kitchen cupboards or a glamorous vase for your dining room table.
Don't forget, though, that we often view our homes in the same way as we do our children. We don't always see all their flaws or view them objectively. Sometimes it really pays to get an experienced expert to provide an independent view. You can also ask friends or family to come over and give you honest feedback and advice. But remember, everyone has different tastes and not everyone understands the difference between interior decorating and home styling or what it takes to sell a home.
A once-off consultation
Some stylists may provide consultations to point you in the right direction for an hourly fee. Their advice could include how to rearrange and use your furniture better.
At the end of this consultation, you may have a better idea of who's most likely to be your target buyer, what needs to be repaired, what items could be hired and perhaps have an action plan of what you need to do room by room.
Costs of an initial consultation vary, but appear to start from $150 and can go up to $500. The price tag could be higher if you request a written report afterwards.
How to hire a property stylist or home staging service
Your real estate agents will have much to gain if your house is properly styled. It could make it easier for them to sell your home or help them get a better price for it (and thus, a higher commission).
So ask your agents for recommendations. Also, look online - there are many different property styling companies operating across Australia. And don't forget to visit other homes in your neighbourhood that are open for inspection to see what your competitors are doing and who they are using.
Speak to a few home stylists before you choose one. Review their portfolios, ask for references and compare their prices and packages.
What is staging?

How can you style a house for sale on a budget?

What do I need to know if I choose to style my own home for sale?