Best areas to buy property in Tasmania in 2023
Although it's Australia's smallest state, the island state of Tasmania made big gains in the property market in 2021—and not just in Hobart. 
So how will the property market in Tasmania shape up in 2022? This guide will give you an overview of how the market performed in 2021, as well share expert projections for 2022.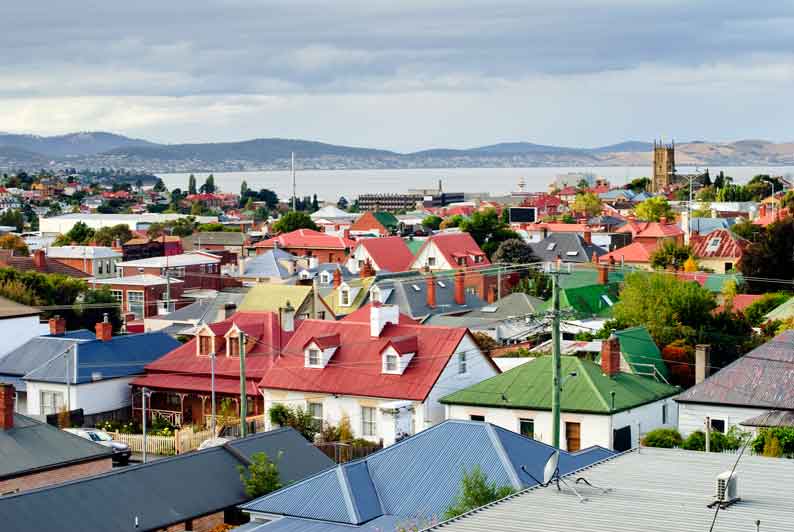 What did the property market in Tasmania look like in 2021?
2021 was a phenomenal year for the Tasmanian property market, with property prices experiencing record increases. 
QBE's Australian Housing Outlook report suggests that the key factors that supported this boom in the property market were: record low interest rates, increased savings supporting home deposits, changing in household preferences due to the pandemic, and a boost from government stimulus. 
According to Corelogic's Hedonic Home Value Index report, as of 30 November 2021, dwellings in Hobart experienced an annual increase of +27.7 per cent with a total return of +33 per cent, while dwellings in regional Tasmania rose +29.8 per cent, with a total return of +36.9 per cent. 
Corelogic's data also indicates that rental yields in regional Tasmania rose +4.4 per cent, while Hobart rental yields experienced a change of +3.8 per cent, sitting only slightly above the new national record low of +3.23 per cent. 
Houses in Launceston, Tasmania's largest northern city, rose a significant +21 per cent. Regionally, according to Westpac's Housing Pulse November report, the North and North West of Tasmania, which includes the large regional towns of Burnie and Devonport, have also experienced gains, with dwelling prices reaching the +20-30 per cent. 
Corelogic's Housing Market Update report shows investor mortgage rates falling to the record low of +2.71 per cent in September, corresponding with a rise to +32.2 per cent uptake of investor finance in Tasmania for the same period. 
Tasmania property market forecast 2022
With all the achievements of last year, can we expect to see the same gains from the Tasmanian property market in 2022? Let's take a look at what the experts are saying. 
Supply versus demand is the strongest influencer in the Hobart property market and existed well before the Covid pandemic was on the scene. The city has experienced strong and steady population growth, and was reported by QBE to have an undersupply of 4,000 dwellings during 2019/2020. 
Like other states in Australia, the big factors for 2022, will be inflation, and changing interest rates. According to NAB's The Forward View, we are seeing glimpses of the long-awaited economic rebound with the return of migration and the absence of lockdowns. 
QBE projects Tasmania's population to grow at +5 per cent per annum over the next five years, which will put pressure on the housing supply issue, and may buoy any downturn in the market due to changing interest rates. 
QBE is expecting that performance in Launceston will be in line with Hobart, and slow from March 2022. Supporting both the demand for employment and demand for more dwellings will be the University of Tasmania Newnham Campus Development and the Northern Prison developments. 
The Boom and Bust Report 2022 forecasts a +16.5 per cent change in rental yields for houses and a +4.5 per cent increase for units. 
QBE's Australian Housing Outlook Report projects a +12 per cent increase in dwelling prices in Launceston, a +14 per cent increase for unit prices, and a +15 per cent increase in house prices in Hobart. Although these increases are strong, QBE forecasts that this will occur in the first two quarters of 2021/2022, and will be moderate from March 2022, in line with RBA interest rate changes. 
In contrast to other experts, the BuyersBuyers Investor Special Report forecasts that all the gains in Tasmania are in the past, so it doesn't recommend the Tasmanian market for investment in 2022. Peter Wargent, BuyersBuyers co-founder and international buyer's agent advises, "the Tasmanian market is going ballistic… when you're investing in a market that's already gone through that kind of a boom… you've missed the bulk of the cycle." He also cautions that, "the level of price growth isn't sustainable."
How are Tasmanian house prices expected to change in 2022?
In recent years, house prices across Tasmania outperformed themselves. In 2021, even the regional North-West made it into the property market headlines. But how will things play out in 2022?
According to the ANZ Housing Forecast, it appears that the median prices across the state have peaked, or are shortly to peak. The forecast also states that prices are expected to slow in 2022 and fall in 2023. Even so, ANZ projects an +8 per cent rise in Hobart house prices in 2022. The median house price in Hobart in 2021 was $698,212, compared to $529,190 in 2020, according to Domain. 
In Hobart, QBE forecast an increase of +14.7 per cent to the median house price, rising to a projected $783,500. 
By comparison, median house prices in the North and North-West of Tasmania are still relatively low compared with their southern counterparts, with the median house price in regional Tasmania sitting at $485,372, according to the CoreLogic Home Value Index. 
There is still a lot of room for movement in areas like Burnie in the North-West, where the median house price is $398,379, while the median unit price sits at $346,500, according to Domain. 
What's the Tasmanian apartment market like?
While apartments are the slow burners in other states, QBE is reporting strong gains for the apartment market in Hobart in 2022, forecasting an increase of +14.5 per cent to the median unit price, rising to a projected $667,300. 
One reason the apartment market performs well in Tasmania is that there isn't an oversupply issue. According to BuyersBuyers Investor Special Report, unit development in Tasmania has lagged behind the other states and territories, with developers choosing to build on the mainland rather than the island state. 
If you want to get your hands on an apartment in Tasmania, you'll likely need to limit your search to apartments in Hobart or Launceston. 
What are the best suburbs to invest in Tasmania in 2022?
Are you considering buying an investment property? Then purchasing property in Tasmania during 2022 might prove to be a strong choice. 
The ANZ data shows that rental growth is strong across Tasmania, not only in the capital city of Hobart, but also regionally where you can still buy a property under 500k. 
Even at lower prices, these areas have seen big gains. According to Prop Track Regional Australia Report 2021, regional Tasmania is more in demand than Hobart, with a year-on-year increase of +70 per cent. 
According to data from Domain, the Glamorgan-Spring Bay (+39 per cent), Central Coast (+30.6 per cent), and George Town (+36.5 per cent) have been the strongest regional performers in 2021. 
Overall, regional Tasmania has performed well over the last five years and may be a stable investment. But remember, when you're considering purchasing a property regionally, it's important to consider local quality infrastructure and access to amenities before purchasing. 
In Southern Tasmania, according to QBE, the suburbs that had the most gains were Glenorchy (+27.2 per cent), Hobart City (+23.7 per cent), Sorell (22.7 per cent), Brighton (+5 per cent), Kingborough (+19 per cent), Clarence (12.4 per cent), and Hobart (22.1 per cent). Keep in mind, however, that these suburbs may have reached their peak in the short term. 
If you're looking for the best suburbs to invest in Tasmania in 2022, then the first step on your list should be to get in touch with a local real estate expert.