What to expect entering a Junior Data Analyst position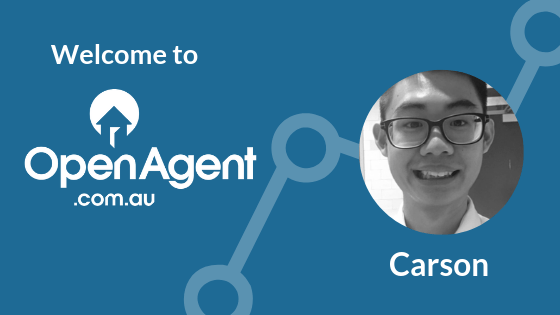 After a time-consuming couple of months searching for the right candidate, OpenAgent has just scored a Junior Data Analyst.
OpenAgent welcomed Carson Teh to the team in late December 2018, who graduated with a Bachelor of Economics in July 2017 at The Australian National University in Canberra.
Getting to know Carson
Prior to joining OpenAgent, Teh didn't have a full-time job. During this period he was working in hospitality whilst taking the time to self-learn basic programming languages like Python and SQL through Coursera.
Having always anticipated a career as a data analyst, Teh jumped in excitement when he received a job offer. He was ready to begin his career and journey here at OpenAgent.
In order to build up analytical and technical skills, he spent a long time on his formal studies and self-taught programming. Hence, he was simultaneously on the hunt for a full-time job.
"The Junior Data Analyst role offered by OpenAgent was the perfect opportunity to start my career."
"The Junior Data Analyst role offered by OpenAgent was the perfect opportunity to start my career."
According to StartupAUS, Data Analytics is one of the hottest fields hiring for growing startups and scale-up businesses. Have a read here.
Applying for the role
"As usual, I would scour all of the relevant job posting boards for jobs…I kept Linkedin job alerts on for any relevant data roles suited to juniors…"
Not only does setting job alerts save time during the job-seeking process, but it also keeps you up to date with the newest roles being posted by having them conveniently sent to your email.
"When the job for OpenAgent came up, I realised I could potentially fulfil the criteria. Before applying I did some further digging into the company and saw their Instagram..."
OpenAgent has an Instagram just for our workspace. It's the behind the scenes of what happens when you put a bunch of like-minded nerds in a space - magic happens. Check us out at @insideopenagent.
The hiring process
Once applying, Teh then got phone-screened and asked if he wanted to complete a SQL assessment task. An assessment task is given prior to most interviews with individuals - it's a way of testing potential candidates coding and analytical skills.
"SQL, if you're uncertain is a domain-specific language used in programming and for managing data…"
Soon after, "I got asked to come into the office for an on-site interview - which was a panel of the data team here OpenAgent..."
At OpenAgent, we aim to make interviews feel a little less formal to help ease nervousness.
At OpenAgent, we aim to make interviews feel a little less formal to help ease nervousness.
Very shortly after, "I received an offer for the job which was exciting - then soon after accepting got asked if I could come to the OpenAgent Christmas party event to get introduced to people in the company…"
A change of scenery
Teh moved from Canberra to Sydney to work at OpenAgent. "I lived in a relatively quiet town in Canberra - with only maybe 2700 people."
"Coming to Sydney, the first thing I realised was how much traffic there is…"
Sydney provides a completely different yet lively vibe to quiet Canberra with the opportunity to explore more areas.
So, what's it like?
Teh expresses his initial reaction to settling into a full-time job coming from hospitality.
"It consisted of mostly repetitive tasks whereas working in an office, especially in a startup - there are different priorities and projects each quarter - different tools, approaches and methodologies…"
Setting goals and achieving them
He further outlines his potential obstacles and both short and long term goals for the next coming months.
Teh aims to make them realistic and achievable as a Junior Data Analyst. "I'm hoping to learn more about the business process and understanding the real estate market."
In saying this, he continues with "I'm excited to write more complex queries in SQL so that I can help support the data analytic requests from other teams..."
He continues to identify struggles in regards to being a beginner as new challenges take place.
"I'm faced with small hurdles - understanding terminology and languages used both in real estate and data analytics…". Further stating that these are small barriers that he will overcome with time.
Learning new things
"Firstly, I'm amazed at my manager's coding ability. Celina is my manager who is the Data Lead here at OpenAgent and she is able to write clean and accurate code quickly."
He continues to express that there is a lot to learn but it takes time to learn and practice code.
Everything is much more complex in comparison to what you learn in online courses. "There are numerous amounts of tables and large chunks of data stored in different databases and servers..."
Bring your degree into practice
An economics degree has helped immensely with Teh's analytical skills more than problem-solving. "For example, the primary quantitative method used in the discipline has helped understand statistically based arguments a lot better... "
A change of environment
Teh explains his dislike for being stagnant - having the opportunity to learn different things is exciting. "The environment here is great - everyone is friendly and supportive".
"Everyone has their own projects - we're all working for something bigger than ourselves.."
"Everyone has their own projects - we're all working for something bigger than ourselves.."
He continues to outline the open and diverse team we have at OpenAgent. We have two female co-CEOs and a large proportion of our product and operations team is female.
"The company directors are fantastic at bringing people on board to their vision which is to help people sell their homes easier…". There is a lot of both positive energy and innovation that transcends throughout both the sales and product team.
A word of advice
Teh expresses that you should research the position and the company you're applying for - even if it takes the extra effort. It's not about the number of applications you provide - it's the quality.
"I suggest not to apply for a number of different positions in a number of different companies with the same cover letter and resume - even if you think you qualify for a role…"
Ask yourself questions, "Does this role excite you? Is this a company where you can thrive?..." If you're excited about a role, you're more than likely willing to invest more in the application process. Your enthusiasm and passion will transcend throughout all stages of the hiring process.
Lastly "Don't be late..." Teh expresses.
Working at a startup
Communication is quick - and things are moving fast. "In my first week, I already had the opportunity to meet with product managers, the content marketing team, developers and sales team to understand the entire business process…"
"Rather than to only understand each individual department or a certain product if I was to work for a big company - working at a startup allows me to build an entrepreneurial mindset and importantly understand how all these departments connect with each other first-hand..."
"People's work ethics are inspiring - everyone comes to work doing their best and trying to add more value to the company...and lucky for me there are no strict rules for dress code…"
Want to see if you have the personality to thrive in a startup?
Hoping to learn as a Junior Data Analyst
"I hope to learn how to write better SQL code and using data to drive business initiatives..."
There is a constant reminder to put data into a business context and use them to identify opportunities that can add value to the company.
Are you looking to begin your career - or work at a startup? Have a look at OpenAgents current job openings.