2023-24 Australian property market outlook
Few experts saw the 2021 property boom coming, and it's been a similar situation with the return of strong growth we've seen in 2023. 
The market downturn is firmly in the rear-view mirror and prices in some cities are hitting new all-time highs. Can the upward momentum continue? 
Find out what's in store for Australian property over the next 18 months.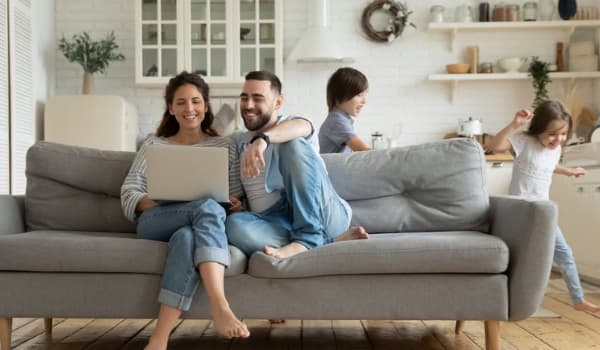 Get a free property value estimate
Please select your address from the drop down
Find out how much your property is worth in today's market.
2023 has already defied expectations
As interest rates climbed and home prices dipped in 2022, many economists predicted another gloomy year ahead. 
By December, the big four banks were forecasting further declines of between -8 and -11.4 per cent for 2023, suggesting one of the biggest correction phases in Australian history. 
Yet, as the cash rate pushed towards and above 4 per cent, the opposite happened. Instead of a historic crash, we've seen a return to very healthy growth across most markets. 
As of July 2023, Australia's median property price has shot up +4.1 per cent from the February low point according to CoreLogic. In Sydney, that figure is already up to +7.6 per cent. 
Persistently low listings in the face of resilient buyer demand are the primary reason that home values have continued to rise despite the high-interest-rate environment. 
So where to from here?
Forecasts have changed to paint a brighter picture
There's been a major turnaround from last year's grim projections, and fresh forecasts continue to get more optimistic. 
Both Westpac and NAB have released new price predictions in recent weeks that tell a far more promising story for the coming 18 months. 
Australian property price forecasts
| Bank | 2023 forecast | 2024 forecast |
| --- | --- | --- |
| Westpac | +7.0% | +4.0% |
| NAB | +4.7% | +5.0% |
Westpac sees this year ending with the national median price up a full +7 per cent, while NAB estimates close to +5 per cent growth. They both foresee another year of steady gains coming up in 2024. 
Matthew Hassan, Westpac's Senior Economist, said "previously, we had expected further interest rate rises and a material weakening in the economy to drive a significant loss of momentum for housing near term. That outlook now looks less challenging."
Indeed, three of the big four banks expect that interest rates hit their 4.10 per cent peak in June and will no longer be a concern. Only NAB is forecasting one further rate hike in November. 
Looking to 2024, all four banks are anticipating the cash rate to be cut sometime towards the end of the year. 
With interest rate fears subsiding and rapid population growth driving strong buyer demand, the path to further price growth looks a lot clearer.
This year's spring selling season will be key
Of course, forecasts are always dealing with a range of unknown variables and should always be taken with a grain of salt. 
This coming spring selling season presents some crucial unknowns in the form of how supply and demand will behave.
There are already signs that sellers are beginning to return to the market as new listings in July saw a noteworthy boost. So far, buyers have been hungry enough to snap up that new supply. 
"With an increase in the flow of fresh listings coming to market, we could gradually see the supply side becoming more balanced if housing demand doesn't pick up at the same pace," CoreLogic's Head of Research, Tim Lawless, said. 
"To date, the rise in new listings has been absorbed, with total stock levels remaining well below average, but this will be a trend to watch."
For now, selling conditions are strong. Prices have risen significantly in the majority of markets, the listings shortage is hanging around, and a growing buyer pool is acting with renewed confidence.
Still on the fence about selling? 
If you're still on the fence about selling, we get it. It's a huge decision that deserves all your careful consideration weighing up the advantages and disadvantages of either scenario. 
Even if the market feels uncertain, it's important to remember that it's all relative and the market doesn't stop. There will always be properties being listed and buyers out there wanting to purchase a home.
It's also crucial to recognise that conditions will vary from suburb to suburb, so it's important to understand your own local market — and to do that, you really need to get granular. 
Whether your property is impacted by price gains or falls depends on many factors including location, property type, and whether your home falls into the higher or lower end of the market.
If you're seriously considering selling your home, you need to do your research. As a first step, get a ball-park estimate of what your home might be worth by using a free online estimation tool.
Speaking to a top local agent is also one of the best ways to get a thorough understanding of how buyers are behaving in your suburb, what kinds of results are still being achieved, and what the best strategy could be for you to still get that dream sale result. 
At the very least, it's helpful to hear what properties are selling for, what demand is currently like for homes like yours, and to get a no-obligation appraisal of what your home might sell for in the current market. A top agent who knows your market like the back of their hand will be able to help you along the journey.