Best areas to invest in Wollongong, Illawarra, and the South Coast in 2023
Thinking of selling your South Coast property in 2022? 
Or maybe you're on the hunt for an investment property in Wollongong or Shellharbour?
Either way, you're no doubt aware of the buzz surrounding the Illawarra property market, with median house prices on the South Coast soaring over the past 5 years.
But now that we've come into the new year, is this recent trend likely to continue?
To find out, let's look at how Illawarra house prices performed over 2021, and what it means for real estate on the South Coast in 2022.
What did the Illawarra, South Coast, and Wollongong property market look like in 2021?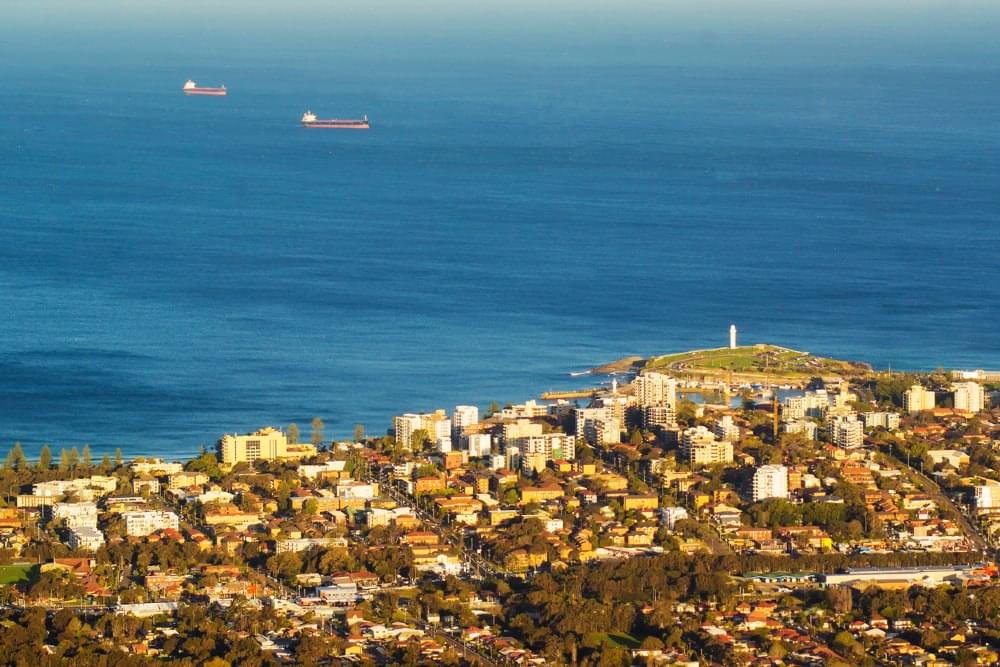 In great news for sellers, the Illawarra property market continued an upwards trajectory through 2021. Data for the period records Illawarra house prices surging in the region's three cities of Wollongong, Shellharbour, and Kiama.
Wollongong has welcomed a total increase of 34.9% over the past 5 years.
In Wollongong, Domain's House Price Report (September 2021) shows the median house price rose 11.8% over the year to $850,000, with a total increase of 34.9% over the past 5 years.
Shellharbour, the second largest city in the Illawarra region, is reported by CoreLogic's Property Value as seeing a 25.75% increase in the same period, with a median price of $1.1 million. 
Similarly, Domain shows Kiama real estate performed strongly as house prices jumped 26.1% over the past year, and 54.7% over 5 years, to a median of $1,160,000.
This snapshot of South Coast property rises reflects a broader trend in regional areas across the country. The CoreLogic Hedonic Home Value Index December 2021 marks regional NSW as a standout "from a capital growth perspective," with a 29.1% increase in house value over the year.
Nowhere is this trend more evident than a little further down the South Coast, where Shoalhaven real estate recorded the highest national quarterly growth rate of 9.7%, in conjunction with the Southern Highlands.
How can we expect Illawarra, South Coast, and Wollongong real estate to change in 2022?
Experts predict the South Coast property market will strengthen into 2022, as the factors behind 2021's success continue to entice buyers into the region.
Reflecting on 2021, the PropTrack Regional Report – November 2021 attributes booming demand in the Illawarra to its commuting distance from Sydney. So-called "city skippers" buying up real estate in Wollongong and surrounds seek to enjoy the best of both worlds through proximity to city offices and the perks of a regional lifestyle.
Covid lockdowns and the resultant shift to at-home work arrangements are shown in the McGrath Report 2022 to have created a similar situation in regional areas across the country.
Spurred by the ability to work anywhere with reliable broadband, nearly 12,000 people abandoned Australia's capital cities in the March 2021 quarter. This is the "largest quarterly net loss through internal migration on record."
This raises a big question for sellers of real estate on the South Coast: will buyers continue making the sea change in 2022?
BuyerBuyers Property Investor Special Report 2021/2 and PropertyUpdate's Property Predictions for 2022 both say "yes." 
PropertyUpdate predicts "liveability" will remain a key motivator, as buyers emerge from "Covid Cocoons," naming Wollongong and the South Coast as "lifestyle locations" set to perform strongly.
In the longer term, property investment company DPN predicts that "stressed" Sydneysiders will account for Wollongong's forecast 14.5% population increase over the next 15 years.  
PropTrack records a 4.97% "sea change premium" on beachside suburbs in NSW.
Add to the mix investors lured by the relative affordability of real estate in Wollongong. DPN suggests that these investors will help drive the next 5 years of accelerated market growth projected in suburbs such as Horsley.
Similarly, PropTrack predicts Illawarra's beachside suburbs will continue to experience increased demand into 2022.
Beachside suburbs have experienced the strongest price growth both in the South Coast property market and across regional NSW. PropTrack records a 4.97% "sea change premium" on beachside suburbs in NSW, as buyers are willing to pay extra for a slice of scenic coastline.
Towradgi is one Illawarra suburb benefitting from this trend. Towradgi ranks ninth nationally in PropTrack's list of suburbs where sales volumes have surged. The medium house price in Towradgi was recorded as $1,250,000 in September 2021, a 56% YoY increase since September 2020.  
Confirming the popularity of the sea change in late 2021, Real Estate Investar's Top 100 Fastest Growth Suburbs Australia weekly report records strong growth in beachside Illawarra house prices for the week of 13 December 2021. 
In Kiama Downs, the median house price rose 43.33% to $1,075,000, while in Thirroul the median rose 40.35% to $2m.    
PropTrack sees these recorded price growths as well as buyer demand behaviour as clear evidence for the ongoing desirability of beachside living into 2022.
In the Illawarra, PropTrack predicts an abundance of engaged prospective homebuyers has the potential to continue driving price rises, at least while the supply of properties for sale remains "diminished." 
How are Illawarra, South Coast, and Wollongong house prices expected to change in 2022?
While market demand throughout the Illawarra region is expected to remain strong, the QBE Australian Housing Outlook 2021-2024 predicts house prices will slow to 7.5% growth in the first half of 2022.
QBE identifies this slow-down as a correction of the 2020/21 trend in which Illawarra price growth has matched that of Sydney. Historically, this region has underperformed against the NSW capital, and QBE predicts the differential between the two regions will re-emerge in the three years to June 2024.
ANZ expects price growth to slow to 8% in 2022.
Across the country, the ANZ Housing Forecast November 2021 predicts the momentum of 2021 will continue into early 2022 but will ultimately slow considerably: "The 20%-plus gains in house prices over the past year won't be repeated in 2022."  
Overall, ANZ expects price growth to slow to 8% in 2022 citing affordability constraints, increased listings, macroprudential tightening and higher mortgage rates as key influences. 
Sellers in the Illawarra shouldn't panic at the word "slow," however. House prices will continue to rise, just not at the pace seen in previous years.
PropertyUpdate identifies Wollongong's beachside suburbs as one area "likely to outperform the wider overall market."  
Across the region, the Illawarra Mercury recently reported that while "more suburb price records could be set in 2022, they will be occurring far less frequently."
An agent's perspective on the Illawarra, South Coast, and Wollongong market
We asked Wollongong real estate agent Daniel Ellem for an insider's perspective on the current house price situation in the Illawarra property market.
Daniel says house prices went "through the roof" in the second half of 2021 as demand dramatically outstripped supply. A lack of available property, however, is not expected to continue at the same level. Daniel predicts more properties will come up for sale in January/February as sellers try to, "capitalise on a bit of heat in the market."
Real estate agent Daniel Ellem  says there's "still more than enough heat" in the Illawarra, South Coast, and Wollongong market.
If this sounds a bit grim, it shouldn't. The competition for property has resulted in a market of serious buyers putting in serious offers. "I think a lot of buyers have just lost their patience when it comes to missing out on properties for so long, that when they do decide to purchase a property, they're not mucking around." 
While Daniel acknowledges the Illawarra property market has shown signs of slowing, he says sellers will still be able to bring in a good result in 2022.  
Sellers should list now while, "there's still more than enough heat in the market … to achieve really good prices." Buyers are continuing to pay more, "than even agents are expecting," with house list prices "overachieving by 10%." 
What's the Illawarra, South Coast, and Wollongong apartment market like?
While not matching the boom in house prices, Domain's House Price Report (September 2021) shows unit prices Wollongong were up 6% over the past year, with a median price of $615,000. In North Wollongong, the median unit price is higher at $698,500, reflecting a 47.5% increase over the last 5 years.
In Kiama, units have a median price of $765,000, a 2.0% increase from the previous year.
Interest in investment property in Wollongong looks set to keep this growth on track. Ranking suburbs by investor enquiry, the PropTrack Regional Australia Report November 2021 recorded Wollongong as the third-most enquired suburb nationally, with those enquiries about units.
Best areas to invest in Wollongong, Illawarra and the South Coast in 2022
Wollongong real estate expert Daniel Ellem identifies Shellharbour Marina as "a place to keep an eye on over the coming couple of years."
The Mariner is situated within The Waterfront, Shell Cove, development. This master-planned residential, commercial, and tourist site is still under construction but includes houses, land lots, and luxury apartments.
Gerringong is recorded by CoreLogic as achieving the highest annual change in regional house value to November 2021. Value rose 56.4%, resulting in a median house value of $1,681,227. SmartPropertyInvestment also names Gerringong as a standout performer for house value appreciation. Strong performance in 2021 coupled with the town's seaside location makes Gerringong a market to watch in 2022. 
Bulli, a northern suburb of Wollongong, topped PropTrack's national list of suburbs where highly engaged buyers outstripped supply in the year ended September 2021. West Wollongong, Farmborough Heights, and Balgownie took out second, third, and fourth spots respectively. In Bulli, PropertyValue records a 49.4% increase in median house price over that same period. As a coastal village within commuting distance to Sydney, Bulli is likely to continue attracting serious buyers in 2022.