Best suburbs to invest in Hobart 2022
Need your finger on the pulse of the Hobart real estate market?
The Tasmanian capital has been on the rise since as far back as 2015, but how did it fare over the past year, and is it currently fair value for money? We also summarise what analysts are predicting for the Hobart property market in 2022, including which suburbs they tip for growth in the year ahead. 
Let's start with a look back at 2021 and how this market performed, with a breakdown of houses and units.
What did the Hobart property market in 2021 look like?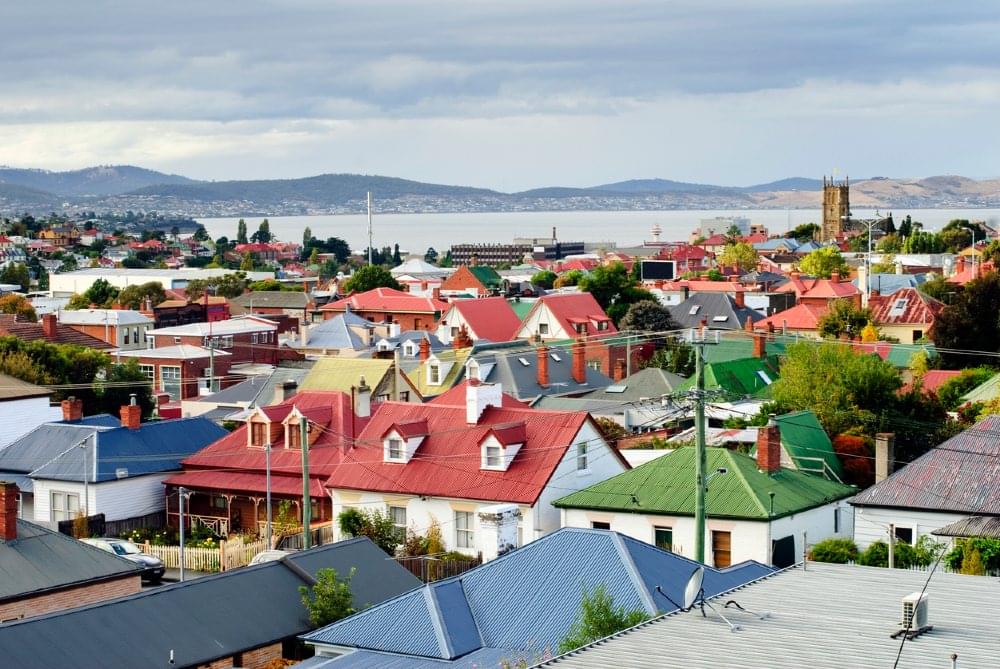 Hobart has been a boom town for the past seven years, with realestate.com.au reporting that the median price of a Hobart house grew +117 per cent over this timeframe, with units not far behind, posting growth of +103 per cent.
With relatively low Covid case numbers throughout the pandemic, Hobart managed another difficult year with flying colours. 
Data provider CoreLogic details the city's performance in 2021 (to November 2021), with a rise of +1.1 per cent over November and +5.5 per cent growth over the quarter. This brings Hobart to an annual growth of +27.7 per cent.
According to SQM, there were three main factors that helped to propel Hobart's property market in 2021.
According to CoreLogic, the median property price recorded in November was $676,595, which made it more expensive than Brisbane and Perth. Drill down to the median house price of $726,779 and Hobart is more expensive than Adelaide, while the unit median of $558,455 puts it just behind Canberra. 
That's not bad for a city that was once considered a remote backwater—something which has actually helped it since the pandemic reached our shores. 
SQM Research identified three factors that helped to drive demand and higher prices in Hobart over 2021: 
Low interest rates

A strong local economy 

Desire for lower density living in a city that has been largely immune from Covid
Investors have flocked to make hay while the sun shines. But Covid has also tempted fellow Aussies across the Bass Strait to an island that has not only been largely virus-free, but is also cheaper, less congested, and boasts an attractive outdoor-oriented lifestyle. 
Let's see what the experts are forecasting for Hobart property prices in 2022 and beyond.
How are Hobart house prices expected to change in 2022?
With a median house price of $698,212, Hobart houses have advanced +10.5 per cent quarter-on-quarter, and +31.9 per cent annually—the strongest rise in 17 years. 
Hobart house prices have also nearly doubled over the past five years, which puts all the other capital cities in the shade. This has been reflected in tight supply, with Domain reporting that, "buyers continue to absorb new listings quicker than they are listed for sale."
But can this stellar performance continue?
QBE forecasts Hobart median house prices to reach $845,000 by June 2024. 
SQM Research's Louis Christopher believes that the Hobart housing market is overheated, with, "good value long gone…locals are struggling to buy, with prices rising above and beyond local wages." Based on this, and a property cycle that is running beyond seven years, he has a rather pessimistic forecast range of -3 per cent to +2 per cent. 
QBE's Housing Outlook report is more optimistic, predicting the market will, "fall back slowly from March 2022," though they still predict robust growth of +15 per cent over 2022. Their medium term forecast is for Hobart median house prices to reach $845,000 by June 2024, which is a +24 per cent rise from June 2021.
Westpac's Housing Pulse report (November 2021) forecasts Hobart dwelling prices to advance at the much slower pace of +6 per cent over 2022. This is in line with most property analysts, who believe next year could see a slowdown nationally, with affordability the main constraint on the runaway growth experienced this year. 
That covers Hobart houses, so what about the apartment market? 
What's the Hobart apartment market like?
Based on the most recent data (November 2021), CoreLogic reports that Hobart units advanced 0.6 per cent over that month, +5.7 per cent for the quarter, and a whopping +32.5 per cent for the year to date. This represents the highest growth for units across the country. What's more, Hobart's median unit value of $558,455 is a record. 
QBE forecasts that demand is likely to drive prices further based on, "a persistent shortage of stock." They are forecasting unit prices to grow +14 per cent in 2022 and +20 per cent over the medium term, reaching a median of $701,000 by June 2024. 
Hobart boasted the highest growth for units across the country in 2021.
SQM Research also points to a tight rental market in Hobart, with vacancy rates as low as 0.5 per cent in Hobart in the middle of this year. Other signs of a robust rental market include a rise in asking rents of +9 per cent over 2021, which means that they have risen +7.3 per cent per annum over the last seven years. 
Let's now drill down to some specific suburbs which are tipped for growth in 2022 and beyond.
What are the best suburbs to invest in Hobart in 2022?
Canstar's Rising Stars report, powered by Hotspotting, forecasts the following Hobart suburbs for growth in the year ahead. Their insights are based on metrics such as sales volume, quarterly price growth, vacancy rates, rental growth, and infrastructure spending.
The latest data from the Real Estate Institute of Tasmania (REIT) shows that Hobart suburbs with the highest turnover of sales (June Quarter 2021) included:
2022 and beyond…
After such a strong year of growth for all dwelling types, many analysts are predicting Tasmania is due a correction. In regards to the future of Hobart's property market, Westpac believes, "the steep deterioration in affordability is starting to weigh heavily on buyer sentiment." The absence of international students and local tourists will also be felt in the year ahead if international and domestic travel continue to be disrupted. 
Look at the bigger picture and many analysts are saying the same about property prices across the country, with some forecasting negative growth in 2023. The prospect of interest rate rises are also spooking some, and the elephant in the room continues to be the pandemic. No one really knows the next chapter in this ongoing saga, with 2022 bringing us to year three of living with Covid.