10 of the cheapest houses in Australia right now
With property prices in many Australian capital cities skyrocketing to record highs you will be forgiven for looking elsewhere in the hope of snagging a bargain.
Affordability is a serious obstacle, especially for first-time buyers in Sydney and Melbourne, where the median house price is close to or north of $1million. The good news is that if you look off the beaten track, there are many rural towns with stacks of character where you get a lot for your hard-earned cash.
It may come as a surprise to you that there are houses for sale right now for under $50,000. Yes, you read that right - we didn't leave off any zeros! Hey, some will definitely need some work, and they might be a little remote, but compared to state median house prices, they're a bargain! More money in your pocket also means more options to renovate and expand. So if you're willing to roll up your sleeves, you might just have yourself a dream home, whether it's a tranquil rural getaway, holiday rental or countryside seachange.
Let's take a look at 10 of the cheapest houses in Australia right now.
1. 101 Creedon Street, Broken Hill, NSW 2880 $29,000
Ok, this is not a fixer-upper by any means - in fact, the listing on realestate.com.au clearly states, 'the property is not in habitable condition and therefore viewings of the property are not able to be offered. It is expected but not confirmed the property will require full renovation or demolition'. This is also why there are no internal photos of the property! You have been warned, but if you are after land in Broken Hill you will have 563 m² to play with and build a new home from scratch.
With an outlay of $29,000, this leaves you with some breathing room if you are thinking of building a cottage on the block. Local attractions include the iconic Palace Hotel, Living Desert State Park, Mad Max Museum and Broken Hill Regional Art Gallery. If you are thinking of rental returns, the median rent in Broken Hill is $260/week, while the median house price is currently $130,000.
2. Lot 905 Holly Crescent, Coober Pedy, SA 5723 $45,000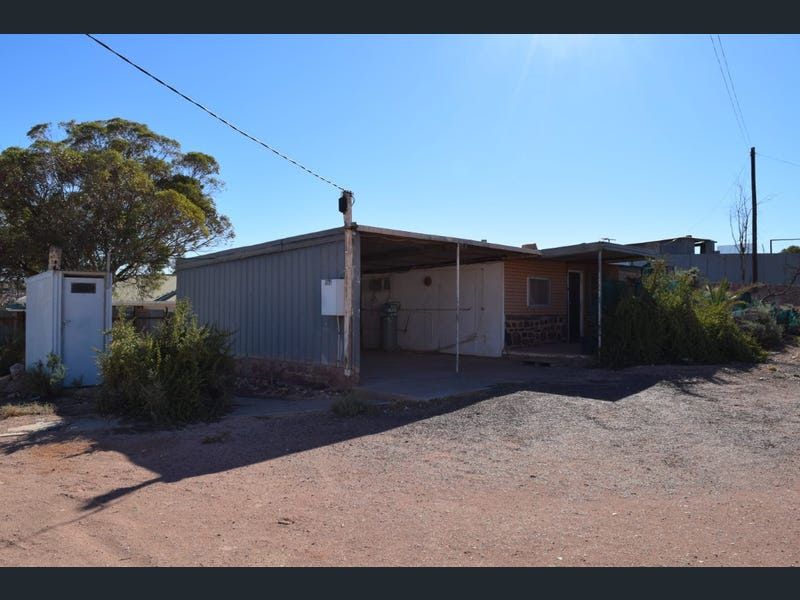 Fancy trying your luck in Coober Pedy, Australia's outback opal capital? If a town 846 km north of Adelaide on the Stuart Highway sounds like your kind of town then there are bargains to be had. And while Coober Pedy is renowned for its below-ground dwellings, known as dugouts, you will be glad to know this listing is above-ground. The agent describes this as a, 'well-loved basic one-bedroom 'old miners' shanty style above ground home...available for near land value only'.
What do you get for $45,000? The land is 1287sqm of freehold title with a single room - but you do get a 5 space carport and there is also a long drop toilet!
Get a free property value estimate
Please select your address from the drop down
Find out how much your property is worth in today's market.
3. 24/61-79 Mandalay Avenue, Nelly Bay, Qld 4819 $45,000
Our title does say 'houses' but we thought this unit on Magnetic Island, just off Cairns is a real gem? If you can squeeze into a 1 bedroom unit, this could be yours for $45,000! This holiday studio is actually set in a resort-style complex with all the amenities that come with a resort, like a large outdoor pool, tennis courts, children's playground, and BBQ area. There is even an a la carte restaurant and bar.
This would work perfectly as a holiday getaway, with the option to rent it when you are not using it. It is modern, with a refurbished kitchen & bathroom and comes fully furnished. We say this is definitely worth a look!
4. 28 Watson Street, Mount Magnet, WA 6638 $40,000
The agent describes 28 Watson Street, Mount Magnet, WA as, 'ready to rent and just right for a caring tenant….a very presentable investment property...just needing minor TLC. We think this is optimistic, but hey when your outlay is $40,000 who are we to quibble. Some 573 km north-east of Perth's Mount Magnet is in gold mining territory. The listing describes the area as, '...a major centre with high demand for rental properties from locals and prospectors needing secure accommodation makes rentals very hard to find. Resultant returns can be very, very high'. What more background do you need?
5. 12/52 Gregory Street, Parap, NT 0820 $95,000
Ok, this is also not a house - but for $95k you get a 1 bedroom apartment in Darwin! The listing details a. '...spacious newly tiled and freshly painted bedroom and en-suite bathroom', with the promise of it providing great rental returns if you snag this as an investment property. You can expect in the region of $230 per week, and the complex has a swimming pool, outdoor seating areas, kitchen and laundry facilities.
6. 27 Koala Street, Wakool, NSW 2710 $50,000
Tired of Sydney? Want to get away from the rat race? Then how about relocating to Wakool (pop. 297), exactly 791 kilometres from Sydney deep in the western Riverina? For $50k you get a 1,012 m² three-bedroom, one-bathroom freestanding home with a double garage. Seriously! The listing describes it as a 'renovator's delight looking for that blank canvas in a quiet rural town'. Tempted?
7. 30 Hack Street, Sandstone, WA 6639 $65,000
Sandstone is another gold-rush era town, current population 89, where you can snag a property for just $65k. This listing is a 2 bedroom, one bathroom, 2 toilet home totalling 160m2 all situated on a 1,596m2 corner block. 
8. 14 Bourke Street, Peterborough, SA 5422 $45,000
A three-bedroom heritage-listed stone home for $45,000? Yes, but you do realise this is in Peterborough, SA 220 km north of Adelaide. You also get a free-standing slow combustion wood fire and a kitchen/dining area with a gas stove. There is plenty of space outdoors on this 1,210 m² property, with a single car garage, 2 garden sheds, a storage shed, a workshop area, woodshed and chook runs. Perfect for a rural getaway!
9. 18 Normanby Street, Dingo, Qld 4702 $70,000 neg
How cool would it be to say you live in Dingo (pop.340), Queensland? Situated on the Capricorn Highway, 148 kilometres west of Rockhampton this comfortable 3 bedroom home has been partly renovated and boasts a large backyard. The best bit is it is a Queenslander-style home, which after some TLC you could potentially rent out to local mining crews. Something to think about is that the price guide is $70,000 neg, so you could even snag it for less!
10. 29 Deakin Street, Beulah, Vic 3395 $99,000
Want to get away from it all, like 395 kilometres northwest of Melbourne? Then check out Beulah, population 329 - a town in the southern Mallee region of Victoria. This listing is close to $100k which may sound exxy when compared to the other properties on our list - but just look at what you get for your money!
This is a solid red brick heritage home with a beautiful garden, featuring 3 bedrooms, a lounge, formal dining room, kitchen with a gas stove, modern bathroom, and an evaporative cooler. The block is approximately 989m2. We see nothing but potential, if you can see yourself living in Beulah that is.
Frequently asked questions about cheapest houses in Australia
Where are the cheapest houses in Australia?

Are houses cheap in Australia?

Where are the cheapest houses in NSW?

Where are the cheapest houses in Victoria?