10 value-adding renovation ideas from Selling Houses Australia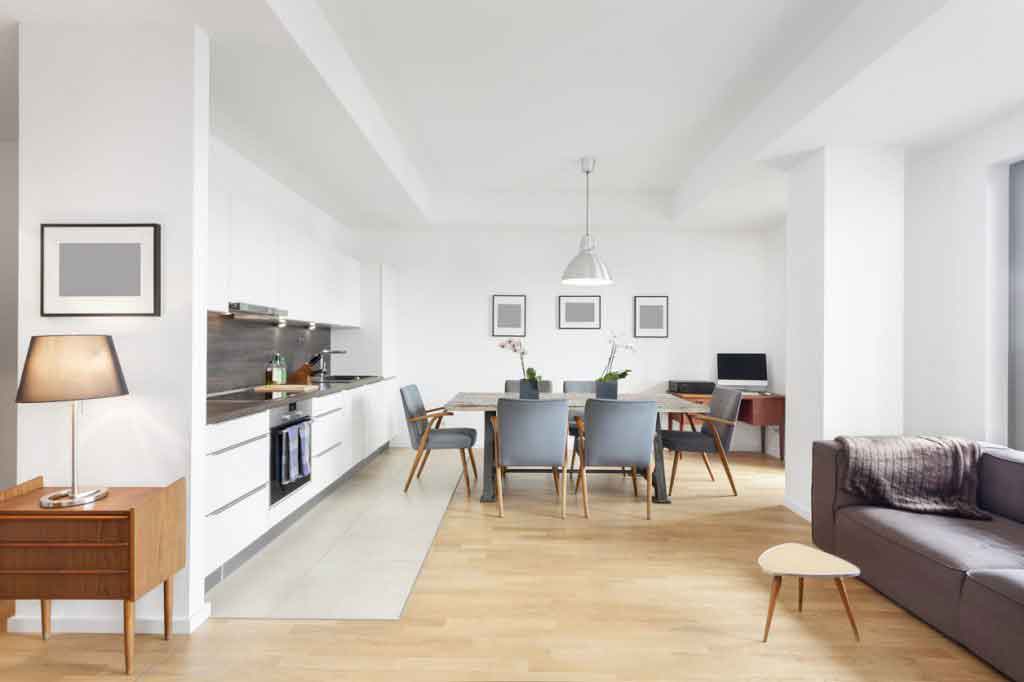 ---
---
When it comes time to get your property ready for sale, it's vital you spend money on projects that will add value to your home. Otherwise you risk alienating prospective buyers with features they don't need, want or like. If anyone knows a thing or two about renovating to sell it is the team at Selling Houses Australia.
The LifeStyle Channel's TV series gives property owners who are having difficulty selling their home a helping hand. With a team that includes host and real estate expert Andrew Winter, interior designer and The Block judge Shaynna Blaze and landscape designer Charlie Albone, the renovation show has literally seen it all.
Now in its tenth season, they have revamped everything from rural mansions to weatherbeaten bungalows and everything inbetween. Which is why some of the home renovation projects they have worked on are so relevant if you are planning on selling, and need some inspiration. We picked ten projects that should be on your pre-sale reno shortlist, and could make all the difference at your first open house.
1. Open plan kitchen renovation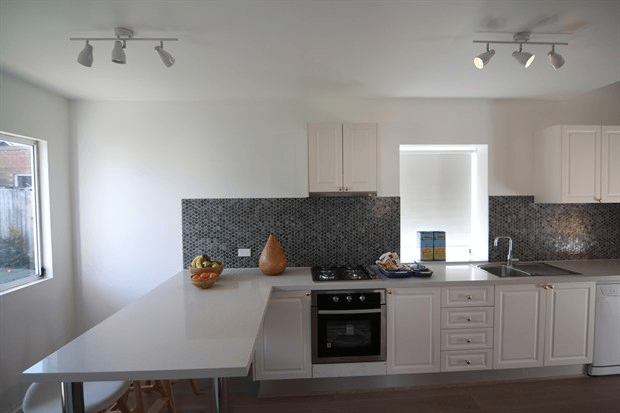 Source: Lifestyle.com.au
House: Haberfield house, Season 8
If there are is one room in the house where you can spend and have a good chance of getting a return on your investment it is the kitchen. For anyone buying a house, this is one room that needs to inspire - and this Sydney property certainly ticks that box.
Interior designer Shaynna Blaze first task was to move a wall to open up the kitchen in this unrenovated Federation home. This not only created a larger area but meant an L-shaped kitchen with a dining area could be installed. New cabinetry, appliances, benchtop surfaces and an eye-catching splashback finish off the revamp.
Get the look: You could spend anywhere from $5,000 to $25,000 on a project like this, depending on the scale of your project and materials/appliances chosen. If you are moving a wall look to the upper end of this budget, and factor in a builder and structural engineer to your plans. For the other elements cabinetry from IKEA and Freedom is structurally sound and more affordable than custom cabinetry. Laminate benchtops are functional but look to engineered stone or stone for long term durability.
A kitchen revamp is one place where you have a good chance of getting a return on your investment.
2. Curb appeal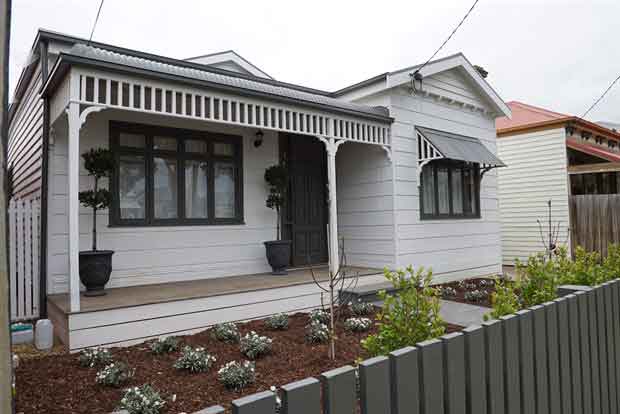 Source: lifestyle.com.au
House: Ascot Vale house, Series 9
Curb appeal is all about the picture you present to buyers as they enter your home. It is important to make a good first impression, and here the Selling Houses team have done a great job with a new pathway, steps, fencing and fresh planting. The external weatherboarding has had a new coat of paint and the window trim and timber fence have been colour coordinated.
It is all about presenting a property for sale that buyers can imagine themselves living in. We would love to know what this house would fetch now, given the Melbourne property market grew at the fastest rate of all the major capital cities in 2016.
Get the look: Painting is one of the most cost effective makeovers and a tried and tested pre-sale renovation technique. Depending on the size of the job and the condition of your, professional house painters are going to charge anywhere from $2,000 to recoat your home's exterior. Planting is another relatively low cost route to lifting the appeal of your front and backyard.
3. Beautiful bathrooms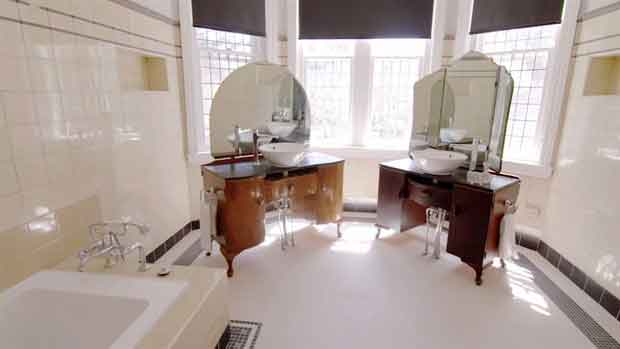 Source: lifestyle.com.au
House: Yass house, Series 9
Even though this heritage-listed home in Yass is a 40 room mansion in regional NSW, you can still take style tips from the LifeStyle Channel's Selling Houses Australia team makeover of this bathroom. 'His and hers' vanities are stately antique ball and claw versions with exposed plumbing and elegant tapware, framed by generous mirrors. No prospective buyer could fail to be impressed with the opulence on show, and a definite drawcard for weary bodies at the end of a long day.
Get the look: The takeaways here are luxury and opulence, even though you may not have the same scale, history and space to work with in your bathroom. No matter the size of yours, a double vanity can add the luxe look. Look to spend anywhere from $999 for a decent unit.
And if you are renovating a bathroom from top to toe, expect to spend anywhere from $10,000 to $25,000, depending on the size of your space, materials and fittings. A plumber, bathroom builder and tiler will all be kept busy on a project of that scale.
4. Set the stage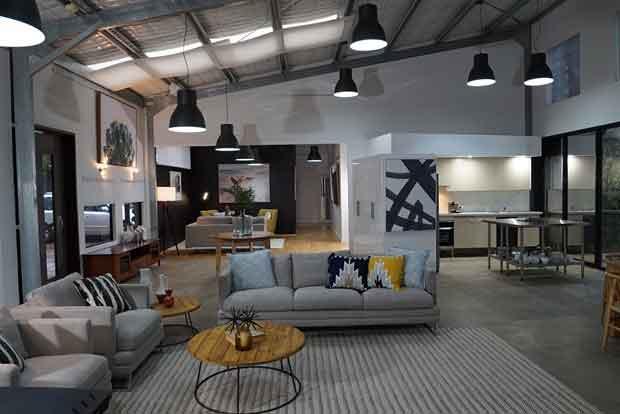 Source: lifestyle.com.au
House: Yallingup house, Series 9 Does this house look lived in? No, of course it doesn't - that is because it has been expertly styled and staged by the Selling Houses Australia team. Home staging or styling is big in the US of A, and is beginning to catch on here. It's all about making a property as appealing as possible to potential buyers, and getting it sold for the best possible price.
Remember, you are not just selling a house, you are selling a lifestyle. Some experts believe it can add an extra 10 per cent to your property's sale price.
Get the look: You can declutter and style yourself, but you are unlikely to match what a professional home stager and/or stylist can achieve. They will bring in furniture and accessories, typically for a fixed timeframe.
Costs vary according to the size of your home, with a four-bedroom home costing in the region of $4k. That may sound expensive, but do the maths (10%+) and you can begin to see why so many reno pros swear by it.
Home staging is all about making a property as appealing as possible to potential buyers
5. A healing zen garden in Balmain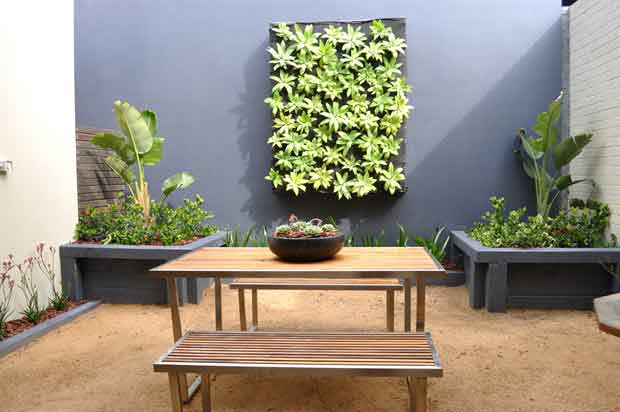 Source: lifestyle.com.au
House: Balmain house, Series 4
If there is one design element renovation tv shows like SHA have hammered home, it is the theme of simplicity. Not only do clean lines make a space appear larger, it also conveys a sense of calm - guaranteed to appeal to any buyer at a viewing.
The reinvention of this Federation home's courtyard in the Sydney suburb of Balmain is a perfect example of this. Here master landscaper Charlie Albone has tastefully reworked the courtyard with twin planter boxes and a simple vertical garden - all contrasted against a deep blue/gray background.
Get the look: Besides a lick of paint, all you need to do is to get down to your local nursery and get your hands dirty. Look to plant indigenous waterwise, and low maintenance, species like the kangaroo paw used here or succulents. You can also install a modular vertical gardens to make use of a bare wall. This project is definitely budget friendly, and could be done with a few hundred bucks.
Read: How landscaping could add $15,000 or more to the value of your home
6. Be neutral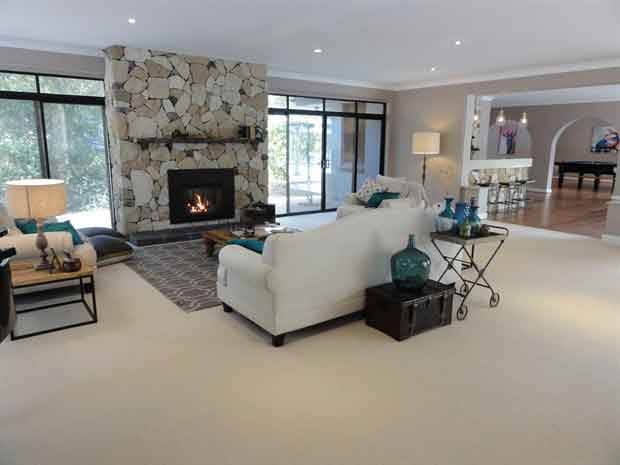 Source: lifestyle.com.au
House: Kenthurst house, Series 7
How good does this living room look? Sure it has an amazing fireplace as a centerpiece and tasteful furnishings, but the understated star of the show is the neutral styling. Not only is this likely to appeal to as many potential buyers as possible, it also helps give them a blank canvas to work with in their heads. They need to be able to imagine decorating the room and filling it with their own stuff.
Get the look: An interior designer or professional stylist can help you nail this look.  They could charge anywhere from $60 to $150 or more per hour or a fixed fee for a 2.5 hour session. Many offer a free initial consultation, so you can see if you click before you hire them.
Neutral styling can help your home appeal to as many potential buyers as possible
7. A focus on flooring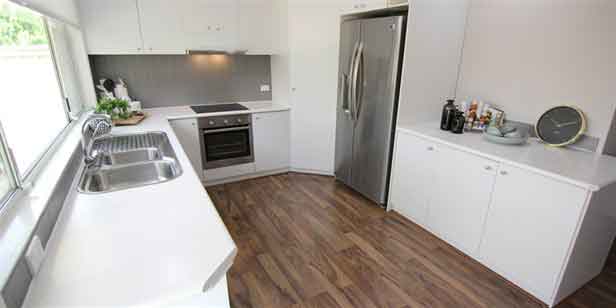 Source: lifestyle.com.au
House: Baulkham Hills house, Series 9
Don't underestimate flooring when it comes to giving a property a much needed cosmetic overhaul. It could be what takes a space from ok to outstanding. This kitchen was given a makeover that included new cabinetry, appliances and some very practical laminate flooring.
Get the look: This is Tarkett laminate flooring in Old World Walnut which Bunnings currently has priced at $52.55 per square metre. You could spend more on solid timber but you are unlikely to get a return on this extra cost.
8. Fitting budget blinds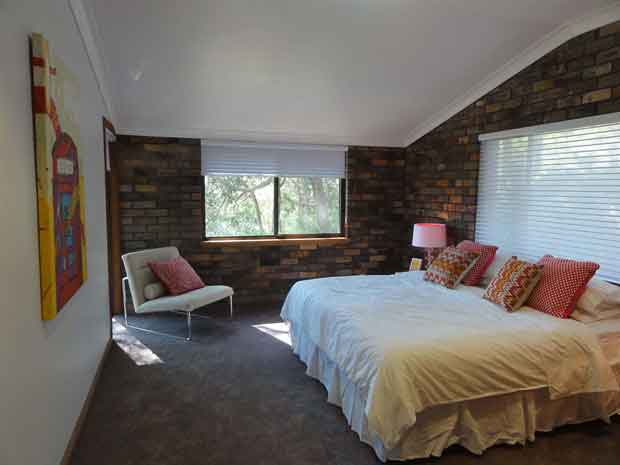 Source: lifestyle.com.au
House: Grays Point house, Series 7
Renovating to sell is all about cosmetic touches that are easy on the wallet, so blinds 'fit the bill' perfectly. Besides being a low cost outlay, they help soften the look and light in this bedroom, while ensuring privacy and a good night's sleep.
Get the look: If you have standard window sizes you can get blinds off the shelf from retailers like Bunnings or IKEA. Roller blinds and aluminium venetians are the cheapest (from $89), while you can expect to pay more for genuine timber venetians (from $210) and shutters or insulating honeycomb cellular versions (from $199).
9. Using art prints to brighten a room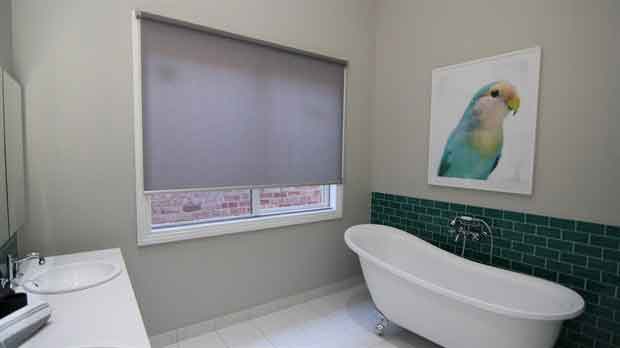 Source: lifestyle.com.au
House: Ascot Vale, Series 9
When you are decorating for a sale you need to tread a fine line and not hang anything too radical or risque on your walls. This print is inoffensive but still manages to be interesting, and gives this bathroom character and personality, but not too much.
Get the look: You can buy prints online for less than $50 and still have change. That is a lot of bang for your buck when it comes to your pre-sale renovating budget. 
10. Wow factor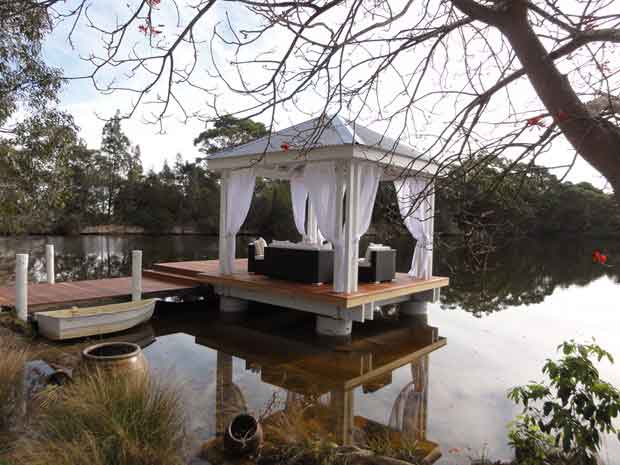 Source: lifestyle.com.au
House: Kenthurst house, Series 7
Sometimes you have to push the boat out, and at this property you could do just that. You may not have a sprawling estate with a view as stunning as this to work with, but you can definitely take inspiration from what was achieved here. The former sad, rather forlorn jetty was transformed from an ugly duckling into a graceful swan. Say hello to your very own waterside retreat, complete with roofed gazebo and seating.
Get the look: Assuming most of us don't have a jetty to work with, so let's focus on the gazebo which is a great focal point for any backyard. A small scale timber gazebo can easily be knocked up over a weekend by a handyman or carpenter. Here corrugated steel was used for the roof, but you could use polycarbonate or even shade cloth if you wanted an airy feel.
This project doesn't need to be too exxy, and is definitely doable under a grand, especially if you get resourceful with sourcing the materials. Want to see a home makeover we have featured here? Head over to Selling Houses Australia online for past episodes and more.