10 value-adding renovation ideas for selling houses in Australia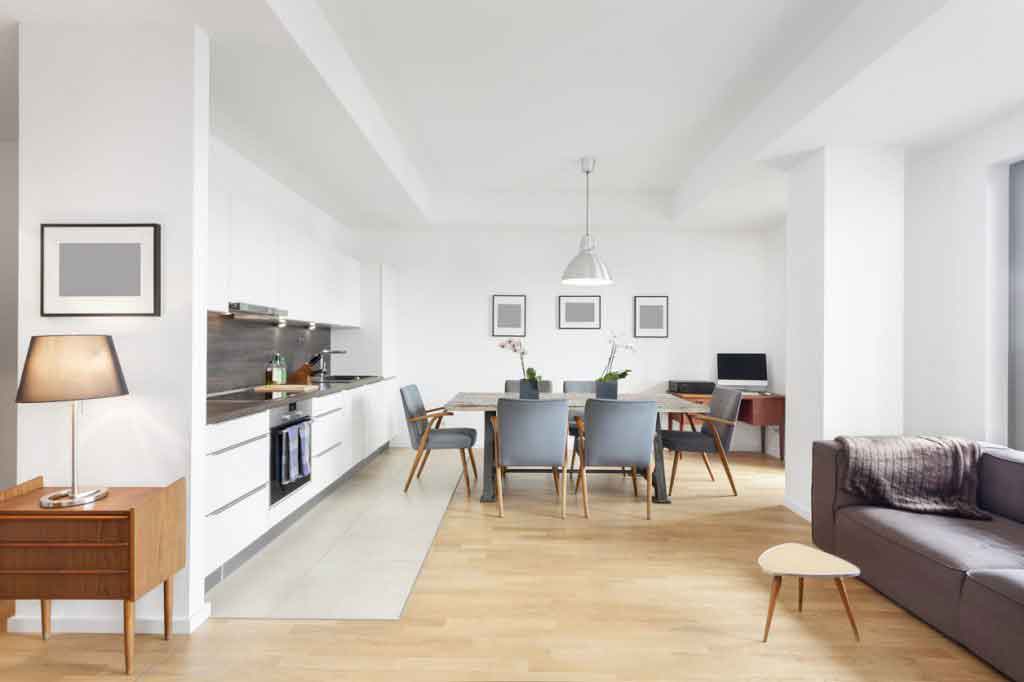 ---
---
The privacy, security and energy saving benefits of outdoor blinds makes them an attractive feature to buyers. A house with outdoor blinds will have an advantage over other homes on the market.
Renovating to Sell #1: Kitchen makeover
The kitchen is the heart of the home, so when renovating to sell it makes sense to factor in a kitchen revamp.
For anyone buying a house, this is a make-or-break room. Present potential buyers with an inspiring kitchen and there's a good chance you'll see a return on your investment.
How you makeover your kitchen depends on its age and condition. If your kitchen is small, unrenovated and separated from the rest of the house, it may feel dated or too cloistered for modern lifestyles.   
The fix? Move walls to create an open plan kitchen. An open plan will instantly modernise the space, increase the kitchen's available size and allow for easier flow through to other areas – an attractive feature to buyers.
Other best renovations to increase value are adding a kitchen island and moving storage spaces from the floor to the ceiling. This home shows the multi-functional potential of a kitchen island, particularly for smaller living spaces.    
If you're not keen on remodelling, updating your finishes is the next best thing. Think new cabinetry, appliances, benchtops, lighting or an eye-catching splashback in a fresh, contemporary colour scheme. A good place to start is replacing any stained fixtures that won't clean, such as taps and mixers, and don't forget to remove those magnets from the fridge!   
Get the look: You could spend anywhere from $5,000 to $25,000+ on a kitchen renovation, depending on the scale of your project and materials/appliances chosen. If you are moving a wall look to the upper end of this budget, and factor in a builder and structural engineer to your plans. For the other elements cabinetry from IKEA and Freedom is structurally sound and more affordable than custom cabinetry. Laminate benchtops are functional but look to engineered stone or stone for long term durability. 
How much value does a new kitchen add? A kitchen renovation can potentially add up to $20,000-40,000 in value. Buyers are willing to pay higher prices for modern and workable kitchens rather than take on renovations themselves.
Renovating to sell #2: Curb appeal
Curb appeal is all about the picture you present to buyers as they enter your home. You want to present a property for sale that is welcoming, and buyers can imagine themselves living in. For your home to make the best first impression possible, it needs to look its finest inside and out.
This home has street appeal in spades. There's a defined entrance, the garden is maintained, and the façade is in good condition. Buyers could easily think that this is a place they'd happily return to again and again.
The easiest way to rate your curb appeal is to stand on the street and look at your home as though for the first time. 
Start from the edge of your property and work your way to the front door, taking note of your 'first impressions'. Is the fencing in good nick? Is the pathway clear? Is the façade neat, or is it looking a little shabby?   
Maximising your street appeal will add value to your property in the process. While a few small fixes sometimes go a long way, putting the money and effort into fully renovating your front yard and entranceway offers buyers a finished property - one that doesn't 'need work'. Remember, not having to lift a finger is just as appealing as curb appeal itself!
Get the look: Painting is one of the most cost-effective makeovers and a tried and tested pre-sale renovation technique. Depending on the size of the job and the condition of your property, professional house painters are going to charge anywhere from $2,000 to recoat your home's exterior. Planting is another relatively low-cost route to lifting the appeal of your front and backyard.
How much value does curb appeal add? A study by Michigan University found putting effort into your home's curb appeal can increase its perceived value by up to 11%. Real estate agents agree that homes with great curb appeal sell faster and for more money.  
Read: Boost your home's street appeal
Renovating to sell #3: Bathroom retreat
These days, people want more from their bathrooms than basic functionality. Spa-like amenities and luxury finishes are in demand as people crave a resort feel at home.
As the trend towards retreat-style bathrooms only gets bigger, buyers are on the lookout for bathrooms that inspire indulgence and relaxation.
This bathroom epitomises the in-demand 'luxury retreat' look. The clean minimalism of the 'his and hers' wall-mounted vanity and freestanding bath exudes elegance. A neutral tile complemented by fresh, natural-hued accessories evoke a spa-like atmosphere.
Prospective buyers could not fail to be impressed with the opulence on show and would delight in escaping to such tranquil ambience at the end of a long day.
If a total bathroom renovation is out of the question, clear out all those half-empty jars and bottles and restyle with a minimalist approach. Opt for accessories in natural materials like bamboo or stone. Remember, the key to nailing this trend is keeping the look fresh, clean and completely clutter-free.
Get the look: The takeaways here are luxury and opulence, even though you may not have the same space to work with in your bathroom. No matter the size of yours, a double vanity can add the luxe look. Look to spend anywhere from $999 for a decent unit. 
And if you are renovating a bathroom from top to toe, expect to spend anywhere from $10,000 to $25,000, depending on the size of your space, materials and fittings. A plumber, bathroom builder and tiler will all be kept busy on a project of that scale.
How much value does a renovated bathroom add? Conservatively, a bathroom renovation can add up to 10% to the value of your property. Even small cosmetic updates, like new fixtures or fittings, can increase value in the eyes of buyers.   
Read: How to best stage your bathroom when selling your house 
 
Renovating to sell #4: Dressing a house for sale
Does this house look lived in? No, of course it doesn't - that is because it has been expertly staged by a home styling professional. Dressing a house for sale is all about making a property as appealing as possible to potential buyers, and getting it sold for the best possible price.
Remember, you are not just selling a house, you are selling a lifestyle. Cluttered, messy, or well lived-in rooms make it hard for buyers to imagine as their own. Ideal home staging creates neutral spaces in which buyers can see themselves living.    
While once considered the preserve of high-end homes, home staging is slowly becoming a necessity in today's market. A home staged to sell is more photogenic and garners more interest on real estate websites. Don't forget, prospective buyers are first enticed by photos of your home, so you want those photos to grab their attention and not let go! 
Get the look: You can declutter and style yourself, but you are unlikely to match what a professional home stager and/or stylist can achieve. They will bring in furniture and accessories, typically for a fixed timeframe. 
Costs vary according to the size of your home, with a four-bedroom home costing in the region of $4k. That may sound expensive, but when you do the maths you can see why so many reno pros swear by it.
How much value does home staging add? Experts agree home staging can add up to 10 per cent to your property's sale price. On an average $700,000 home, that's an extra $70,000 in your pocket. Home staging also helps sell homes quicker.
Read: How to stage your home for sale
Renovating to sell #5: Landscaping to increase property value
Whether you have a backyard, courtyard or balcony, landscaping is one of the best renovations to add value, and one of the easiest to achieve.
Today, the distinction between indoor and outdoor spaces has blurred, and buyers are looking for an outdoor area that not only looks good, but also adds enjoyment to an alfresco lifestyle.
When it comes to the garden, what adds value to a house in Australia are generally cosmetic updates you can do yourself. New paving, screening for privacy and low-maintenance plantings are simple, value-adding additions that can be knocked off after a trip to Bunnings.  
Ultimately, you want to create a neat outdoor space where prospective buyers can imagine relaxing or entertaining, so well-placed outdoor furniture or even a cosy fire pit will set the scene with minimal effort.  
Landscaping isn't only for bigger gardens. This courtyard shows that clever landscaping can transform even the smallest of spaces into a private oasis - guaranteed to appeal to any buyer at a viewing. Here, a simple vertical garden, built-in seating and beautiful lighting make the most of the available area.
Get the look: If your lawn is looking a bit patchy, laying new turf is a smart investment. For the rest, all you need to do is to get down to your local nursery and get your hands dirty. Look to plant indigenous waterwise, and low maintenance, species like kangaroo paw or succulents. You can also install modular vertical gardens to make use of a bare wall. This kind of project is definitely budget friendly and could be done with only a few hundred bucks.
How much value does landscaping add? According to experts, good landscape design can add up to a whopping 28% to your home's overall value.
Read: How landscaping could add $15,000 or more to the value of your home
Renovating to sell #6: Style with neutrals
You can't go wrong with neutrals. While bright colours can be polarising, neutrals appeal to as many potential buyers as possible. Even better, a neutral colour scheme evokes a timeless elegance that never goes out of style.
Style your home with neutrals and you have laid the foundation for potential buyers to put their own stamp on the property. As they inspect, they have a blank canvas to work with in their heads. They need to be able to imagine decorating the room and filling it with their own stuff. As a bonus, white or light neutral wall colours can make rooms appear larger!  
If you think neutral schemes are boring or clinical, think again! This cosy room shows there's more to styling with neutrals than white, off-white and more white. Grey, beige, taupe and brown sit within the neutral palette, and can be used to add those warm, homey touches that connect with prospective buyers.    
Get the look: An interior designer or professional stylist can help you nail this look. They could charge anywhere from $60 to $150 or more per hour or a fixed fee for a 2.5 hour session. Many offer a free initial consultation, so you can see if you click before you hire them.
How much value does a neutral colour palette add? One real estate survey found that living rooms painted light grey or dove sold for over $1,000 more. Other estimates suggest that beige or grey-brown in the living area can increase sale price by $2,000.
Renovating to sell #7: Flooring that adds value
A common question sellers ask is, should you replace carpet before selling a house? In most cases, the answer is yes. Unless your home has beautiful, polished hardwood or tile in good condition, replacing old flooring before selling is one of those tried-and-true renovations that add value to your home.   
Don't underestimate flooring when it comes to giving a property a much-needed cosmetic overhaul. It could be what takes a space from ok to outstanding. While nothing beats genuine hardwood, home experts agree laminate flooring will increase a home's value over wall-to-wall carpeting.
Laminate flooring is durable, cost effective and easy to maintain. As this kitchen demonstrates, it also looks stunning, and will present a beautifully finished home to prospective buyers.  
Get the look: Bunnings stocks a wide range of laminate flooring, currently starting from as low as $29.10 per square metre. You could spend more on solid timber but you are unlikely to get a return on this extra cost.
How much value does new flooring add to a home? Experts say hardwood flooring has the greatest return of investment at up to 80%, but this is only for properties at the highest end of the market. Laminate flooring yields a better return on investment for the average property, and will add more value than carpeting.   
Renovating to sell #8: Fitting budget blinds
Renovating to sell is all about cosmetic touches that are easy on the wallet, so blinds 'fit the bill' perfectly. As window coverings tend to wear or gather muck over time, it saves a lot of time and energy to replace rather than try to restore them.
Roller blinds are the most popular type of blinds in Australia, and a winning choice when renovating to sell. Besides being a low-cost outlay and easy to install, roller blinds offer privacy, and help keep homes cool on hot days. These roller blinds combine a grey blockout blind with a white backing blind for a contemporary and stylish look that protects against harsh sunlight. 
Get the look: If you have standard window sizes you can get blinds off the shelf from retailers like Bunnings or IKEA. Roller blinds and aluminium venetians are the cheapest (from $89), while you can expect to pay more for genuine timber venetians (from $210) and shutters or insulating honeycomb cellular versions (from $199).
How much value do new blinds add? Blockout roller blinds increase the energy efficiency of a home by acting as insulation. Overtime, this can equate to reduced power consumption and less money spent on energy bills. Home improvements experts say this benefit can increase a home's sale value.
Renovating to sell #9: Decorating with wall art
Stylists know adding interest to bare walls is a must when dressing a house for sale. Wall art is the easy, cost-effective solution for decorating walls to increase the overall appeal of your home.   
Generic art or nature prints are safe choices. When you are decorating for a sale, you need to tread a fine line and not hang anything too radical or risque.
This print is inoffensive but still manages to be interesting, and gives this wall character and personality, but not too much.
Get the look: You can buy prints online for less than $50 and still have change. That is a lot of bang for your buck when it comes to your pre-sale renovating budget.
How much value does wall art add to a home? Wall art is an embellishment that enhances the look and feel of a home. This increases its appeal to prospective buyers and helps them to connect with the space.    
Renovating to sell #10: Wow factor
Renovations that add value to your home should ultimately make it stand out from the crowd. Prospective buyers inspect a lot of houses, so you want to offer something extra special to keep yours at the front of their minds. 
One way to do it is with a showstopping centrepiece such as an outdoor gazebo or pergola.  
A gazebo is one of those home renovation ideas that may seem a little out there, but if you have a backyard, an outdoor structure is surprisingly affordable and will increase the value of your property.  
This pergola-by-the-pool is structurally simple but has maximum impact. It also shows that by integrating with the existing landscape, you can fit an outdoor statement piece to even the tightest of areas.
Get the look: A small scale timber gazebo can easily be knocked up over a weekend by a handyman or carpenter. Gazebo or pergola kits are also available for you to install yourself.
This project doesn't need to be too expensive, and is definitely doable under a grand, especially if you get resourceful with sourcing the materials.
How much value does a gazebo add? Real estate experts say outdoor structures such as gazebos are in demand by buyers and, if well-designed, will add more value to your home than its cost.
If you're looking to sell your home anytime soon, it's a good idea to calculate the cost of selling your home to help you budget accordingly.
Looking for information on renovating to sell? Check out these 6 cost-effective ways to add value to your home.