How to best stage your bathroom when selling your house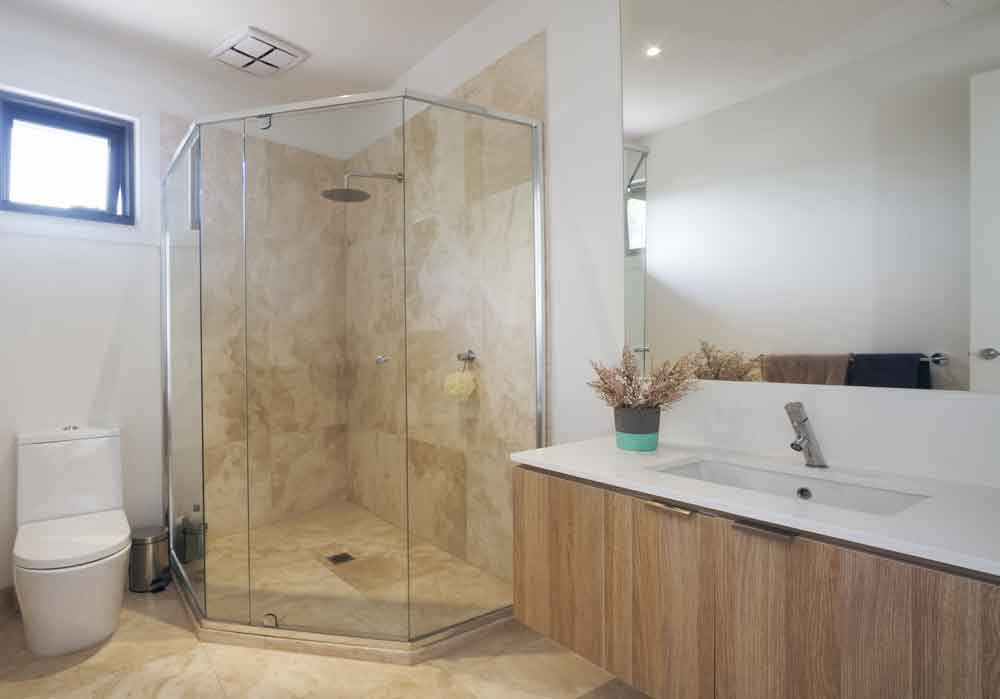 Even though it's likely to be one of the smallest rooms in your home, your bathroom can have a dramatic impact on the property's value. It's likely to be one of the rooms potential buyers most scrutinise, and one that can be a deal breaker. As a result, putting more effort into how you stage your bathroom – and some small investments in it – can pay off when selling your home.
Here are some tips to help you stage your bathroom to its best advantage:
Set the scene
You want your potential buyer to be able to visualise themselves relaxing in your bathroom. You may not have the best basics to work with, but your goal should be to create the look and feel of an "up-market spa" or five-star hotel bathroom. These are usually quite impersonal, minimalistic, and ooze a sense of luxury.
Go for neutral and popular colours that are likely to have a wide appeal. Remember that a bathroom is a place where people want to reflect and relax, so make sure yours looks tranquil and inviting.
Create a shine
Few things put a buyer off as much as the idea of someone else's dirt. It is vital that your bathroom is spotless and shines. Ensure you clean all fixtures including the bathtub, shower doors, taps and the toilet. If you have tiles, clean the grout with grout cleaner. Wash all curtains and blinds. Polish the floors, metal finishes and mirrors. Ensure there is no sign of mould or mustiness.
Declutter
Many of us accumulate too many things that we don't use or finish – shampoos, soaps, creams, makeup … To a potential buyer, this is just clutter and "too much information" about you. You want the buyers to imagine themselves in this room and not to think about you. So start clearing your bathroom surfaces of toiletries, brushes and ornaments. If you don't use these, consider getting rid of them once and for all.
Place those things you do use regularly such as toothbrushes, shampoo, razors and combs a small bin or basket which you can easily pack away when your house is open for inspection. Counter tops should be clear with the exception of a few carefully chosen accessories or ornaments.
Get a 'face lift'
If your bathroom looks a bit tired, examine how you could give it a fresh feel with some minor renovations. This can often be done at a low cost by replacing dated handles, light fixtures, rails or taps. A new mirror or shower curtain (in a fabric rather than plastic) could do the trick.
If your tiles are dated, consider painting over them with a special tile paint or even re-surfacing them. If their grout has cracked and fallen out, have them re-grouted.
If you have an old bath or sink with rust or scratches, a quick coat with special paint could make it look like brand new. Ensure all leaky taps are replaced or repaired. Get rid of frayed carpets and old toilet seat covers. Replace chipped mirrors.
Generate light and space
Clean your windows and install high-wattage bulbs in the light fixtures to make your bathroom look brighter and bigger. An additional mirror may also make the room appear larger. Remove the bathroom scale and any unnecessary furniture that makes the bathroom look smaller or cluttered.
If your bathroom does not have a lot of storage space, don't draw attention to this fact. For example, don't stack up rolls of toilet paper or have piles of towels. Remember that potential buyers may take a peek through your cupboards, so ensure they are only half to two-thirds full and well organised. Overfull cupboards may suggest a lack of storage space. And always remove prescription medication from cabinets.
Add opulence
Appeal to your buyers' aspirations. To create a spa-like experience, invest in some luxurious fragrant soaps, bath oils, natural loofahs, candles and even shells. You could complement these with an elegant ornament and even green house plants or fresh flowers. Be creative in how you arrange these, but ensure they add ambience and not clutter.
Hang ample new towels. Go for neutral shades that blend and ensure these look plush and cushy to create that crisp, clean "hotel" feel. These can just be for show while your house is up for sale so that you don't have to keep washing them for every open inspection.
Even though a bathroom is the only room in which an air-freshener can be visible, it may pay to go for upscale diffusers that are ppropperng to the eye and have subtle scents so that it doesn't small like you are trying to disguise any nasty smells.
And sometimes a carefully placed stool or bench can add a bit of style to your bathroom.
Keep it clean
Keeping the bathroom clean and neat, despite regular and constant use while your house is on sale, can be a challenge, especially if you have young children. Before any open inspection, ensure the room is spotless. Open all windows, empty all bins and remove any laundry baskets. Leave your shower curtain, if you have one, open at least some of the way to reveal the interior of the shower or bath. This can give the bathroom more visual depth. Leave the toilet seat closed. And if you like to read on the toilet, store away your reading material.
Your bathroom isn't the only room in you house which will need attention. Read our article on preparing for an open inspection for more tips to maximise the value of your home.
If you're looking to sell your home anytime soon, it's a good idea to calculate the cost of selling your home to help you budget accordingly.