Best suburbs to invest in Canberra 2023
Looking to buy property in Canberra but not sure where to start? 
Then we can help, with an overview of the local market, how the experts are forecasting it will perform in 2023 - and the best-performing suburbs in the nation's capital. 
Like elsewhere, values are dropping in Canberra as we close the year out. But there are still pockets of opportunity, and rental yields are performing well due to a lack of stock, so there are buying opportunities out there for long-term investors.
Let's start by looking back at 2002, and what it could mean for Canberra property prices in 2023.
What did the property market in Canberra look like in 2022?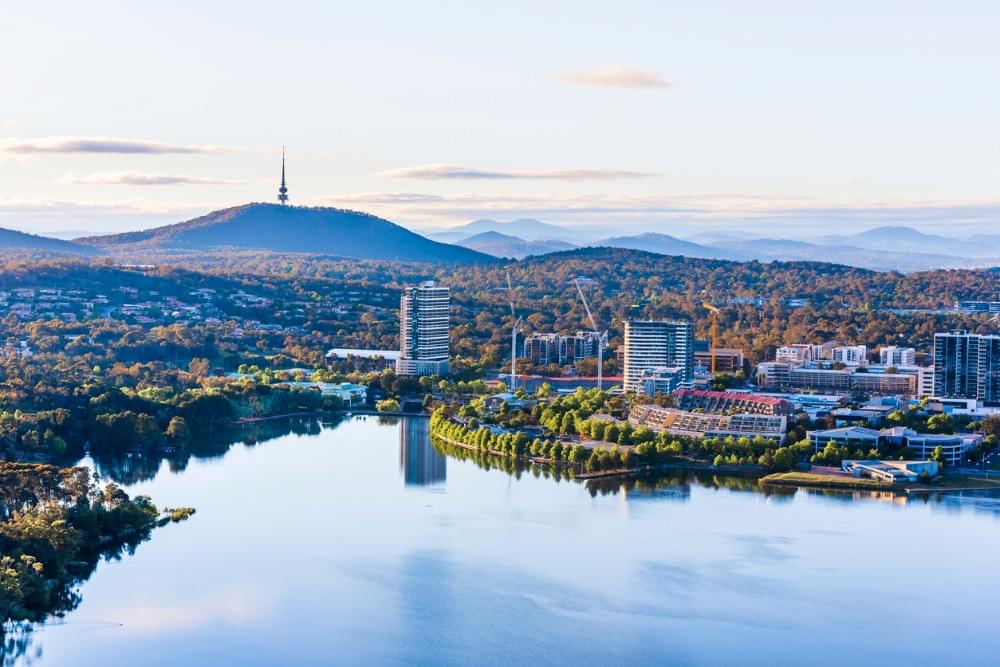 Against a backdrop of a softening national property market, Canberra housing values have done much the same over the past year - with CoreLogic recording a -1.3 per cent decline in the 12 months to November 2022.
By late 2022, a real chill has set in. Domain's House Price Report (September, 2022) records houses down -5.8 per cent quarter-on-quarter for a median value of $1,096,114. 
Units have fared only slightly better over the same timeframe, down -4.2 per cent for a median value of $572,824. For houses, this is the fastest drop on record - but they are still higher than their pre-pandemic levels. 
Units have been slightly more resilient, and are 4.2 per cent below the June 2022 highs, and are still +4.6 per cent higher than 12 months ago. 
Let's now look at what some key property experts are forecasting for this market in the year ahead. 
Canberra housing market forecast 2023
QBE is forecasting Canberra median house prices to drop -9 per cent over the next 18 months, with growth returning in 2025 for a median value of $996,000. 
They believe unit prices will follow a similar trend, for a median unit price of around $627,000 by June 2025. If this is correct this will be a -2.92 per cent drop from the current unit median of $608,653. 
ANZ is significantly more pessimistic about Canberra's property market next year, predicting it will decline 11 per cent. 
Their report, titled Australia's Housing: Downhill until 2024, indicates mortgage rate increases are going to drive a -18 per cent contraction nationally - so Canberra is a more defensive pick overall. It is worth noting here that previous predictions of large price crashes from the Big Four banks during the pandemic have not eventuated.
What's the Canberra apartment market like?
Overall apartments in Canberra have been more resilient than the house market, dropping -0.7 per cent over October, -2.2 per cent over the recent quarter - but are up +8.3 per cent in the year to November '22. Contrast this with Canberra house prices which have declined in all of those three timeframes. 
This is likely due to the poor affordability of houses, which have seen some buyers opt for a unit instead. There has also been an uptick in investor activity, with SQM Research data recording rental yields of 5.2 per cent for apartments in the capital.  
Let's now identify some suburbs which are posting strong gains over the last year.
What are the best suburbs to invest in Canberra 2023?
Before we look at the top-performing suburbs in Canberra, it's worth bearing in mind that there is no single property market. Markets are dynamic and change from property type to property type, and from postcode to postcode - which is why you need to do your research before you invest.
With this in mind, here are some suburbs to put on your shortlist, having performed strongly over the past year. 
The new suburb of Wright has been an outstanding performer over the 12 months to August '22, with units advancing +28.57 per cent for a median value of $540,000. Median weekly rents are $530 and you can expect a gross rental yield of 5.68 per cent from them.
Apartments in Greenway are not far behind in the annual growth stakes, advancing +27.92 per cent for a median of $536,000. Median rents are a little lower here at $500/week, with a gross rental yield of 5.22 per cent. 
Unit prices are higher in Coombs, but are also in the double figures, advancing +22.03 per cent for a median of $667,500. Rents are also higher here, with a median weekly of $600 yielding a respectable 5.29 per cent. 
If you want to invest in a house in Canberra, then these are the suburbs to keep an eye on:
Bonner house prices have grown a whopping +29.8 per cent over the year to September, '22 for a median value of $980,000. The median rental price in the suburb is $700 per week, which is an increase of +7.7 per cent. Over the past five years house price growth here has been a very healthy +58.1 per cent. 
Casey, 3 km from the centre of Canberra, has also had a very strong year for house price growth, up 25.9 per cent for a median value of $888,888. If you held property here over five years it would have grown +48.0 per cent. Median rental prices here are $650 per week, which are 12.1 per cent higher than a year ago. 
On the southern limits of the city, Calwell is another growth hotspot, having advanced +21.5 per cent over the past year. Median values have grown +70.9 per cent over the past five years, to bring the median house price to $906,000 today. Median rents here are $600
per week, though they have been flat over the past year.
What does the future hold?
Canberra is in an enviable position given it is the seat of government, with a large public sector workforce based there, and the highest standard average household income in Australia. The return of overseas migrants and an increase in public sector hiring are both expected to boost demand for rental accommodation, which should keep unit house and unit prices positive in the short term. The big question is what movements there will be to interest rates in 2023 and beyond.
Sources:
1. CoreLogic, 'CoreLogic Home Value Index: National dwelling values fell -1.0% in November, the smallest monthly decline since June', 30 November 2022
https://www.corelogic.com.au/news-research/news/2022/corelogic-home-value-index-national-dwelling-values-fell-1.0-in-november,-the-smallest-monthly-decline-since-june
2. Domain, 'September 2022 House Price Report', October 2022
https://www.domain.com.au/research/house-price-report/september-2022/
3. QBE, 'Australian Housing Outlook 2022 - 2025', 2022
https://www.qbe.com/lmi/news/reports/housing-outlook
4. Australian Property Investor, 'ANZ predicts epic national property price crash', 17 August 2022
https://www.apimagazine.com.au/news/article/anz-predicts-epic-national-property-price-crash
5. SQM Research, 'Property Gross Rental Yield - Canberra ACT', 2022
https://sqmresearch.com.au/property-rental-yield.php?region=act-Canberra&type=c&t=1
6. Property Update, 'The latest median property prices in Australia's major cities', 4 December 2022
https://propertyupdate.com.au/the-latest-median-property-prices-in-australias-major-cities/