35 expert tips for adding value to your home before you sell
Looking to add value to your home before you sell? Renovating your home is a great way to give it missing features and a much needed update. But you need to decide which renovation projects are worth investing in. Part of that process is knowing what features buyers in your market are looking for. You also need to be careful not to get too carried away and overspend on frivolous and expensive fittings and fixtures. In the industry this is known as overcapitalising, and is often the downfall of novice renovators. They key is to have a clear idea of what projects you want so when it comes time to calling a real estate agent for a valuation of your property, you have added maximum value without breaking your budget. Work your way through our collection of 35 expert tips - from projects that cost nothing to full blown home extensions - to help add real value to your home before you sell.
Home improvement projects for free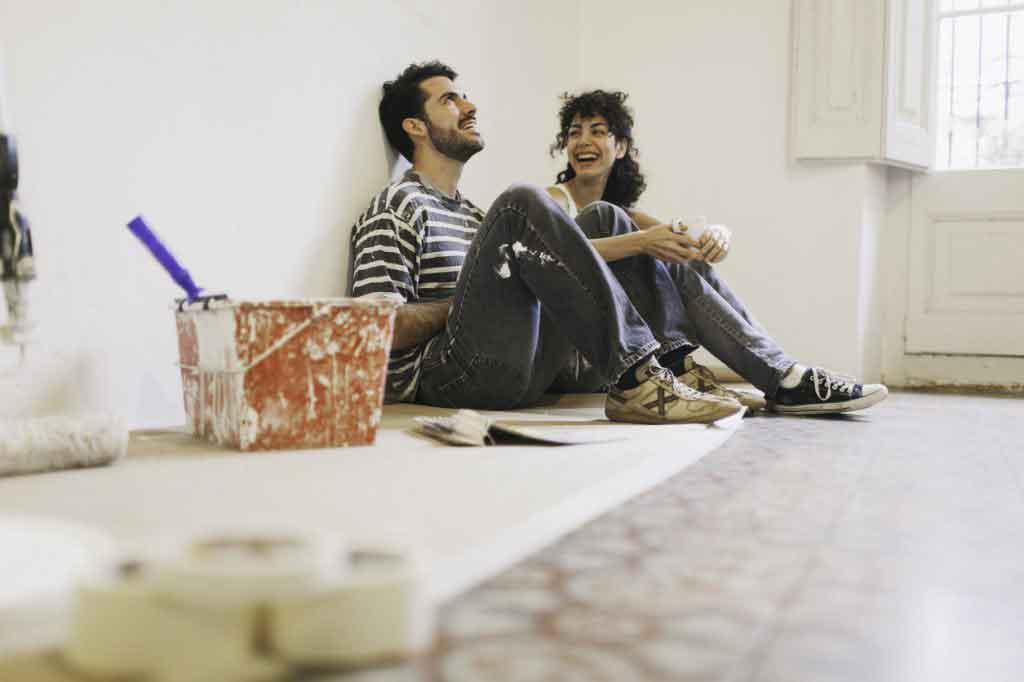 1. Get home improvement advice
Before you spend a cent on your renovations or home improvement projects take the time to get some advice. Chatting to someone with the right experience and insights is going to help you get ideas and a better idea of what your project is going to cost. Many professional will happily give you a quote at no charge, just keep in mind their time is precious. Some, like interior designers may even throw in the first consultation for free. A local real estate agent could also help give tips on what home improvements to concentrate on and estimate your real estate property value.
2. Get inspired
Getting ideas and inspiration for your home renovation is definitely something you can have fun with - and it's free. Besides leafing through a pile of interior design magazines you also have access to a virtually limitless source of ideas online. Try Pinterest, dedicated renovation bloggers or some of your favourite brands for ideas for your project. There are also countless TV shows, like Selling Houses Australia, The Block or Grand Designs to feed your imagination. Then make a moodboard of all your favourite ideas - it will give contractors a better idea of what you want.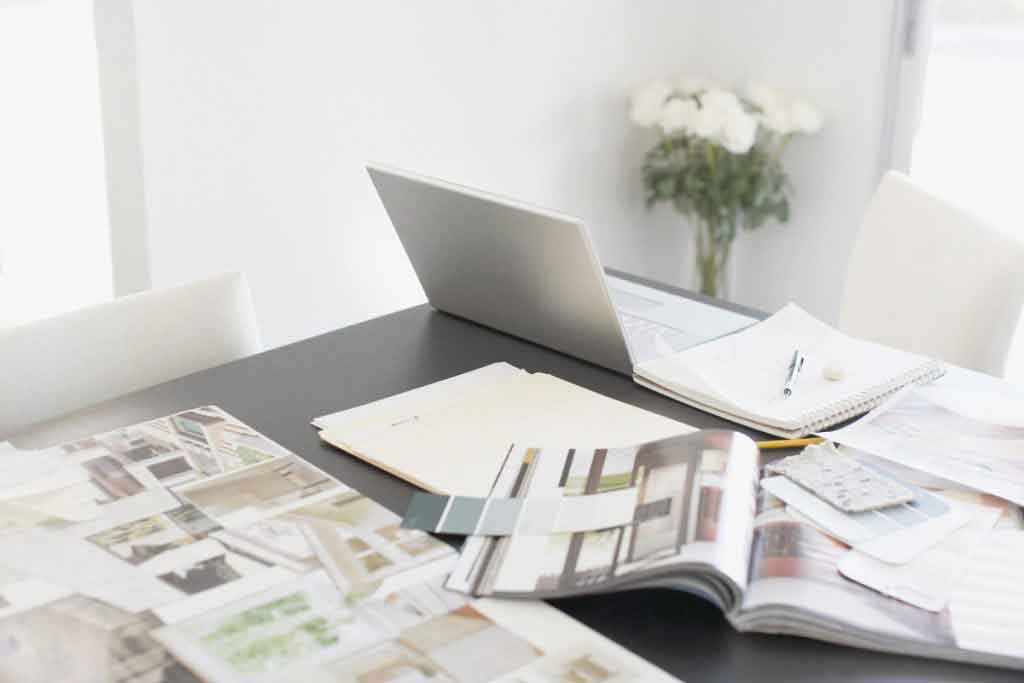 3. Home renovation planning
Another 'free' tip is to plan your renovation carefully. The more time you take on the fine details, the more likely your project will get done on time and to budget. The first step is to decide what you want to do, and them get a cost for each portion of the project. That means spending some time getting quotes for materials and labour. Three should be a minimum, but try more if you get a wide range of prices. Open a spreadsheet so you can track it all from start to finish. You also need to identify what permits and permissions your project may need before it can proceed. Ignoring these could land you with a fine and you may even have to tear down the work if it's deemed to be illegal.
Make sure you identify what permits and permissions your project may need before it can proceed. Ignoring these could land you with a fine and you may even have to tear down the work if it's deemed to be illegal.
4. Embrace DIY
If you can roll your sleeves up and DIY you can save a bundle on labour, just don't try do any work that a licensed contractor should be doing. Jobs like electrical, plumbing and building work should be left to the pros. You can however quite legally rip up carpets, paint and clear your garden - all at no cost to you, besides your time of course. Why not ask friends and family to chip in, just make sure you shout them a beer and a BBQ (or both).
Make sure that any business you hire is licensed or qualified to carry out work in your home. Contractors should also be insured to work on your property, otherwise you could be held liable if anything goes wrong.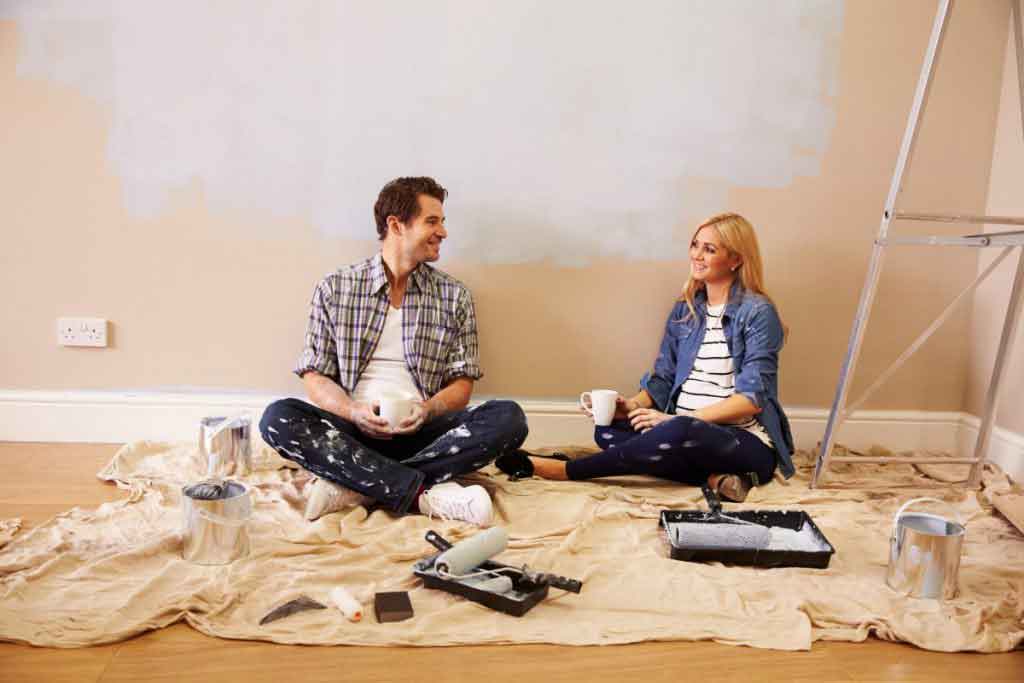 Home renovation tips: $100 - $500 budget
5. DIY painting of your home
Adding a coat of paint is perhaps the best value add before you sell, and it isn't going to break the bank. To get started buy some test pots to try before you choose a colour scheme. Colours often look different from the swatch or tin. Then it's as easy as doing a quick prep before you get that base coat on. Get some friends around to help and you will be done before you know it.
Need to make a compact space appear larger? Mirrors can help increase the feeling of space and give buyers the impression your square metrage is a lot more than advertised.
6. Hang mirrors
Need to make a compact space appear larger? Then get yourself some mirrors! These can help increase the feeling of space, giving buyers the impression your square metrage is a lot more than advertised. Mirrors also reflect natural light, which you can never have too much of.
7. Install roller blinds
If you want to change out old moth eaten curtains then roller blinds are your best budget replacements. Online suppliers have a huge range of design and colour options. Just make sure you measure up correctly and keep colours fairly neutral if you want to appeal to the widest spectrum of buyers possible.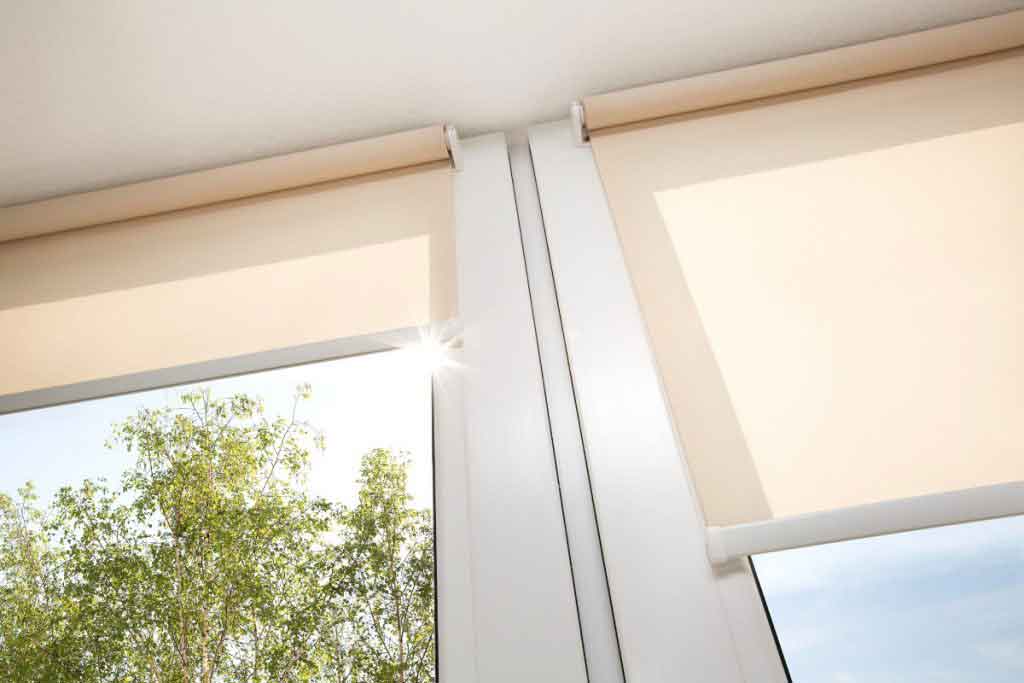 8. Let out your inner green thumb
If you are looking for a big bang for your buck upgrade of your garden then get planting! For a few hundred dollars you can transform a garden bed with some well chosen flowering plants, shrubs or even a tree. Time-poor city dwellers may well appreciate a low-maintenance garden, so look to water-wise indigenous species or succulents which require minimal effort to keep alive.
If your backyard is a jungle it could be obscuring views and preventing people from actually seeing your home. A quick prune, trim and weed could be all it needs to smarten it up.
9. Pressure clean
You will be surprised by what a good pressure clean of your property can achieve. Everything from your driveway, paths, paving and walls will get a new lease of life. Buy a pressure washer for a couple of hundred bucks or hire a handyman to take care of it - and say goodbye to years of mould, mildew and grime.
10. Clean your garden
If your backyard is a jungle it could be obscuring views and preventing people from actually seeing your home. A quick prune, trim and weed could be all it needs to smarten it up. This is especially important for improving the street view of your property, where a neglected garden could put off prospective buyers.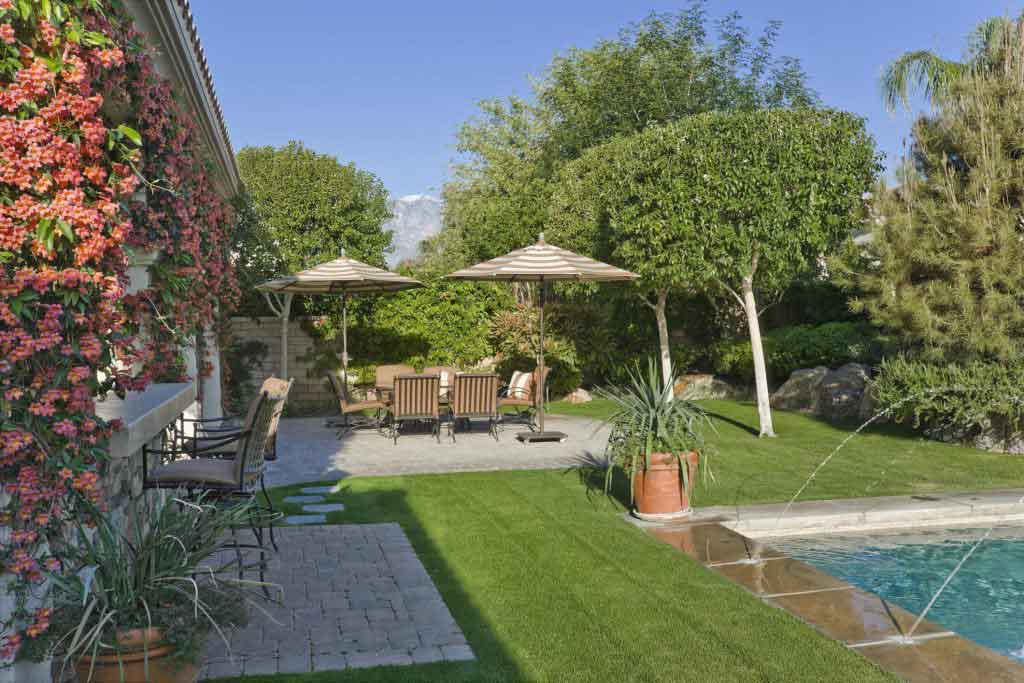 Home renovation tips: $500 - $1,000 budget
11. Install timber shutters
If roller blinds don't make sense for your interiors, then consider installing timber shutters. While shutters do cost more, they will give you more insulation and a look to complement the decor of your home. You will have the option of choosing their colour, opening style and the width of the blades. Expect to pay more for custom shutters, which you will need if your windows are not a standard size.
12. New bathroom vanity
You don't have to update your whole bathroom design to make it seem like it has had a makeover. Changing out your old vanity is not only budget friendly, it will give your bathroom a totally different feel. Depending on how your plumbing was installed you may even be able to install a wall hung version, which will make your bathroom feel that little bit more spacious. Just make sure that it is made from a moisture resistant material.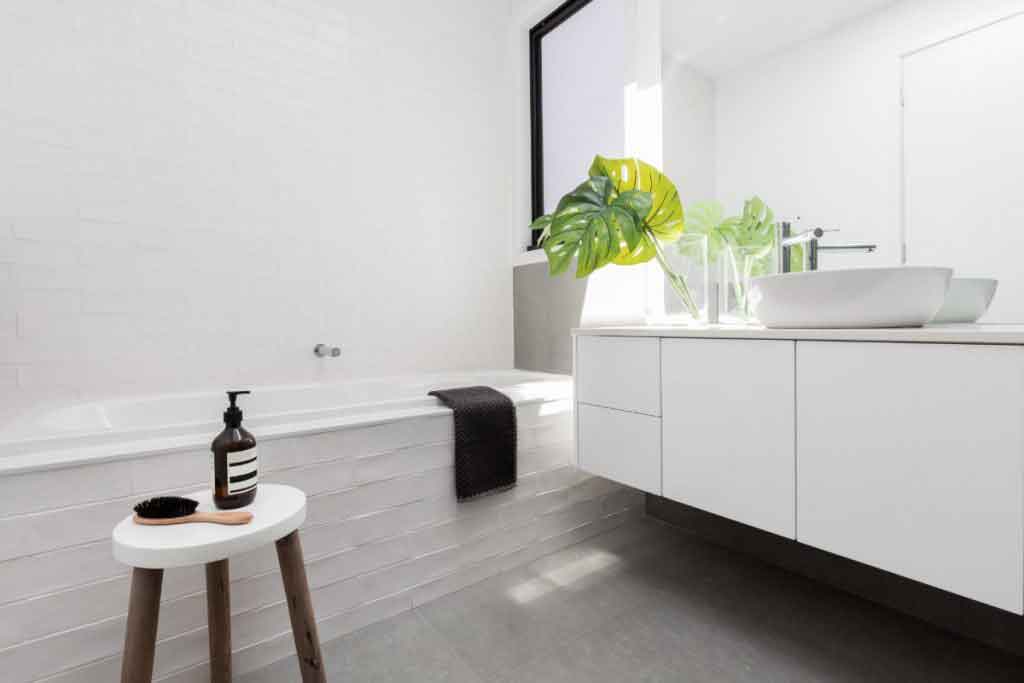 Tiles are a cheap option for transforming that space behind your cooktop, with ceramic tiles starting at just $35 per square metre.
13. Tile splashback
Tiles are one of the cheapest options for transforming that space behind your cooker and benchtops - the splashback. Ceramic tiles start at around $35 per square metre, excluding labour, and can be laid in a day or so. Just remember to choose a serviceable colour and one that is not going to put buyers off.
14. Energy efficient homes
If your property has energy burning halogens then changing these out for LED versions will make a big difference to your energy bill. Not only will your home have better quality lighting, something all buyers are looking for, but this will also update the look and feel of your interiors. LED strips can also help take care of task lighting duties under the cabinetry.
If you have plenty of little odd jobs to do and zero time to do them in, then look at hiring a local handyman. Just be sure to make a list so that they can be addressed all at once.
15. Hire a handyman
Every property has small niggling jobs that get ignored, so why not make a list and get them all done at once. If you have no time or zero DIY skills, your local handyman is the perfect person to get in touch with. They can help with all manner of odd jobs like small painting jobs, pressure cleaning your driveway, hanging artworks, assembling furniture and much more. Just don't expect miracles of them - they can't legally do any electrical, plumbing or building work. Expect to be charged from $50 per hour by a handyman, depending on where you live.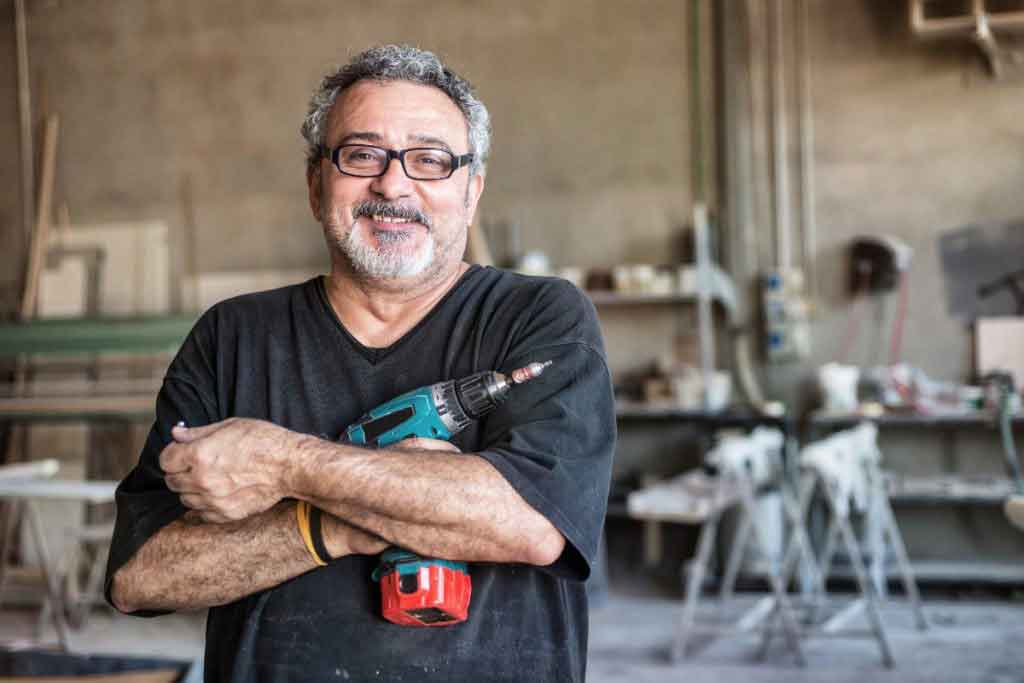 Home renovation tips: $1,000 - $2,000 budget
16. Hire an interior designer
If you are doing a cosmetic renovation then consider hiring an interior decorator or stylist. They not only have good taste, but know what colour scheme and furnishings will appeal to buyers. Some will even throw in the first consultation on the house, and then expect to be charged by the hour. You can work with them or give them free rein to choose whatever suits. They may even be able to get you trade price on some items, and help save on your remodel. Interior designers charge from $100 per hour, though 'in-demand' designers could charge double that or more.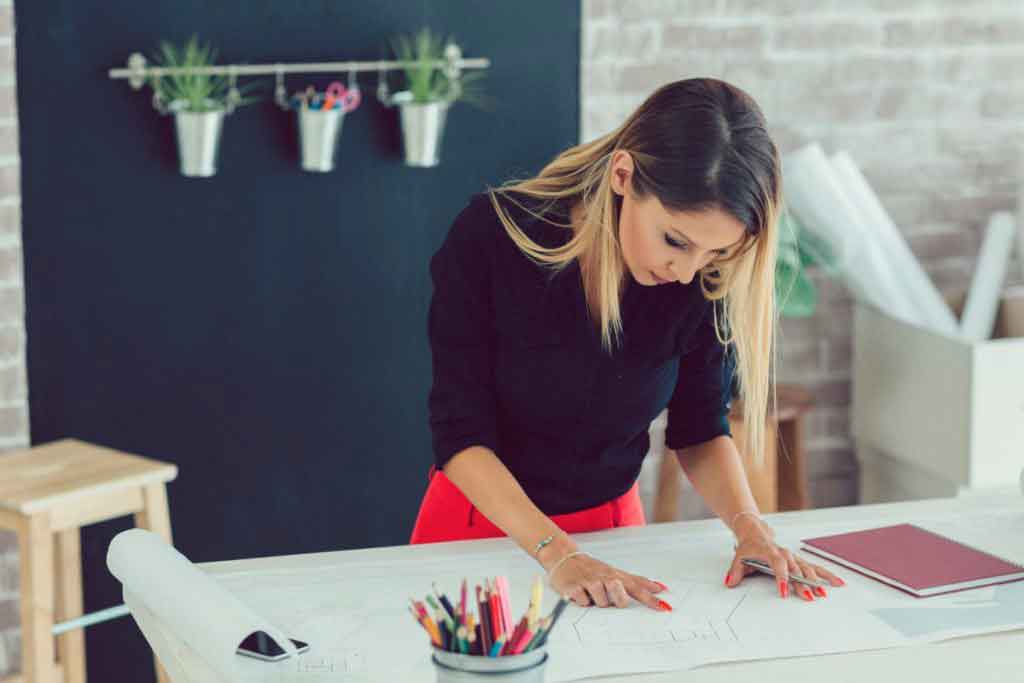 17. Glass splashback
Replacing an old tiled splashback or installing a new one in a renovated home kitchen is a fairly easy way of reviving a space. Glass is not only easy to clean but you can have it painted to virtually any colour you want. Expect to pay from $380 per square metre for a painted glass splashback.
Install a new shower screen for minimal cost and maximum impact.
18. Shower screens
You will be surprised how much difference a new shower screen can make to a bathroom. This is even more noticeable if you are replacing one of the old style framed styles. Newer designs - semi-frameless and frameless - are low profile and help make your space appear larger. You may get a semi-frameless version for under a grand, but for frameless expect to pay more. This gets you toughened glass and stainless steel supports, so your shower looks minimalist and very spacious - just what buyers are looking for in a modern bathroom.
19. Laminate flooring
If hardwood timber flooring doesn't make sense for your renovation budget then you can get the same look for less with laminate. Not only is it tough as nails, but it can be installed pretty quickly as floating floorboards. Expect to pay anywhere from $55 per square metre which should include an acoustic underlay.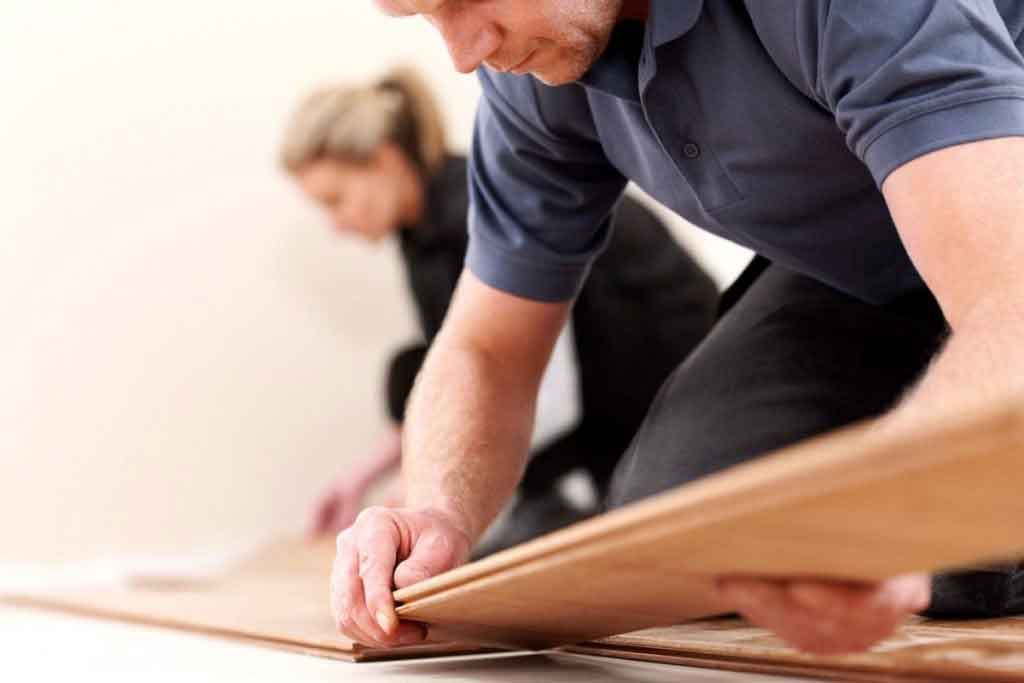 20. Paint your roof
A new roof costs can cost many thousands, so if yours is structurally sound it doesn't make sense to replace it. Having it pressure cleaned and painted is infinitely cheaper and will make a very noticeable difference.
Home renovation tips: $2,000 - $3,000 budget
21. Air conditioning
In some locations, like tropical Queensland, an air con is pretty much a must-have to beat the heat. That means your buyers are likely expecting to see it installed. Look to reverse cycle units that can also heat, and only install them in rooms that you spend a lot of time in. You need to make sure the unit is powerful enough (measured in kW) to cover for the area, otherwise it will be pointless. Expect a powerful 8.0kW unit to cost in the region of $2,100, and installation could cost another $700, depending on how complex the job is.
Hiring a professional home staging service or stylist may seem like an extravagant expense, but it could add as much as 10% to the value of your home. Do the maths and see if it makes sense for you.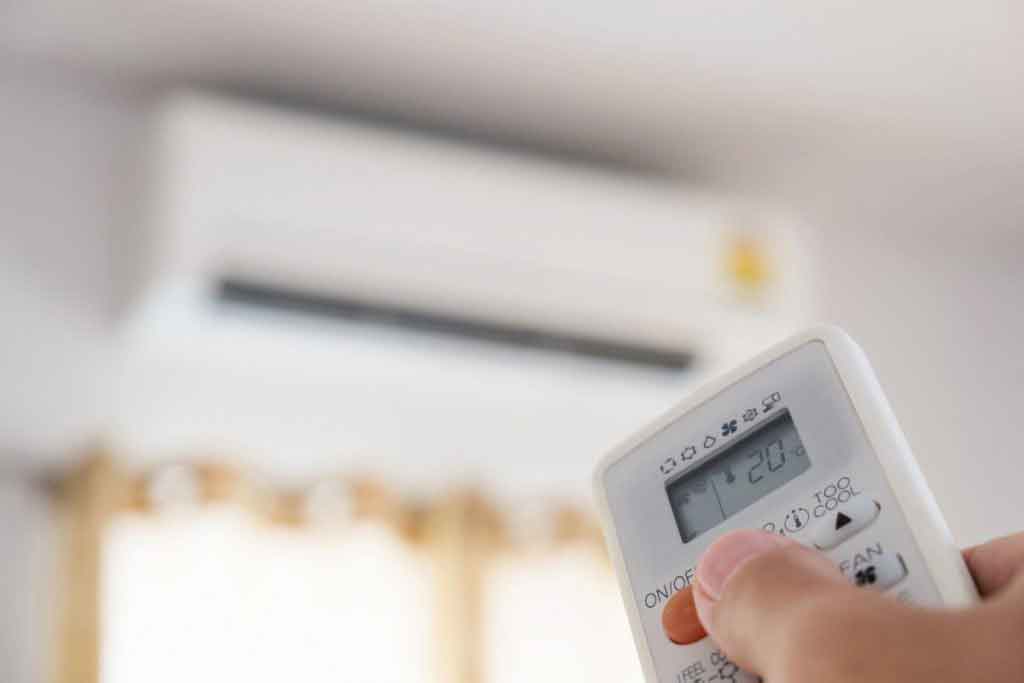 22. Home staging
Getting your home ready for sale is just a matter of getting it listed right? No, nothing could be further from the truth. When prospective buyers walk through your property on an open day you want them to fall in love with it. That is unlikely to happen if your home is cluttered or full of yesteryears furnishings. They will replace your furniture and accessories with more appropriate versions that complement the size and layout of your home. Hiring a professional home staging service or stylist may seem like an extravagant expense, but it could add as much as 10% to the value of your home. Do the maths and see if it makes sense for you.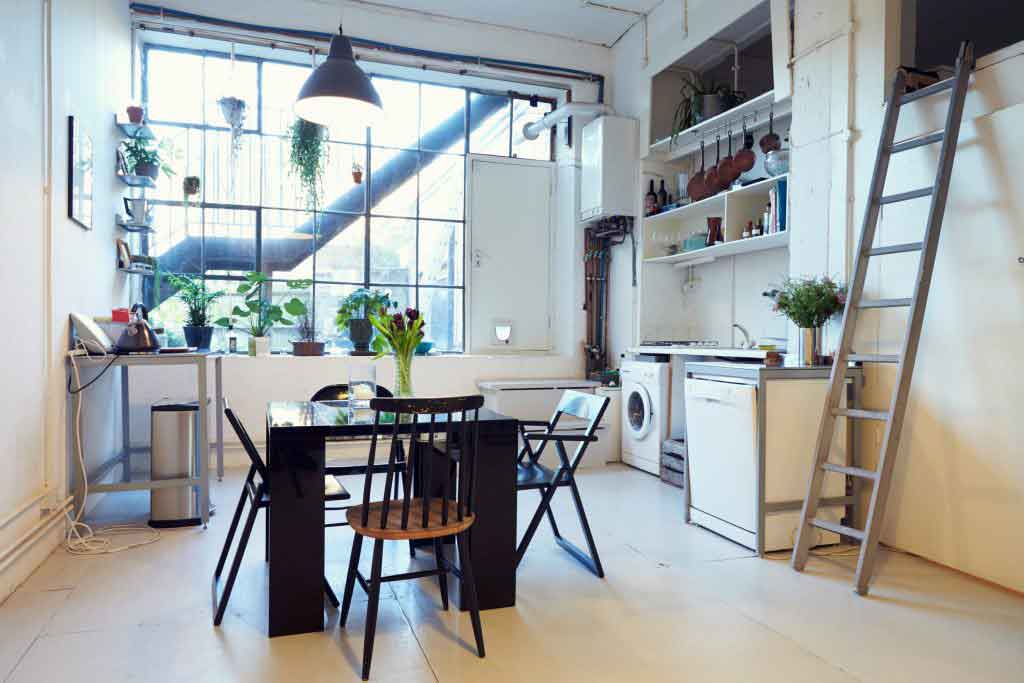 23. New engineered stone benchtops
Depending on the market you are in, buyers could be expecting stone or engineered stone benchtops in the kitchen. For a market-leading brand like Caesarstone you can expect to pay anywhere from $380 to $560 per square meter, depending on the finish chosen. This material gives you the look and feel of natural stone without the maintenance. It is also more durable and cheaper than its 'real' cousin, with granite benchtops starting at around $600 per square metre.
24. Outdoor paving
Outdoor paving is versatile enough for anywhere really, including your patio, driveway and pool area. Sprucing up your outdoor area is always a good investment. In terms of price, concrete pavers are the cheapest (approx. $50 per square metre) while natural stone like granite, or travertine is more expensive (from $70 per square metre).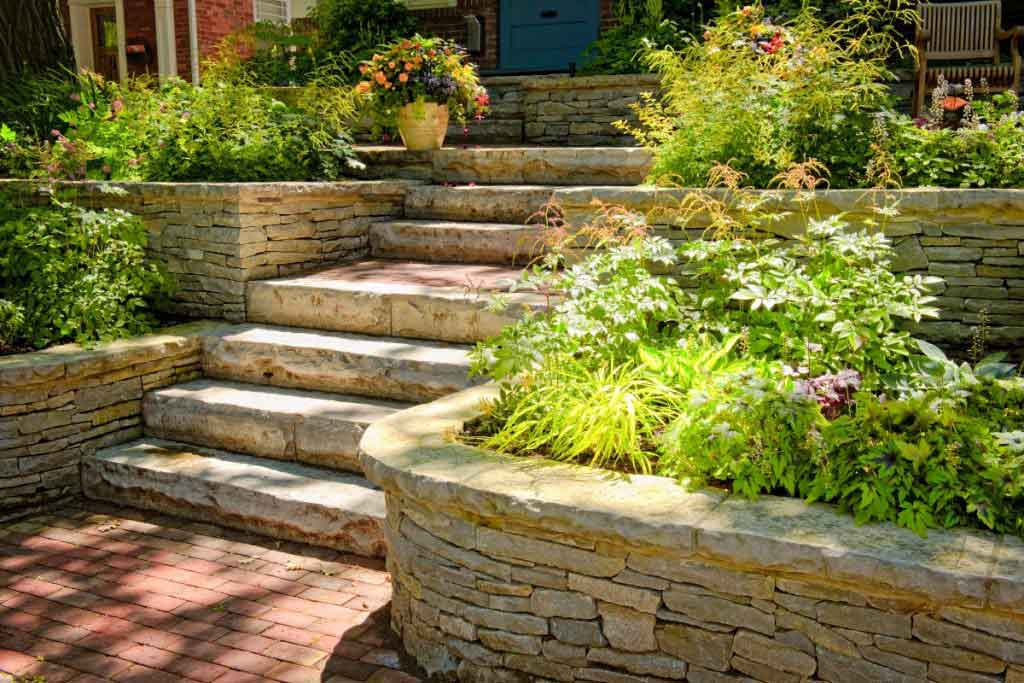 Home renovation tips: $3,000 - $4,000 budget
25. Hire a professional painter
If you don't have the time, patience or DIY skills to paint your home then it makes sense to hire a pro. Not only do they have the experience which will make for a better job, but also all the right equipment. That could be critical if you need the exterior of your double storey home repainted, where you are likely to need scaffolding. And you may not have thought of all the work that goes into prepping surfaces, especially if your walls have seen better days.
If you have a paved but uncovered outdoor space, consider a pergola. A sturdy timber version has real character and with a flat roof will add real charm to your home and backyard.
26. Timber pergola
If you have a backyard that is paved or just has a large patch of lawn, look to break up the space with a pergola. This can be roofed or open to the elements, and serve as a focus and a shelter for your outdoor seating or entertainment area. You can buy pergola kits for less, but a sturdy timber version has real character and with a flat roof will add real charm to your home. Expect to outlay anywhere from $3,000 for a treated pine version, which a carpenter can help make a reality.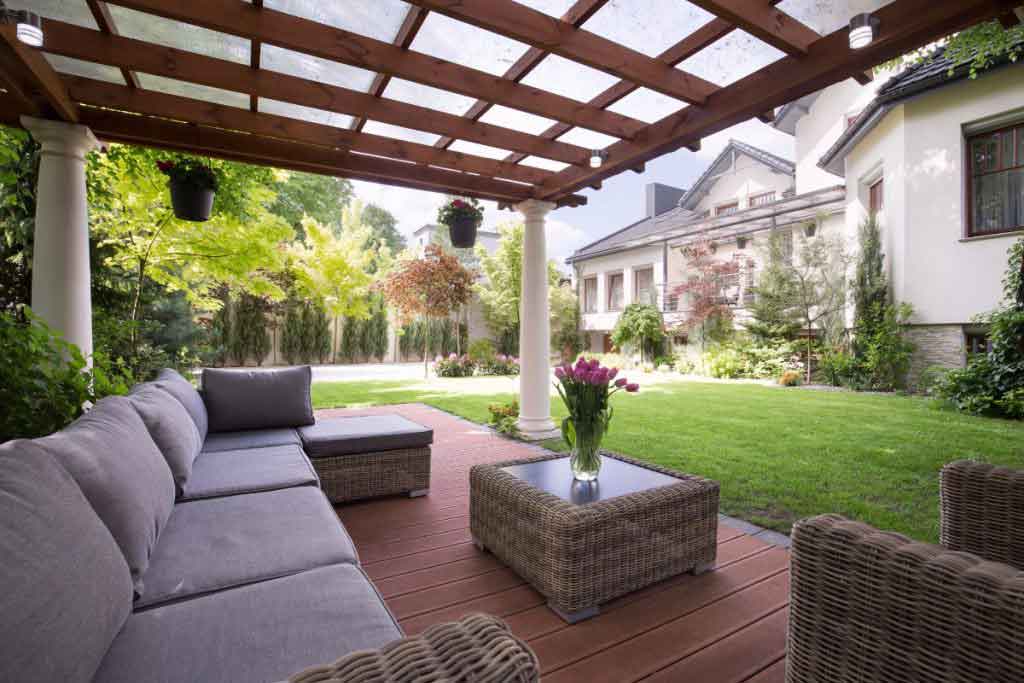 The trend for flexible work and working from home means any property with a distinct and underused space can be transformed into its own study-nook.
27. Study nook
The trend for flexible working and working from home means that any property can benefit from a quiet study nook. This could be a distinct small space or a portion of a room set aside for this purpose. If your study nook is going to get some serious use consider spending some money on making it a practical and comfortable space. Custom cabinetry can provide you with a desk surface together with drawers and shelving for storage.
28. Kitchen cabinetry
If your cabinetry is outdated, tired and not functional then this is one upgrade that can help transform your kitchen. Modern cabinetry is all about ease of use - think soft close drawers - and maximising your storage options above and below the bench top. Deep drawers can hold all your pots and pans, while clever inserts can help organise all your cutlery. Look for well constructed cabinetry that uses moisture resistant materials.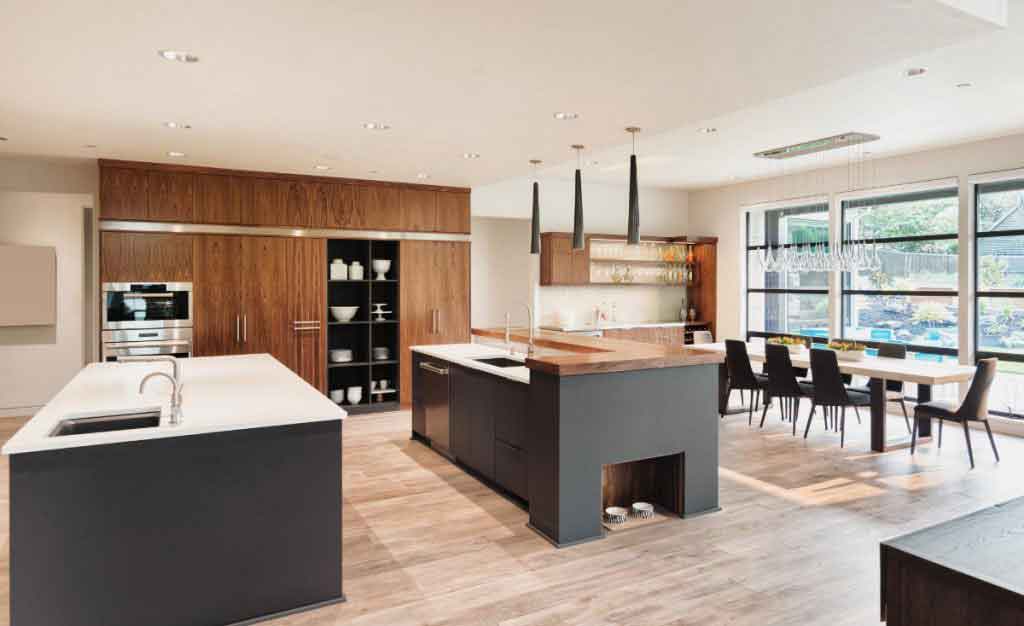 Home renovation tips: $5,000 - $10,000 budget
29. Install new windows
New windows can make all the difference, especially if your existing ones are poor insulators and do not allow enough natural light into your home. Old timber frames are particularly good candidates for replacement, as rotting wood can lead to leaks and worse over time. PVC and aluminium are popular materials for frames, as they are durable and also look good. The type of windows/opening style you choose, as well as the number of units you are replacing will all be factors in the final cost, but budget for $5,000+.
If you have an older-style home with distinct living areas, remove some internal walls to create a free-flowing and open-plan home; buyers love a communal and modern approach to home living.
30. Remove an internal wall
If you have an older home with separate rooms knocking down and removing an internal wall could create an open plan living area. Buyers love this communal approach to living, especially if you are creating a unified kitchen/dining/living room. It will also give you a better return on your investment. You will need to consult a structural engineer to make sure your load bearing walls are intact, and also hire a licensed builder to carry the work out.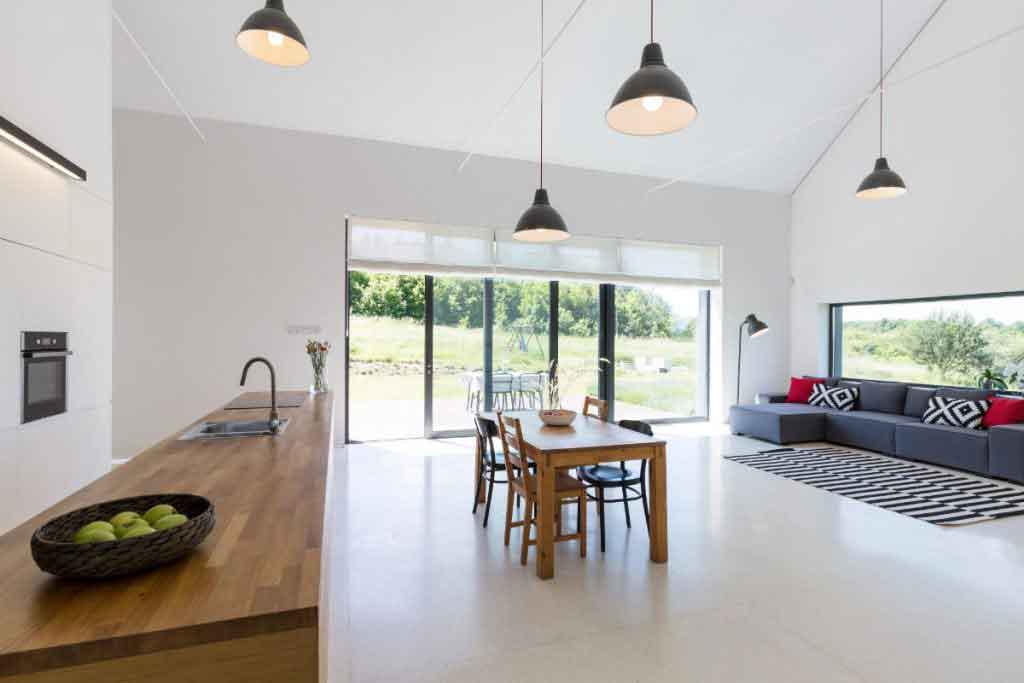 31. Solid timber floorboards
Nothing feels better underfoot than solid timber floorboards. It also screams luxury and adds a very noticeable warmth to a home. These are all factors buyers will notice when they walk into your home. Expect to pay anywhere from $100 per square metre for good quality timber, and expect this price to vary depending on the species you choose. Floating floorboards are perfect for laying quickly and can be sanded if they get scratched - something you can't do with laminate surfaces.
32. Install decking
A deck can help make your outdoor area more accessible and attractive, especially if you live on a sloping block. Solid hardwood timbers are the most durable, look great and have a wonderful feel underfoot.
Depending on the size and height of your deck you may need a permit, otherwise make sure you hire someone with a solid track record. Jarrah is a popular local timber that comes in a range of different shades, from rusty red to dark and light brown. Expect it to cost from $300+ per square metre.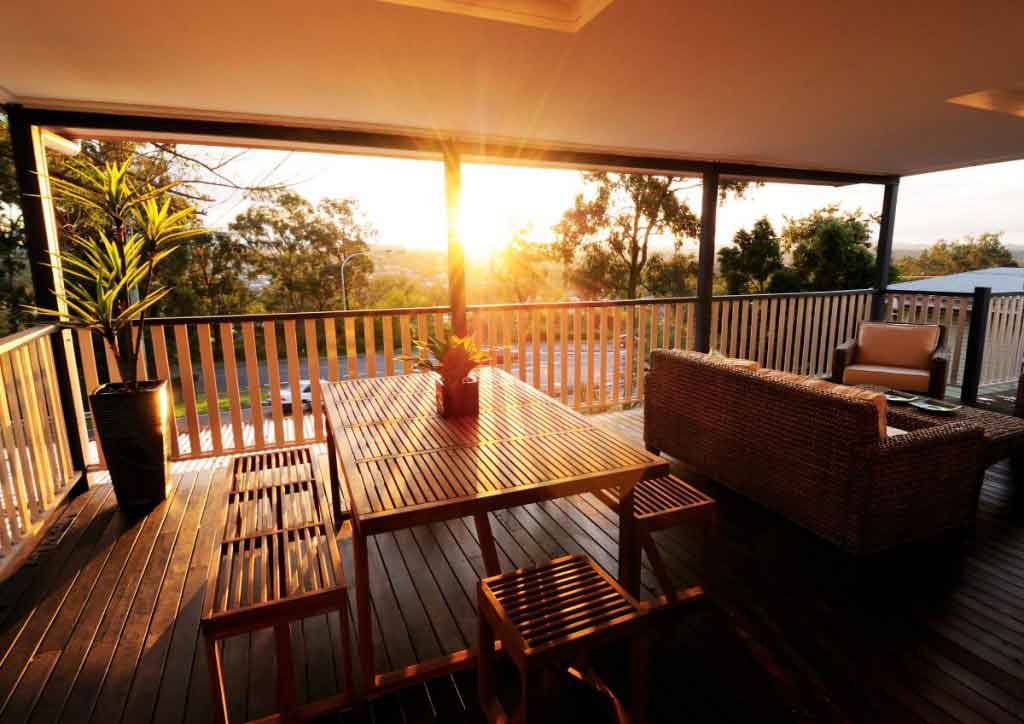 Home renovation tips: $10,000+ budget
33. Bathroom renovation ideas
Together with kitchens, bathroom renovations are one place where you can add real value to your home before you sell. Thanks to holidays in 5 star hotels and visits to exotic spas we all have high expectations of our bathrooms, and that includes prospective buyers. So a dated, unrenovated bathroom is one way to turn them off. But you need to be prepared to spend if your bathroom needs a complete overhaul.
Depending on the size of your space, expect to spend anywhere from $10,000+ to replace the existing tiles, fittings and fixtures. A fair portion of your budget is going to labour intensive jobs like lifting and laying tiles which is time consuming work. You also need to budget for all your trades - including a plumber, tiler and electrician.
If you want to keep your budget on the sensible side keep all your plumbing where it is - moving it is expensive. Look to budget friendly ceramic wall and floor tiles, and search out copies of brand name items when you are shopping for big ticket items like a freestanding bath.
34. Full kitchen renovation
Like a bathroom a renovated kitchen can actually help sell your home. To avoid breaking the bank look to perfectly serviceable and durable materials to replace more expensive materials like stone benchtops or custom cabinetry. A laminate benchtop will give you many years of service for relatively little outlay, as will solid flat pack kitchen cabinetry. If you are in a high end home where buyers expect these features then you should look to install them. Other practical money saving tips include keeping all your plumbing in the same place. Moving them is not only time consuming but involves multiple trades, which all add up at the end of the day. You can spend anywhere from $10,000+ on a full kitchen reno, it really depends on the size, and the materials/appliances you choose - just be careful not to overcapitalise.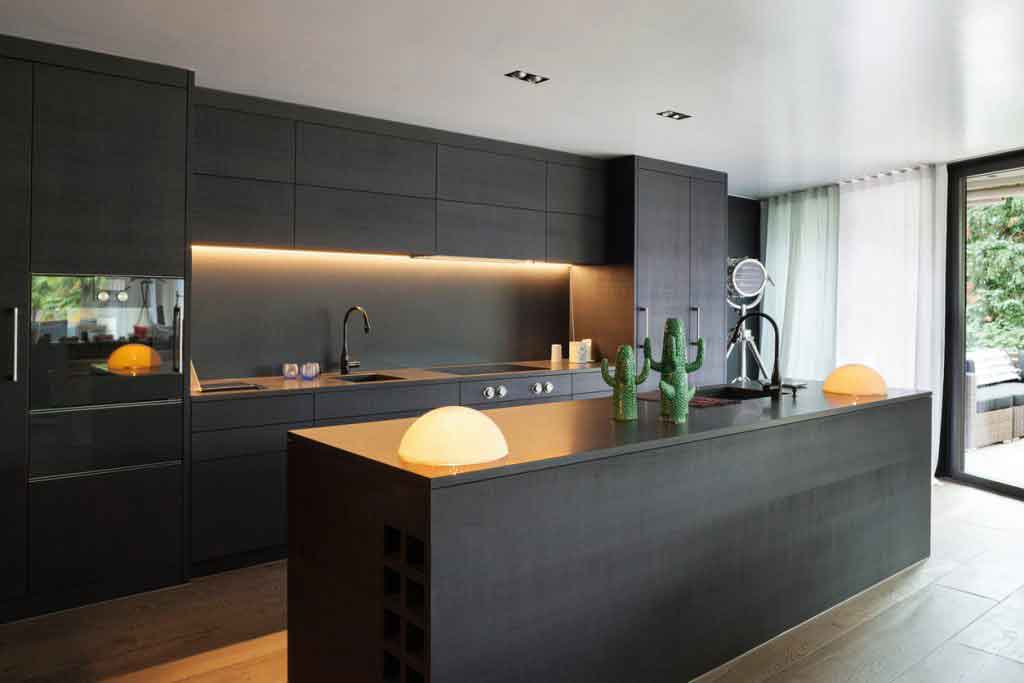 35. Home extensions and additions
Buyers are always looking for a point of difference in a property. If your home is the only one on the street with an ensuite bathroom, four bedrooms or a double garage, then this is something buyers could be prepared to pay more for. In the right street an extra bedroom could be worth an extra $100k.
You do have to be sure that there is genuine demand for your extension or addition. Do your research and take the time to speak to a local real estate agent before you go ahead. They will know what features buyers are looking for. And don't forget, you need a licensed builder for any major renovation project of this scale and budget. Take the time to identify one with a decent reputation, and who has experience with projects likes yours.