Should I sell my house now or wait? Covid-19 2021
With the unexpected boom we find ourselves in, you'd be forgiven for questioning whether now is the right time to sell a home.
Is it best to take advantage of current selling conditions so you can comfortably move into the next phase of your life? Or should you wait it out and see if prices continue to rise? But will that make purchasing your next property even more expensive? It's all really confusing, and there's plenty to weigh up.
Whether you choose to sell isn't just about current market conditions, but also the urgency of your own personal circumstances. For some of us, we needed to upsize into a bigger property yesterday, while for others, waiting for the market to rise might be a good incentive to release more capital before retirement. 
Let's explore the current real estate climate, the pros and cons of waiting versus selling now, and what economists believe is on the horizon for the rest of this year.
The current state of the market
According to the latest CoreLogic data, property values around the country are continuing to grow, with all regions and cities recording a rise in median prices.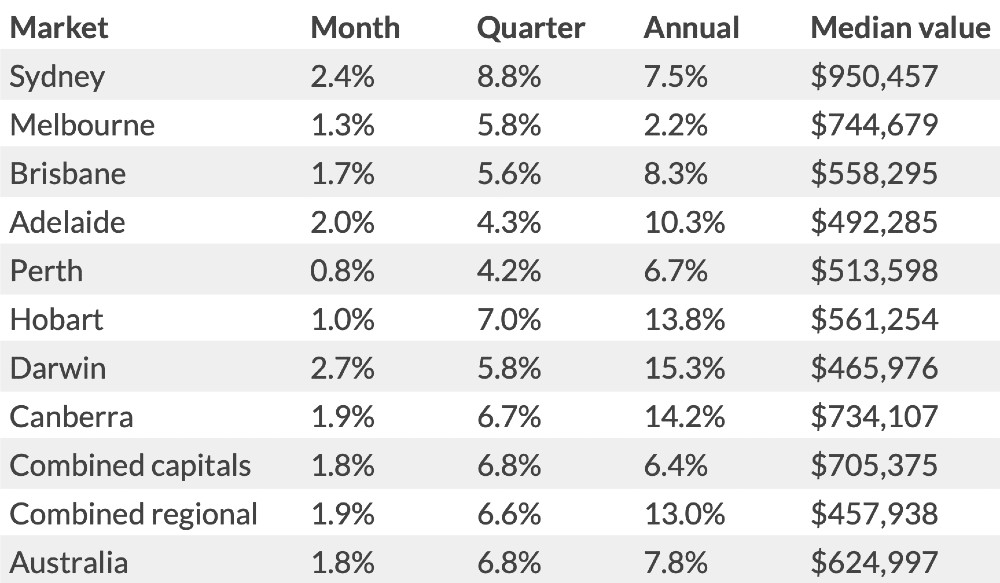 Over April, Australian median dwelling prices rose +1.8 per cent, driving the average cost of a property to $624,997. Since the market's low point in September last year, that spells out a +10.2 per cent increase.
This is great news for property sellers looking to either sell or build equity, but presents an undeniable challenge for first home buyers—especially in capital cities such as Melbourne, Canberra and Sydney, where there is a higher barrier to entry. 
With that being said, buyer demand still remains high. According to a recent REA report, buyer demand is +50 per cent above the average we saw throughout 2019. In Victoria alone, it grew at twice the national pace, up +1.3 per cent in a one-week period.
For now, first home buyers (FHB) remain undeterred, with data from the latest ABS lending indicators report showing that FHB loan commitments are up +61.4 per cent in a year.
Buyer demand in regional Victoria has grown by 18 per cent in a year.
Buyers with their sights on regional areas show no signs of waning—both regional Victoria and the ACT have proved popular, with buyer demand increasing +18 per cent over the year. 
According to Gil King, CEO of the Real Estate Institute of Victoria, Victorias are looking beyond the inner suburbs to find the lifestyle they want.
"These intra-state migrants will help to create jobs, boost local businesses, and revitalise regional communities," he said. 
The general consensus from the real estate industry is that demand will remain at elevated levels as interest in property remains high. This is likely to be sustained by low interest rates.
Property market forecast
While no-one has a crystal ball, economists believe that continued low interest rates, a strong vaccine roll-out, and government incentives for buyers and investors will translate into strong price growth across all capital cities.
The big banks' forecasts from the past quarter range from expected +8 per cent to +17 per cent national growth by the end of 2021, with a big chunk of that being reached in the first six months. 
They mostly agree that rates of growth will ease in the second half of the year, with 2022 delivering around +5 to +6 per cent growth. 
Westpac's chief and senior economists Bill Evans and Matthew Hassan, who anticipate home values to rise by +15 per cent this year around the country, say "the strong upswing that emerged late last year has seen price growth run well ahead of expectations over the first few months of the year."
Economists are tipping property prices in Melbourne to grow by up to +16 per cent in 2021
They foresee Melbourne mostly fulfilling that national surge, with expectations the city's median dwelling values will jump up +12 per cent in 2021. 
ANZ's forecast is even rosier for the Victorian capital—their modelling shows prices finishing up +16 per cent higher by the end of the year. 
Whichever numbers you look at, the path ahead is looking strong.
What are agents seeing on the ground?
Agents around the country say that vendors are getting great results, and buyers are out in full force. 
Victorian agent John Constanzo, from Woodards in Carlton North says the market is going from strength to strength, evidenced by the large presence of buyers looking to snap up a home. 
"Interest rates are down, so that helps, and people have access to more money so they can push themselves a bit harder to secure that property," he said.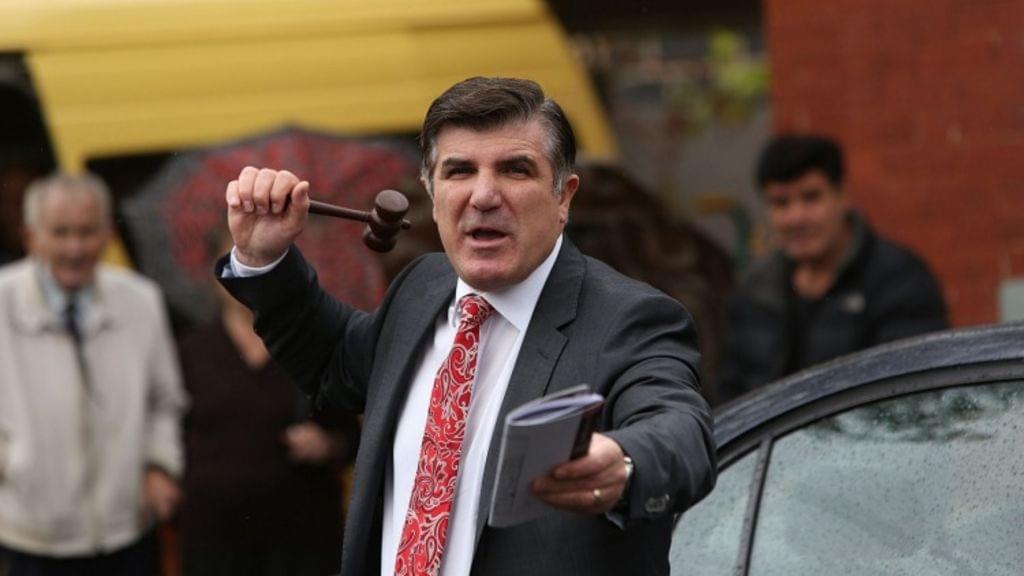 Agents in Melbourne's outer-suburbs are echoing the same sentiments, with Nathan Hunt, senior sales executive at Sweeney Estate Agents describing the outer western suburbs as a sellers market. 
"There tend to be a lot more buyers than properties on the market," he says. "So obviously, with less competition for the vendors, they're getting really good pricing."
The question around whether that undersupply of stock and insatiable buyer demand will remain at such peak levels is one that's hard to answer at the moment. 
"There will probably be a few more properties coming to the market I'd say in the next three to four months, which may lead to a little bit less competition and prices plateauing a little bit," Mr Hunt predicts.
Mr Costanzo doesn't see buyers' hunger taking a dip any time soon, though, and thinks supply won't be able to catch up. 
"I think the next few months especially over winter will continue to be strong, because traditionally people sell in autumn and spring, and in winter we don't have a lot of new stock coming on," he says.
"So the lower stock levels will keep prices humming along and the market will be very competitive."
While the market is certainly favourable for sellers right now, according to Tim Heavyside from Fletchers Canterbury, the best time to sell is when you are personally ready. 
"You don't go with generally what the market is doing, but instead, with what you're doing."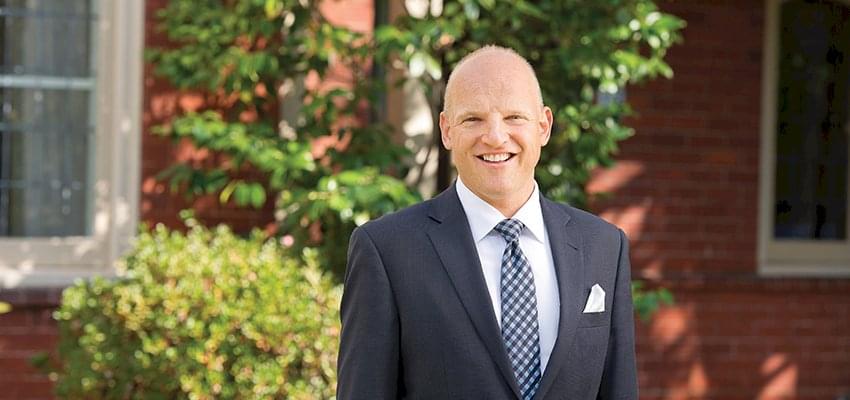 "The market is very solid and very good. Interest rates are low, stock levels are low and the demand is like a tsunami - it just keeps on coming along.
"I wouldn't say it's just in my immediate area as well - I get to speak to other agents in and outside of Victoria and there is certainly demand right around the country at the moment," he said.  
When asked if it is a seller's market right now, Mr Heavyside says, "without question."
Should I sell my house now or wait it out?
If you're still on the fence about selling, we get it. It's a huge decision that deserves all your careful consideration weighing up the advantages and disadvantages for either scenario. 
Even if the market feels a bit uncertain, it's important to remember that it's all relative and the market doesn't stop. There will always be properties being listed and buyers out there wanting to purchase a home. 
While many markets are booming, you need to remember that conditions will vary from suburb to suburb. So it's important to understand your own local market - and to do that, you really need to get granular. 
Whether your property is impacted by price gains or falls depends on many factors including location, property type, and whether your home falls into the higher or lower end of the market.
If you're seriously considering selling your home, you need to do your research. As a first step, get a ball-park estimate of what your home might be worth by using a free online estimation tool. 
Next, contact top local agents to get more of an understanding of what's actually happening in your area, rather than absorbing the catch-all headlines that dominate the news cycle. 
At the very least, it's helpful to hear what properties are selling for, what demand is currently like for homes like yours, and to get a no-obligation appraisal of what your home might sell for in the current market. A top agent who knows your market like the back of their hand will be able to help you.