Renovating before and after: how real people add value before they sell
With the popularity of shows like The Block, Reno Rumble, Selling Houses Australia and Aussie Property Flippers, the prospect of adding value to your home before selling, DIY home improvements and flipping houses in a short time frame doesn't feel so intimidating.
Australians aren't just hooked on buying property, we're also completely obsessed with renovating and interior design. And it's not just a national obsession, it's a sport. We've seen the renovating and house flipping process on television, but is it realistic? How do everyday Australians add value to their homes?
We spoke to some bold home renovators to find out what works and what doesn't during the process. We also got some handy tips and advice so that your next property flip isn't a flop.
Renovation one: a property in Grange, South Australia
Purchased for: $525,000 and sold for: $745,000 Paul and his wife had wanted to find a detached property, but knew they wouldn't be able to afford a standard 3 or 4 bedroom home in a nice suburb. But when they viewed this property in the South Australian seaside suburb of Grange, they knew they'd found a hidden gem.
"The home was advertised as a two bedroom property, but we saw it had a big open space upstairs which we knew we could eventually convert into two extra bedrooms," says Paul.
The property definitely had some unique characteristics, in addition to the potential of the upstairs space, it also had a large pergola connected to the back of the home which Paul thought he could transform into another living space. Pinpointing an opportunity, the couple quickly snapped the property up and Paul started making plans to overhaul it.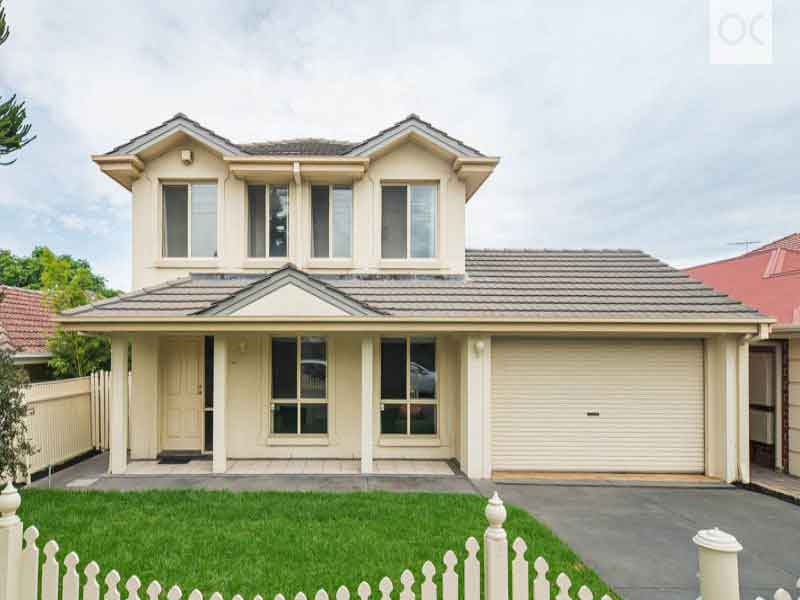 Renovations and improvements that were performed on the home
So what work was done to the home? Pretty much everything.
"We changed the pergola by adding proper doors onto it and opened it all up into the main part of the house - this allowed us to create an extra lounge room.
"By adding the two rooms upstairs we were able to take the property from a 2 bedroom home to a 4 bedroom home. We also installed a new kitchen, painted the entire interior of the home and installed lighting - we did virtually everything."

Paul did a lot of the work both inside and out. Pictured here is the transformation to the home's outdoor area. He ripped up the pavers down the side and added an outdoor living space.
In total, renovations to the home included:
Converting pergola area into another living and lounge area
Adding outdoor tiling to create an outdoor living area
Added two bedrooms upstairs
Changed outdoor area by removing "lean-to" or verandah and brick paved area down the side of the home to add lawn and maximise the backyard's potential - the home outdoor space was made to be more child-friendly
Blocked out door to existing kitchen pantry which inside shared a common wall with the adjacent toilet - smashed that wall down and created a downstairs 'wet room.'
Opened up doors from dining space into the back lounge room to create one free-flowing room
Tiling and plumbing work
New wall frames, doors and decorating
New kitchen
New flooring
Added solar panels and split system air-conditioning system


How much did it all cost?
Paul estimates that he and his wife spent between 60-70k. Doesn't seem possible, right? The thing is, apart from tiling, plumbing and electrical work, Paul did pretty much everything else on his own. And no, he isn't a builder - in fact, he isn't even a tradie; he's just an ordinary guy.
So how did Paul, between juggling a full-time job and family life (two kids under three), manage to renovate an entire home whilst only spending $60-70k?
"My wife always jokes that I've always been someone who researches and find bargains - I went to Bunnings a lot, read a lot online, watched renovating shows for inspiration - while of course also looking after the kids in between." When asked how he managed to do so much of the work himself he says that he "watched a lot of YouTube tutorials on how to do everything." It's pretty amazing what you can do if you really put your mind to it.

How did Paul find bargains?
"I was always looking online. When we did the kitchen, all the cabinetry was 5k for the whole kitchen from Ikea. We bought brand new appliances and we asked retailers to beat the price - that was another 5k for Fisher and Paykel appliances.
"The worktop we chose for the kitchen was caesarstone and that was another 5k. So 15k for the entire kitchen with appliances and then we had help installing it which cost us a few hundred dollars. "When we wanted to do the downstairs wet room/bathroom, we were getting quotes for 20-30k - we ended up doing it for about 6k.
"We were in no rush at all, and we just took our time. We changed ideas several times and because we took our time making decisions we ended up making the best possible decisions in the end. The result is that because we did everything so economically, I never thought 'geez, I wish I hadn't spent that money.' "We really couldn't have done it cheaper if we tried."
Read: 35 expert tips for adding value to your home before you sell

The biggest challenges Paul faced while renovating
When you're about to embark on your own renovating journey, the best thing you can do is talk to the people who've been through it. We asked Paul what challenges he faced - perhaps some of these can prepare you for the road ahead. "The hardest part was fitting it in with everyday life. Dismantling the kitchen was done over the space of a month, and trying to work everything around the kids was hard.
"While the kitchen was in pieces we moved into the backroom and had an electric frying pan stove - there was nothing glamorous about it and we lived like that for a whole month.
"Afterwards my wife had said 'I wish we got someone in to do it - but then you throw away thousands of dollars. 'It was also hard when I started doing something and I was on a roll, then an hour later I'd have to just stop and go to work or run an errand.
"It was hard to leave it when I'd just worked something out, and then difficult to come home to mess and disruption."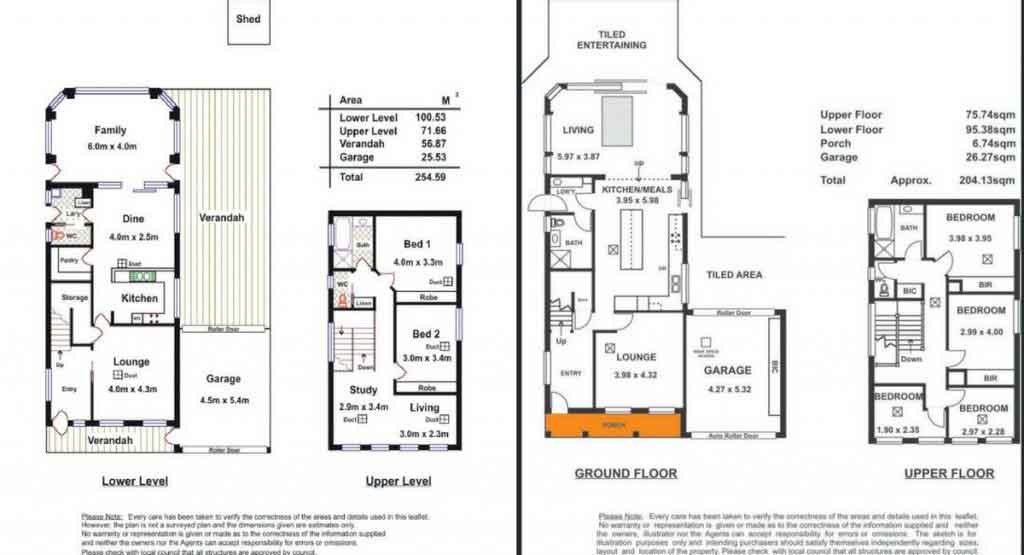 You can see how much the layout of the home changed after the renovation, including two extra rooms and an extra bathroom.
The biggest lessons Paul learned
When Paul reflects on the biggest lesson he learned throughout the process he says that he and wife may have taken on more than what they thought.
"Even though we took our time, all our spare time and spare money went into the house and that's time we can't get back. Rather than going out with the kid when they were young, we would be working on the house."
He reminds us that it wasn't just redecorating, it was the whole house being overhauled, inside and out, including new room additions and moving walls around. It wasn't for the faint-hearted.

His biggest piece of advice for anyone looking to take the renovating plunge
"It's an old cliche and everyone says it, but it really is all about location. We bought an 'ok' house in a really nice area, and because of that, we did a lot of work to it which added a lot of value to the home.
If we bought the same house in a not very nice area, we wouldn't have made anywhere near as much money. You simply can't lose if you choose a good area."

Renovation two: a property south of Wollongong
Purchased for: $319,000 and sold for: $525,000 This home underwent such a dramatic transformation that it's unrecognisable. Reece and his wife Sam always intended on buying a first home, and with Reece being a painter by trade, it was only natural that they would buy a 'fixer-upper.'
When they inspected the Mt Warrigal home in the southern suburbs of Wollongong, they saw the home's potential and knew they were onto a winner.
"The home was 2 bedrooms with great views of the lake and with a lot of space that wasn't being used underneath. We saw potential to add at least another bedroom and living area"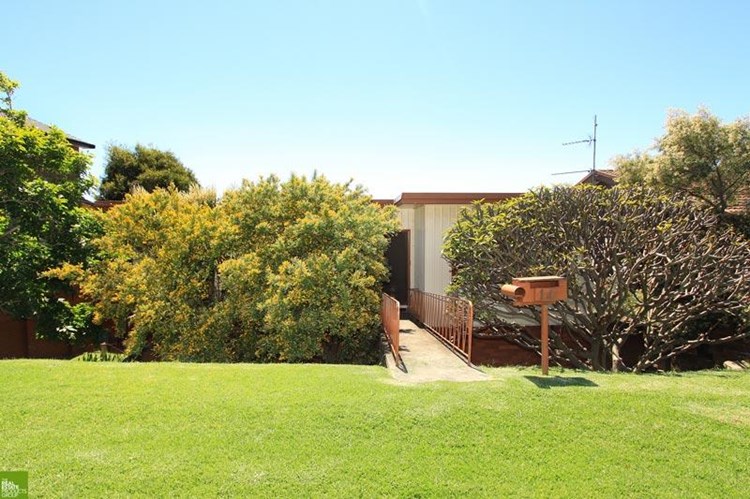 What the home looked like at street level before it was renovated.
Renovations and improvements that were performed on the home
"We virtually did everything to it besides adding a new kitchen and touching the outside walls."
Major works included:
Whole interior of the home was stripped - they pulled down every single wall
Interior and exterior painting
A new staircase leading from upstairs to downstairs
Dug out the underneath of the house to create two bedrooms, a second bathroom and living area downstairs which initially was just storage and a place for a hot water system.
New flooring throughout
Moved the laundry outside
Large decked outdoor entertainment area downstairs flowing off downstairs living area
Front decking and a decked walkway/bridge from the front gate to the front door.
Extensive gardening and landscaping in front yard

The front of the home changed dramatically with an exterior paint job, landscaping, fencing and decking.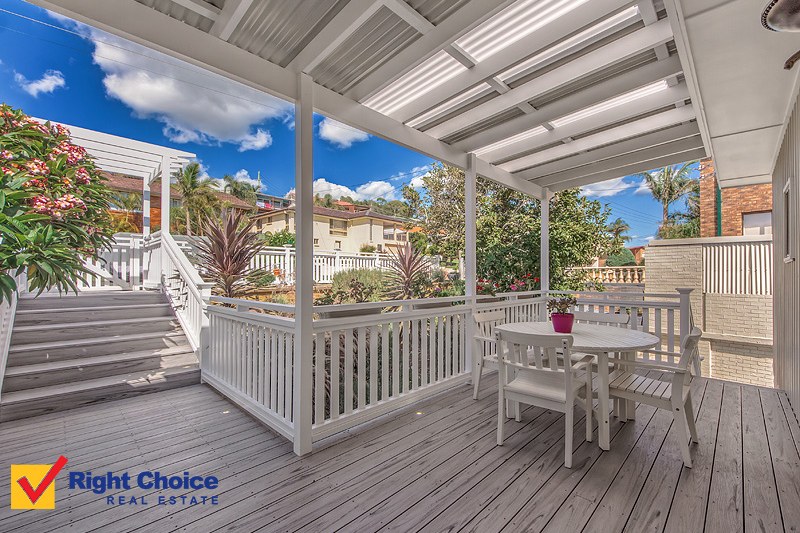 The front deck overlooking newly installed landscaped gardens.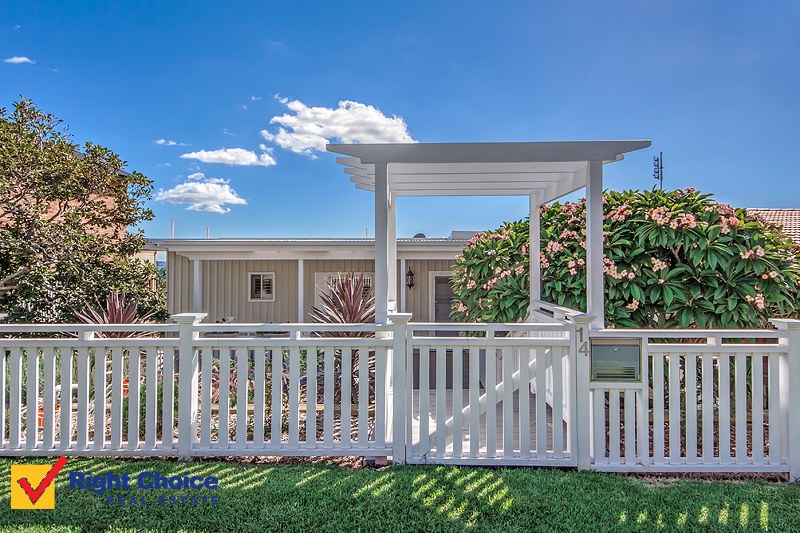 The biggest challenges Sam and Reece faced while renovating
"Living in a war zone and learning to just deal with it was definitely a challenge. Sam came home one day and found our carpenter grinding villaboard all over her clothes which were on a hanger, as at the time we didn't have closets or bedrooms," says Reece.
He continues, "we also built a custom letter box which someone decided to just kick over."
"When we ripped the bathroom apart we found a tree growing in the wall as well."
As you can see, when renovating, it doesn't always go to plan.

The things Sam and Reece learned during the renovation process
"We spent 15k on plastic timber for our decking, and if we had our time over we would've put merbau timber down as it costs less. "While the property market taking off did help us in terms of adding value to the home, the renovations we did definitely helped as well.
"We've learned that people will pay a premium for a property that is finished and ready to move into. People are so time poor so they want it all now. That's why people make so much money flipping houses."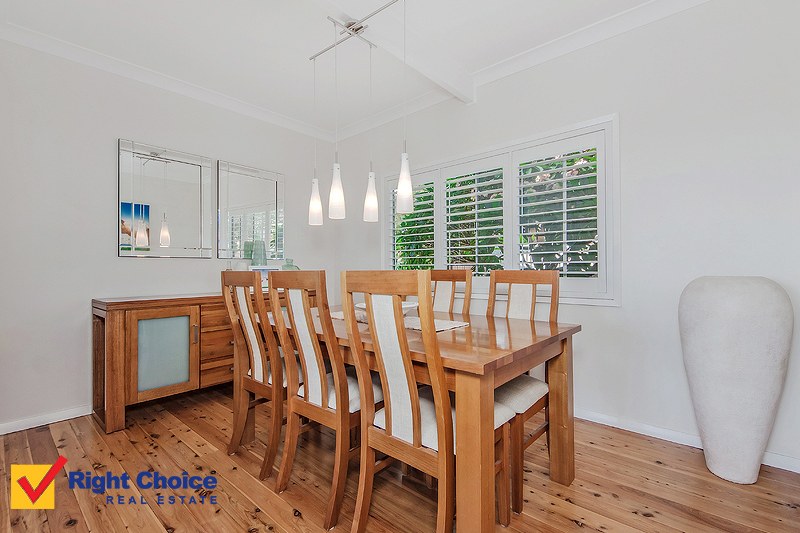 The dining area after the renovation.

Their advice for anyone looking to renovate to add value
When it comes to what adds value to a home, it depends on the home and its price range. For a $1 million+ price range, people expect better quality materials, fittings and fixtures. People spending a lot of money want particular things.
Decluttering when you actually put your home on the market is important and adds value. When people walk into a home they want to see a dream, so no photos, nothing personal and always minimal.
Ask your real estate agent for advice - for us, we hadn't completed the kitchen, but in terms of adding value, at this point the real estate agent didn't think it would be worth it.


Bottom deck which was installed during the renovation. It flowed out from the living area downstairs into the backyard.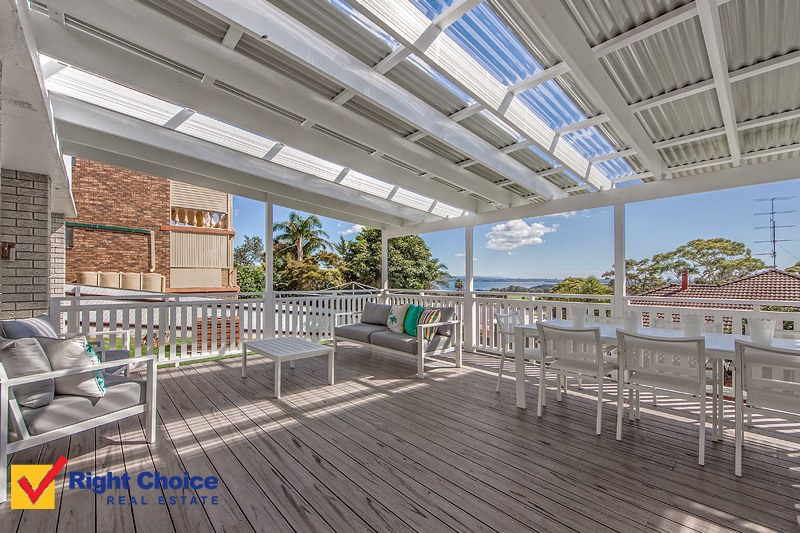 Reece and Sam focused on giving the home plenty of outdoor entertaining spaces, which of course, maximised the view of Lake Illawarra, as well as appealing to the Australian lifestyle of seamless indoor/outdoor living.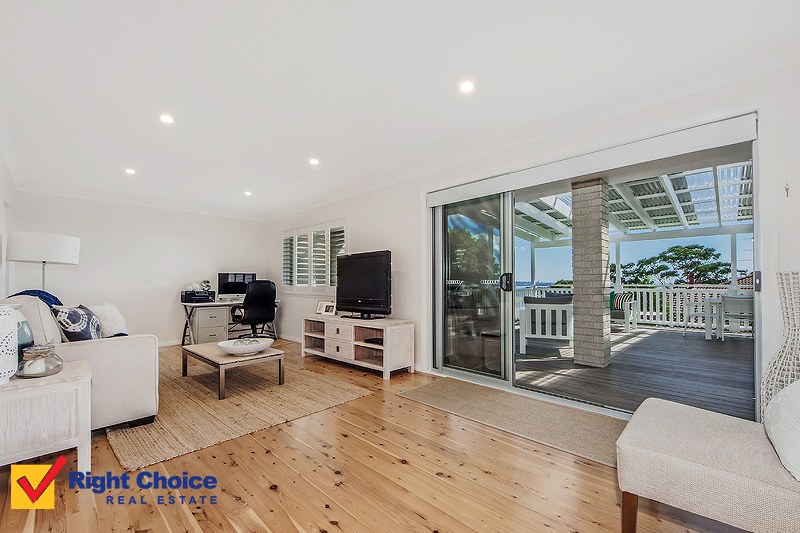 New living area downstairs - before Sam and Reece started renovating, it didn't exist.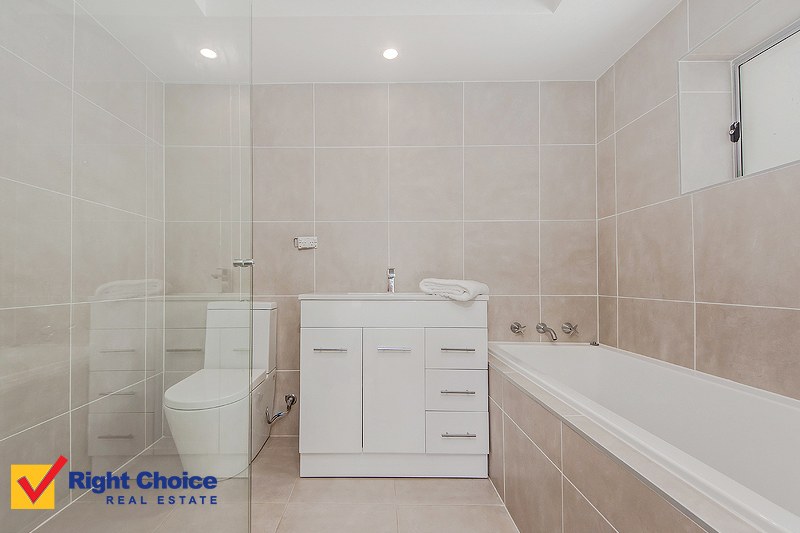 The new second bathroom that was added to the downstairs level of the home.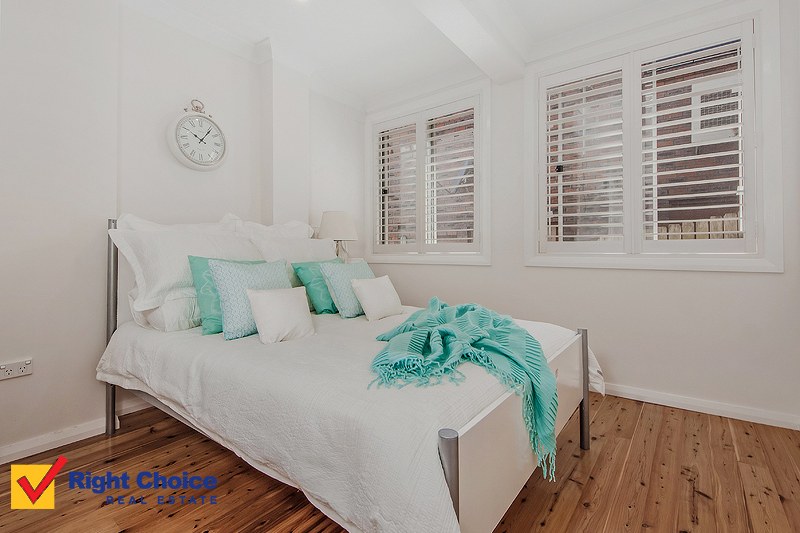 One of the two downstairs bedrooms added by Sam and Reece into a once dark storage space.