The most affordable waterfront suburbs in Sydney
In a city like Sydney, you don't have to travel far to appreciate the appeal of living in a waterfront property. Not only does this vast city offer homes along the ocean, but there is no end of choices for residences along rivers, bays, estuaries, and the coveted Sydney Harbour. It seems at every turn, Sydney has taken advantage of the beautiful views and calming waters.
But with a median price tag of $2.7 million for a house in the Eastern Suburb of Bondi Beach or close to $1.5 million for a unit in the quiet Lower North Shore suburb of Kirribilli, a waterfront property investment is not always accessible and may feel just out of reach.
Enter the Sutherland Shire in the southern region of Sydney. This once overlooked area is growing in popularity for first home buyers, renters, investors and more. And with its close proximity to Sydney's CBD, it is now easier than ever to find a more affordable property with the waves at your doorstep.
Curious about where to start? Here are some suburbs for houses and apartments that give you the waterfront amenity at an affordable price.
The most affordable waterfront houses for sale in Sydney
Whether you are interested in looking for waterfront properties for sale, or you are more enticed by homes to rent or for rental income, the Sutherland Shire has many great suburbs that make searching for beachside or riverside properties more affordable than you thought.
Here are some of the current top suburbs with houses that offer coastal living at a reasonable price.
Bonnet Bay
2226
Bonnet Bay, located on the Woronora River, is a Sydney waterfront suburb that is great for families and professionals alike. When looking for a riverfront property for sale, locals agree that the leafy suburb is an excellent combination of being close to everything that you need, whilst feeling like you can escape to your own sanctuary.
With a median house price of $1,132,750, Bonnet Bay is a suburb that is affordable as a primary residence or perfect for a waterfront holiday house.
Median house price: $1,132,750
Median weekly rent: $800
Como
2226
Como comfortably sits where the Woronora River and Georges River combine, making the views from this suburb one of a kind. With a train station and minimal through traffic, Como is the perfect place to take in all that Sutherland Sydney has to offer.
Here the median house price of $1,205,000 makes the value of these waterfront properties is worth every dollar.
Median house price: $1,205,000
Median weekly rent: $695
Jannali
2226
Jannali is a suburb that has it all, and people are starting to notice. Whilst it may not immediately strike you as having ample waterfront options, seasoned Jannali real estate agents can easily help you in your search for the options closest to the waves.
With a median house price of $957,500, a waterfront house or even just distant water views from Jannali will be worth the search.
Median house price: $957,000
Median weekly rent: $605
Oyster Bay
2225
Oyster Bay is a peninsula suburb that is well-known to Shire locals. But with a median house price of $1,190,000 compared to an area like Balgowlah Heights in the Northern Beaches (which averages $2,760,000), Oyster Bay is easily a reasonably priced area for those looking for water views without the hefty price tag.
Median house price: $1,190,000
Median weekly rent: $720
Woronora & Woronora Heights
2233
Nestled around the Woronora River, it's not difficult to find a waterfront property for sale here. Even many homes that are not directly on the water still boast views that possess the tranquillity of nature and river.
These suburbs are perfect for those who prefer to spend their time on or near the water, whilst staying conveniently located near the Sutherland train station for times when a trip to the city is needed.
Median house prices for Woronora come in around $1,195,000 and Woronora Heights come at $1,052,550 - making it the affordable waterfront lifestyle that you're looking for.
Woronora - Median house price: $1,195,000
Woronora - Median weekly rent: $670
Woronora Heights - Median house price: $1,052,550
Woronora Heights - Median weekly rent: Data unavailable
Bundeena
2230
Bundeena is one of the Shire's best-kept secrets. This small suburb, which is most easily accessible by boat from Cronulla, gives you a lively, sometimes remote village feeling whilst still living in a large city.
Surrounded on one side by the Royal National Park and beautiful beaches on the other, purchasing a waterfront property in Bundeena is the perfect excuse to enjoy the outdoors.
Median house prices are roughly $1,002,500, which is perfectly affordable for feeling like you are on a permanent holiday.
Median house price: $1,002,500
Median weekly rent: $650
Maianbar
2230
If you are looking to purchase something that is slightly more remote with just as much natural beauty, Bundeena's neighbour - Maianbar - is an excellent location for both waterfront rentals and property purchases.
Due to the high rental options, Maianbar also makes for a great place to buy a waterfront investment property or holiday home
Median house price: Data unavailable
Median weekly rent: $563
The most affordable waterfront apartments for sale in Sydney
These days, waterfront living isn't solely reserved for those who want to live in large houses. In many Sutherland Shire suburbs, city planning has allowed and zoned for the construction of units where waterfront houses once stood, making ocean and river views more attainable with absolute waterfront apartments.
Cronulla
2230
Cronulla is easily one of the most recognised beach suburbs in the Sutherland Shire. Tourists, families, and retirees will all find something to do in this famous beach town. Along with the many options for beachfront houses, direct waterfront apartments with an affordable median price of $791,000 have also become a staple.
Don't really fancy buying an apartment? Well, the great benefit of a suburb like Cronulla is that there are not only options to buy, but renting is also easy with a weekly median rent of $500. And with Cronulla Beach and the train station right at the doorstep of apartments like 1/10 Ozone Street, what's there not to love about living here?
Median unit price: $791,000
Median weekly rent: $500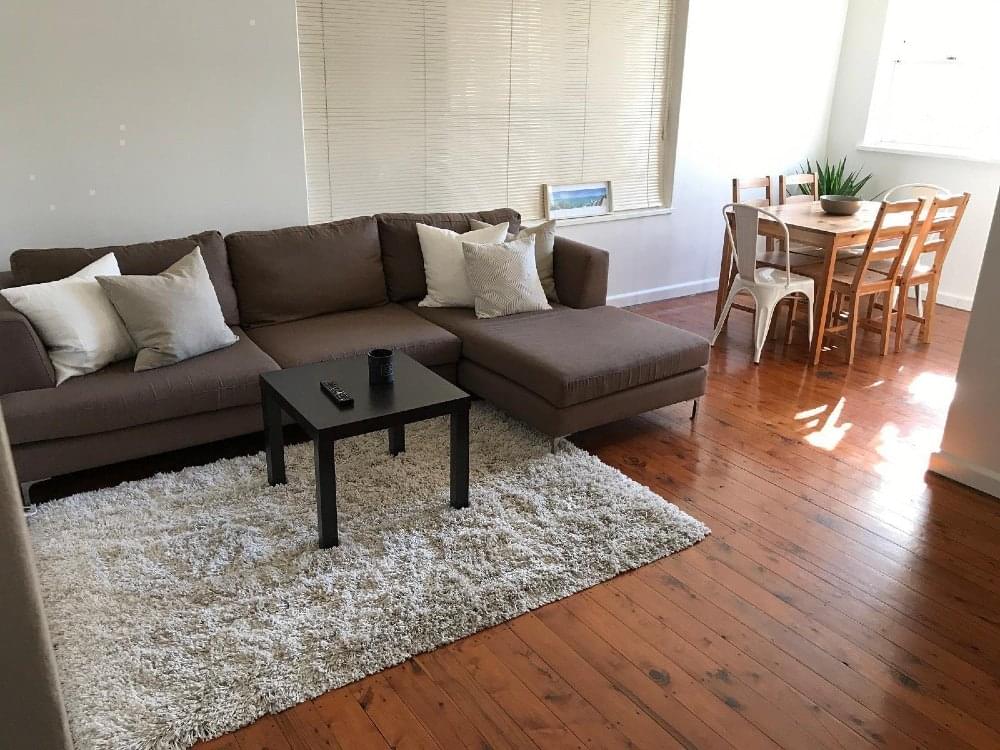 1/10 Ozone St, Cronulla leased by McGrath Sutherland Shire | Source: McGrath
Jannali
2226
Jannali is a versatile suburb, offering both houses and proximity waterfront apartments.
Not only geared toward working professionals, but Jannali is also a prime location for first home buyers who want to start investing or live by the water with units averaging $689,000.
Hidden gems can also be found here, as some units offer even more bang for your buck. Sold by Sanders Property Agents in Jannali, a 2-bedroom apartment that recently sold offered a leafy complex within close proximity to shops, schools and the train station for $445,000.
Median unit price: $689,000
Median weekly rent: $470
Searching on your own for a much-desired waterfront property can be overwhelming. However, branching out and finding a Sutherland Shire real estate agent who knows the best affordable waterfront suburbs is the first step to getting on the right path to your ultimate goal.