We haven't even hit the middle of the year, yet 2020 has presented a number of challenges. From bushfires and floods, through to Covid-related lockdowns and restrictions, it has us wondering whether Queensland will ever catch a break.
While it's been a tough few months so far, Brisbane has long had the benefit of being a resilient market that isn't as affected by economic peaks and troughs like the more bullish markets of Melbourne and Sydney.
With the Covid-19 flattening, and restrictions being eased and lifted across a number of states, the real estate industry is waiting in anticipation to see how quickly it takes for the market to bounce back.
We answer the following questions: has Brisbane's resilient market continued unabated in April? Will slow and steady growth win the race? And what can we expect in the months ahead?
How has the Queensland and Brisbane property market been tracking?

Brisbane property prices
In the latest CoreLogic home value index, Brisbane property values have been resilient, posting an increase of 0.3% over the month. In the quarter, values have risen 1.5% for the quarter and an annual change of 3.8% bringing the median value up to $507,982.
Although Brisbane recorded a rise in home values through April, the pace of growth has halved compared to last month.
Brisbane house values have increased 0.3% over the month to $558,372, while Brisbane units have slightly higher growth in April at 0.5% with a median value of $388,729.
Regional Queensland property prices
In April, combined dwelling values in regional Queensland grew 0.2%. In the past quarter, values have increased by 1.6% and 4.5% in the past 12 months. The median value of regional properties is now $381,225.
Houses had slower growth posting an increase of 0.1% over the month to a value of $388,368 while units performed better month on month with 0.7% growth bringing the median value up to $363,875.
Real estate agent Ben Chick from Explore property Mackay describes the second half of the month in his region "like someone turned on a tap".
"The second half of the month was crazy. We had 50% more sales enquiries on property than we had the first month".
Mr Chick believes that regional areas fare better than metro in the current climate due to their location.
"Regionally, we haven't had any new cases in Mackay for about a week. People say we're isolated up here but that's probably a good thing right now".
"We don't have the unemployment that the big metro areas have had. We're not exposed as much to thousands of people losing their jobs because we are a smaller center"
When it comes to Cairns, Tom Quaid from the Real Estate Institute of Queensland (REIQ) said that while sales had halved over the past six weeks, he didn't expect to see any significant reductions in property prices in the short term.
Auction clearance rates remain low for Queensland properties with the majority of properties sold through private treaty. Last week there were 617 private sales recorded in Queensland.
Brisbane and Queensland rental market upate
Due to the pressures of higher supply and lower demand, the rental market across most capital cities have weakened in April.
In Brisbane, CoreLogic reported an annual change in rents of 0.9% with rental yields unmoved from last month at 4.4%. Rental yields for regional Queensland sit at 5.2%. The national gross rental yield sits at 3.7%.

Rental markets are expected to show weaker conditions over the next few months due to the increase in supply from tourists and foreign residents returning home. Demand for rental properties have also declined as renters in industries most affected by Covid-19 such as casual employees and food services ask for reduced rents or choose to find alternative living arrangements such as moving back in with their parents.

Tourism hotspots such as the Sunshine Coast, the Gold Coast, Whitsundays and other popular holiday destinations will also suffer from continued travel restrictions, border closures and social distancing procedures.
Place Director of Property Management Cathie Crampton told Domain that while it may be a challenging few months for the Brisbane property market, it should steady in a few months.
"I see it to be short term... the fundamentals haven't shifted and it's a health-driven downturn and it has an end date" she said.
How will Covid-19 affect the Brisbane and Queensland property market. What should we expect for the months ahead?
Property prices have stabilised during April with Brisbane and regional Queensland posting slight increases in value.
According to Tim Lawless, CoreLogic's Head of Data Research, one of the most important indicators to follow during this time is consumer sentiment. "If consumer spirits start to bounce back to normal levels, this is when we should start to see housing activity lift from their current low levels."
"Now that we've got a bit more confidence going on, we could expect to see people return to the market."
And according to Mr Quaid from the REIQ, the reduction in QLD Covid-19 cases, coupled with low interest rates and the introduction of stimulus measures has helped consumer sentiment so far.
"There are still people in the market. For those properties that are on the market, we are still seeing transactions occur, just at a lower rate," he told the ABC.
"Now that we've got a bit more confidence going on, we could expect to see people return to the market.
"Certainly not in the numbers we would see in a normal year, but I think we'll still see business moving forward over these next few months at least," he said.
Easing restrictions
While in-room auctions and open homes are still not permitted in Queensland, some restrictions have eased as of 1 May 2020. Private appointments for inspections are permissible as well as inspections allowing a maximum of 6 people including the real estate agent inside the building at one time. Social distancing and hygiene practices must also continue to be adhered to.
"How restrictions will continue to change depends on the effect that the current easing restrictions has on the spread of Covid-19 in Queensland."
Queenslanders will also be able to leave their homes for recreation and the distance they can travel has been extended.
Queensland Health Minister Steven Miles said that the first day of relaxed rules was a test.
"Today is the first day of an experiment for Queenslanders, to see whether when more of us move around, we can continue to suppress the spread of COVID-19," he said.
"What I've seen so far is that Queenslanders are doing a great job of maintaining their distance, of complying with all of those rules."
The number of Covid-19 cases continues to flatten with 5 new cases recorded in the last 24 hours.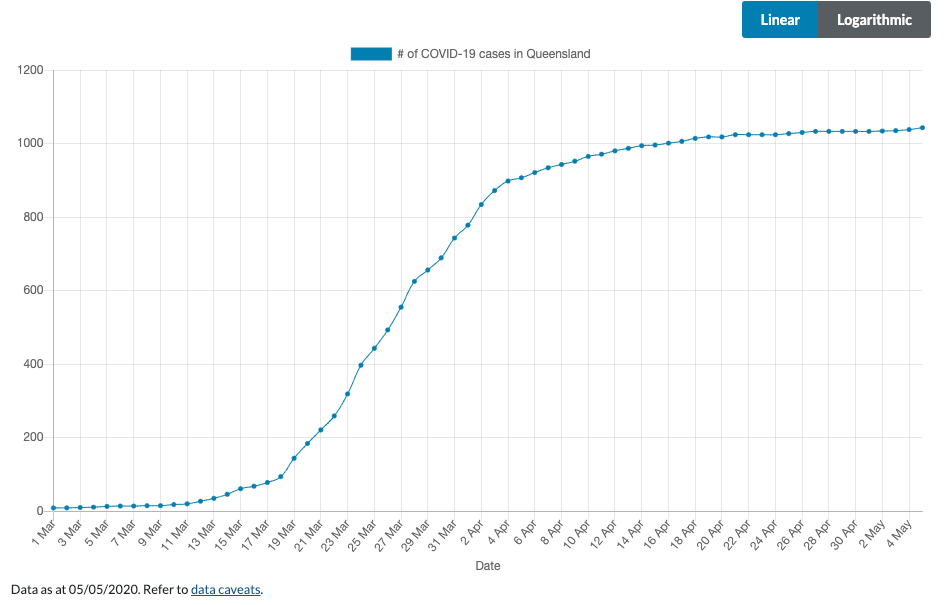 How restrictions will continue to change depends on the effect that the current easing restrictions has on the spread of Covid-19 in Queensland.
The premier Annastacia Palaszczuk said in a joint statement that new cases of infections will be monitored closely and restrictions will be reviewed after two weeks.