The country's coronavirus cases have now fallen below 1,000 for the first time in over five weeks.
As of Thursday morning, there were 986 reported infections nationwide, with 5,670 of 6,744 cases having recovered.
In 24 hours only one new case of community transmission was recorded nationwide.
According to the government, one milestone is incredibly important to highlight. In 24 hours, only one new case of community transmission was recorded nationwide, and the remaining 13 cases were able to be traced back to other carriers.
Federal Health Minister Greg Hunt described the statistic as possibly the most important in the fight against COVID-19 so far.
"There was only one case from an unknown source, only one case of community transmission across Australia," he said.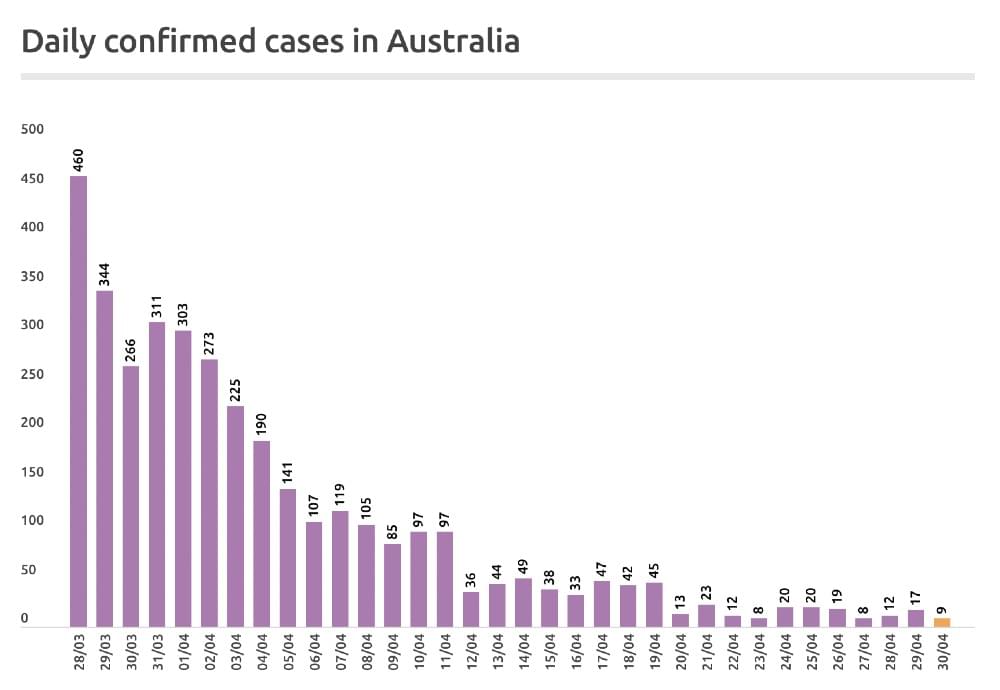 At a press conference on Wednesday, Professor Paul Kelly, the Deputy Chief Medical Officer said, "We're continuing to do well in Australia. We're in that suppression phase and we have well and truly flattened that curve."
For seven days straight, South Australia hasn't recorded any new cases of Covid-19, and the Northern Territory hasn't recorded any new cases for three weeks.
With the curve flattening, a handful of states have started to make changes to their existing restrictions.
On Wednesday, the Prime Minister Scott Morrison suggested that restrictions could be lifted within four weeks in order to stimulate the economy.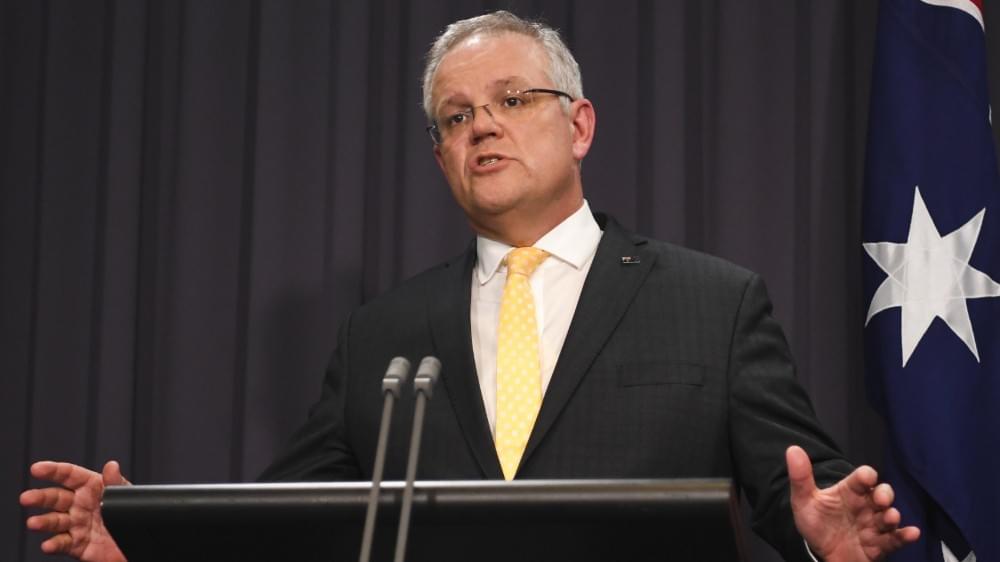 A plan to reopen restaurants in June will be discussed at a National Cabinet meeting on May 11.
Professor Kelly added, "As we get closer to that 11 May target and after that as well — there will be many announcements about changes in the way that we'll be living our lives and hopefully getting back to some sort of new normality of living in a COVID safe society."
How have restrictions on the real estate industry changed?
Just this week the Western Australian state government announced an ease on restrictions which would allow up to ten people at a time to attend open homes or visit display homes, so long as a record of each person who attends is kept.
Since March 30, Western Australian real estate agents, buyers and sellers have been operating in an environment where only two people at a time could attend a private home inspection.
Adrian Kelly, the President of the Real Estate Institute of Australia told Domain that this is good news for the state, and he hoped other states would shortly do the same.
He said, "We would obviously like to see that extended throughout the other states, but at the same time that needs to be done very slow and steady because the last thing we need in Australia is a second wave of the virus to occur."
Should I sell now or wait?
Find out all the pros and cons of selling vs waiting
Read the guide
Political sources have told the ABC that restrictions will be would back starting with the last ones that were imposed
Industry analysts have predicted that restrictions are likely to be eased in a reversed order, and an article published by the ABC has given more legitimacy to this prediction, with political sources stating the same.
These sources have told the ABC that restrictions will be wound back starting with the last ones that were imposed. This means that mass gatherings in pubs, clubs and concerts are a long way off, but the two person rule will likely be lifted in the middle of May.
Given that the ban on auctions occurred as one of the last stages, it's quite feasible that lifting that ban could come sooner than expected.
According to Louis Christopher, Analyst from SQM Research, given that the ban on auctions occurred as one of the last stages, it's quite feasible that lifting that ban could come sooner than expected.
If the housing market can return to some level of normalcy, even with some social distancing measures being observed, then we can expect that confidence in the housing market is likely to return.
Related reading:
Easing Coronavirus restrictions | state-by-state rundown
New South Wales
According to New South Wales Premier Gladys Berijiklian, the state is looking to boost testing to around 8,000 tests per day in the lead-up to lifting restrictions. She wanted to stress that testing capabilities are available over weekends.
From today, anyone with mild respiratory symptoms in NSW can now be tested
From Friday the 1st of may, two adults and their children can visit friends in their home, so long as social distancing measures are still adhered to
The NSW state government is encouraging shops to reopen with social distancing measures in place
Students will be going back to school on the 11th of May, with a staged return during the first fortnight
The state government pushing for full-time classroom teaching as soon as possible
In Sydney, Bondi and Bronte beaches have reopened for exercise only, while Tamarama beach has been opened only for locals - the beaches will be open between 7am and 5pm Monday to Friday.
Sunbaking is still banned and sitting in a park for recreational reasons is not allowed.
Western Australia
Western Australian Premier Mark McGowan noted that the following changes are a cautious relaxation of restrictions.
New easing on restrictions announced on Monday the 27th of April
There's a two-person limit on non-work activities, including boating, hiking, picnics and hiking
Real estate open-for-inspections and display villages permitted to operate, but records must be kept of each person who enters the property
Group exercise has been eased from two to ten people
Weddings and funerals can have a total of ten people present
Students to return to classrooms as of May 29
Queensland
According to Queensland Premier Annastacia Palaszczuk, "Queenslanders have done a great job in trying to flatten that curve… We also know it's having a big impact on people's mental health. We thought we could lift some stay at home restrictions."
'Stay at home' restrictions will start easing from midnight on Saturday
Movement is limited to members of your own household
Family picnics and weekend drives are permitted
National parks are reopening
Citizens must stay within 50km of their homes, and strict social distancing measures still need to be adhered by
The 50km limit does not include travel across borders
People from the same household can go out together, while those who live alone can spend time with one other person.
No change to schools until at least May the 15th, with students continuing to learn remotely where they can
Northern Territory
According to the Northern Territory's Chief Minister Michael Gunner, "We can only do this because of the work and sacrifices of Territorians, and we can only keep our parks open if Territorians are respectful of each other's space."
Cafes and gyms are expected to open up again in June, but under strict guidelines
Parks and reserves are reopening on the weekend
Victoria
According to Chief Health Officer Professor Brett Sutton, "I don't know what transmission will look like this week or next week, but I think the state of emergency going to May 11 is a nice line-up with the national cabinet process for a real look at changing the restrictions."
Professor Sutton also said that the low case numbers in Victoria are encouraging.
Coronavirus restrictions will be reassessed on May the 11th
The Victorian government has encouraged all parents to keep their children at home for all of term two
Tasmania
According to Tasmanian Premier Peter Gutwein, "I don't want to have a knee-jerk reaction… take away restrictions too early, only to have to bring them back again."
Restrictions closing non-essential retail in the northwest of the state that were meant to be lifted this Sunday have now been pushed back to at least May the 3rd
Schools in the state's north-west are expected to reopen in the second week of May
South Australia
According to Stephen Wade, the South Australian Health Minister, the states restrictions are not as severe when compared with other states.
Despite recording a 7th day of no new Covid-19 cases, the state is not looking at easing any coronavirus restrictions 'anytime soon'
Australian Capital Territory
According to Andrew Barr, ACT's Chief Minister, "This is not a race or a contest between jurisdictions. We are in a great position here in the ACT, largely thanks to the great community effort in complying with the rules around physical distancing."
Mr Barr said that the government is cautious when it comes to lifting restrictions too early, citing what has happened in other parts of the world as an example.
The ACT won't be lifting any restrictions for now.