Promoting your Home Sellers Choice Award on social media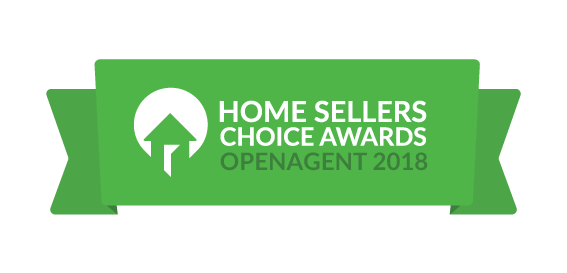 Industry awards can create a lot of positive buzz, and as a recipient of one, they can also help to build strength and trust in your personal brand. With your achievement and all your hard work, why not spread the word?
The beauty of social media is in its instantaneous shareability, and with the current buzz surrounding the 2018 Home Sellers Choice Awards, there really is no better time to share your accolades across social media platforms and revel in your well-deserved recognition.
Top tips for promoting your 2018 Home Sellers Choice Award on Facebook
Share your OpenAgent profile and a short message notifying your Facebook network about your award.
Share the Home Sellers Choice Awards page with a short message about how you've won
You can simply copy the text between the quotation marks below:
''I've been named as a 2018 Agent of Choice in OpenAgent's 2018 Home Sellers Choice Awards at https://www.openagent.com.au/blog/home-seller-choice-awards-winners-announcement-2018 #OpenAgentHSCA''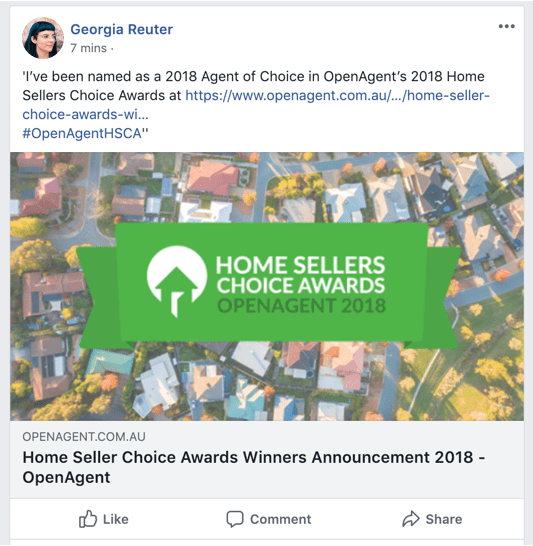 Update your business' social media descriptions
Update your 'About' section on Facebook, your Twitter 'Bio' or LinkedIn profile page, so when anyone clicks through to look at your profile, they'll see that you've received this award for providing outstanding customer experiences.
Using Twitter to promote your award
Tweet about the exciting news!
If you've got a Twitter account, engage with your followers and gain new ones by sharing the exciting news! Copy the text below and get tweeting!
I'm a proud recipient of a 2018 @OpenAgent Home Sellers Choice Award! #OpenAgentHSCA #AgentOfChoice #RealEstate

Strengthen industry ties with other winning agents
Engage with existing followers and create new ones by sharing this exciting news. Don't forget to use the #OpenAgentHSCA or #2018AgentOfChoice hashtags when promoting your achievement.
See if other winners have also shared their recognition by looking for the hashtag #OpenAgentHSCA. Retweet their Home Sellers Choice Award or congratulate them.
Why? It will encourage them to do the same for you and you'll strengthen your relationship with other leading real estate agents.
For example, you could tweet to other winners:
"Congratulations on receiving a 2018 Home Sellers Choice Award too! We're honoured to be in such great company #OpenAgentHSCA #AgentOfChoice"
Why not post on LinkedIn?
LinkedIn is the ultimate social media hub for professional networking. Reflect on 2018 and show your peers how hard you've worked to receive an OpenAgent Home Sellers Choice Award.

Instagram a photo of yourself and mention your award
Instagram is ideal for sharing photos. Put some thought into posting a striking photo of yourself or a property you've recently sold to celebrate your win, along with the hashtag #OpenAgentHSCA. Why not attach a link to your OpenAgent profile so vendors can see your past sales? 
Remember, if you have any difficulties you can email us at hsca@openagent.com.au or contact us on 13 24 34 -  a member of our team can assist you. 
Looking for more tips? Learn how to attach your award to an email signature here!